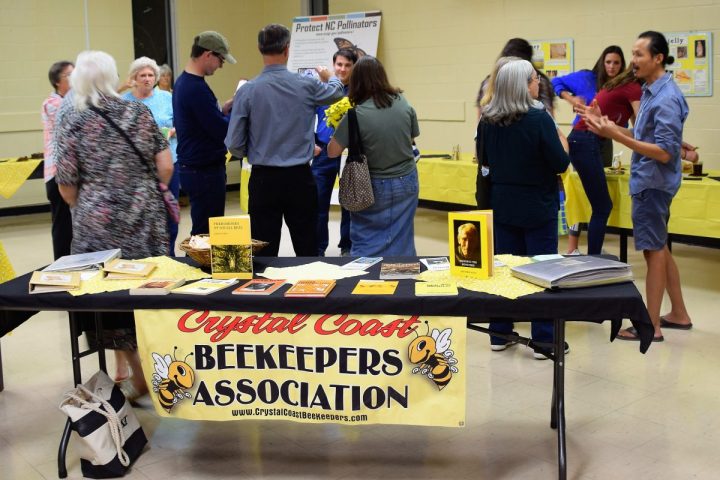 MOREHEAD CITY – The Crystal Coast Beekeepers Association's annual honey tasting Monday was a sweet way to share information about beekeeping and honey production in Eastern North Carolina.
Held in the Morehead City Parks and Recreation Center, the event drew about 60 visitors and members, who brought honey samples from their own backyard hives, provided treats made with honey as a key ingredient and shared their experiences as keepers.
Freda Pyron, president of the Crystal Coast Beekeepers Association, a local chapter of a statewide organization, explained that the tasting is an annual event for the association to give members and the public an opportunity to see and taste the different colors and flavors of honey from different locations.
"The Honey Tasting is our public social event to educate about the uses and variety of honey, necessity of the honeybee and to invite potential beekeepers to join the club or to just learn that there is a network available," she added.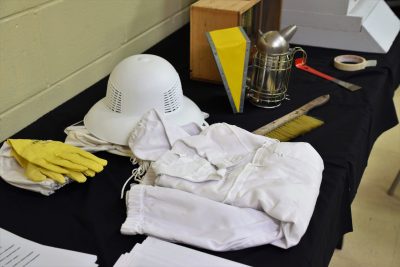 One member, Mary Chisenhall of Otway, was busy helping visitors and members. A part of the Beekeepers Association for five years, she became involved when a friend gave her his beehive after finding out he was allergic.
"I fumbled for the first three months before I found the bee club," she said.  "There's a lot to learn, and the best way is to come to a bee club meeting."
Part of what drives her to have an apiary, as well as care for chickens, is that it gives her and her seven grandsons, ranging in age from 7 to 14, something to work on together.
Chisenhall pointed to the observation hive set up at the tasting. She said that when she presents at clubs, they often request that she brings the hive. An observation hive is a bee hive with a glass window or sides for viewing honey bees without disturbing them.
"It lets people see the bees in a safe environment," she explained.
Fellow beekeeper Gervase Motes, whose home adjoins the Croatan National Forest in the Newport area, has been a beekeeper for three years and was sharing samples of honey he collected during the last few months. He said he has on his 5½ acres fruit trees, grapevines, berries, ginger, honeysuckle, all for the bees.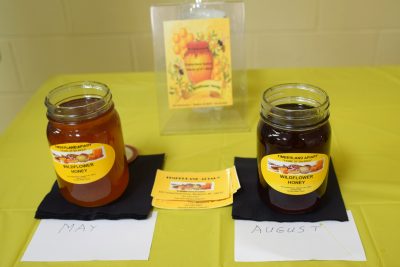 What Motes said he found to be most surprising when he first began beekeeping is the different flavors present in the honey depending on the time of year.
"It's amazing the different flavors the different time of year," he said.
Motes' samples at the honey tasting were evidence of that variety, as well.
He had a sample of honey he collected in May, which was smooth and the typical color of honey. His August yield, however, was a deep amber, and bolder in flavor.
"The different (plants) in the yard influences the flavor. Every year the honey tastes different," Motes said, adding sometimes you can taste ginger, blueberry or other plants that bloom on his property.
Motes, who also has a small vineyard, explained that his brother in South Carolina got him involved in beekeeping. He began with two hives and eventually added a third.
As for amount of effort required to keep bees, Motes said, "You can work yourself to death or let bees be bees."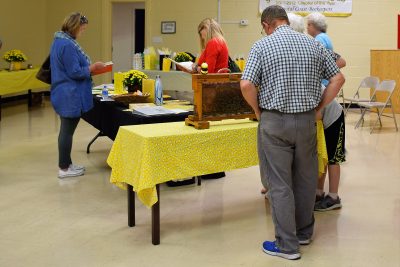 Make sure they're healthy, free of parasites and monitor them, but leave them be, he emphasized.
He continued that at first he was checking on his hives fairly often but once he slowed down the frequency to a few times a month, his honey production increased exponentially.
On hand to meet visitors and talk with other beekeepers was Eric Talley of Hubert, a master beekeeper and coastal regional director with the North Carolina State Beekeepers Association. He has been keeping bees on and off since 1973. He most recently started keeping bees in 2008.
Talley explained that the state of bees in Eastern North Carolina is the same as around the world, with colony collapse disorder. Colony collapse disorder happens when the majority of worker bees in a colony disappear and leave behind a queen, plenty of food and a few nurse bees to care for the remaining immature bees and the queen, according to the Environmental Protection Agency website.
"I don't know if we're better or worse off than anyone else," he added.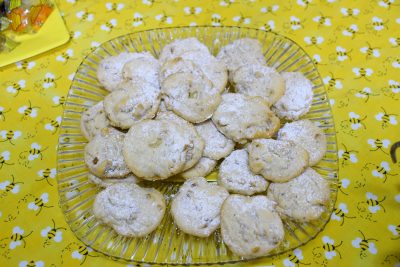 Though, he said that most instances of colony collapse disorder affect commercial bees rather than backyard beekeepers.
Talley explained that the bees are stressed from being relocated and put in monocultures, a single crop or plant, such as blueberries, for six to eight weeks and then moved to another monoculture.
"Bees need a variety of pollen because they are feeding their developing larvae," he said.What makes events like the honey tasting important is that they provide an opportunity to share information about bees, including threats from pesticides and disease, with the public.
"This educates the public; anything we can do to educate the public. They're learning about pesticides and the impact it has on bees," he said.
Visiting the tasting with his family was Doug Sherline of Morehead City. They learned about the tasting from a listing his wife saw and since they're interested in local produce, they decided to check it out. He added that he and a friend make mead and the honey tasting was an opportunity to make a local connection.
Become A Beekeeper
What's the buzz on keeping bees?
Pyron said those interested in beekeeping need to find a mentor, or someone who can provide a realistic expectation of the cost, the hazards and issues and how to cope with them.
To study at home, Pyron said, the North Carolina State Beekeepers Association education committee recommends "Beekeeping for Dummies" as a starter book and there are also some resources for beginners in public libraries.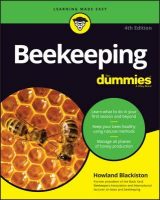 "There is a lot of misinformation about beekeeping on the Internet, but if you use it as a source, please rely on sites such as Brushy Mountain, Dadant, Pigeon Mountain and Miller Bee," she said. "They are some of the suppliers of beekeeping equipment but they also provide some useful information."
People also can check the North Carolina State Beekeepers Association website for educational classes provided by local chapters. Crystal Coast Beekeepers and the Craven-Pamlico Beekeepers chapter are not offering classes this fall but both groups have mentors and opportunities to observe or help in an apiary. The spring meeting for the North Carolina State Beekeepers in March 2018 will be at the New Bern Convention Center.
Pyron recommends for those who want to keep bees to join a beekeeping association.
"They are great places for networking and education. Beekeeping is not something you should or can do alone. But the caveat, ask 10 beekeepers a question, expect to get 12 different opinions. Pick the one you like best and go with it," she explained.
As for maintenance, beekeepers should perform regular inspections to ensure hives are healthy and strong, free of pests like small hive beetles and wax moths. Backyard beekeepers are currently monitoring for and treating for varroa mites.
"Also keepers should start thinking about whether their bees are going to have enough winter stores, leaving enough frames of honey on for bees to eat through the winter. Also watching during the rainy season, like now, that they don't eat everything they have stored when they can't get out to forage," Pyron said. "Start thinking about how and what are you going to feed your bees. It won't be too long before the workers boot all the drones out of the hive."
The beekeepers will often bring the observation hive to community events. Check out their website or Facebook to see where they'll be next.
Learn More