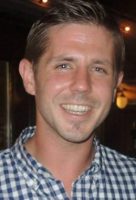 WANCHESE — The North Carolina Coastal Federation welcomed Friday new coastal advocate, Michael Flynn, who will focus primarily on issues that affect the Outer Banks region, the nonprofit organization announced Friday.
Coastal advocates partner with other organizations and work to encourage policymakers to take actions that protect North Carolina's coastal environment and economy.
As a coastal advocate for the federation's Wanchese office, Flynn, who resides in Waves, will be working to increase public awareness of coastal issues that relate to the federation's mission. Some of his duties will revolve around building support to oppose the potential offshore oil and gas exploration plan; helping to draft the Lake Mattamuskeet watershed restoration plan; and advancing the federation's oyster restoration, living shoreline and stormwater management strategies.
"I am extremely excited to continue the next phase of my career with an organization that uses a very engaging and participatory approach to protect water quality, restore habitats and develop the economy of coastal North Carolina," Flynn said. "I look forward to meeting with community members and actively listening to their concerns so that we may identify solutions to issues that arise and evolve over time."
A graduate of Stockton University in New Jersey, Flynn is currently a Ph.D. candidate in coastal resources management at East Carolina University, where he started in 2013. As part of his research he partnered with the National Park Service at Cape Hatteras to evaluate how vulnerable the shoreline's cultural resources sites are to various coastal hazards. He served as a coastal policy fellow for North Carolina Sea Grant and helped develop the North Carolina Coastal Atlas.
Flynn will be one of two coastal advocates for the federation. Mike Giles has been coastal advocate at the Wrightsville Beach office since 2006.
Flynn can be reached at 252-473-1607 or at michaelf@nccoast.org.
Learn More