RALEIGH – Gov. Roy Cooper on Monday vetoed Senate Bill 16, a wide-ranging deregulation bill that would have weakened stormwater and development rules among other changes.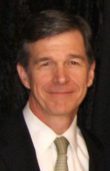 "We should make it easier, not harder, for state and local governments to protect water quality, whether through stormwater safeguards or by giving public health departments the ability to revisit wastewater permits if needed. Rolling back ways to protect water quality is dangerous," Cooper said in his veto message.
The bill, which the House approved in a 79-29 vote and the Senate approved 30-10, also removed public input requirements from permit renewals for landfills and allowed Dominion Energy to use eminent domain to build the Atlantic Coast Pipeline in the eastern part of the state.
"Gov. Cooper's veto of Senate Bill 16 is a victory for clean water and property rights," Matthew Starr, the Upper Neuse Riverkeeper, said in a statement. "If SB16 became law, it would open the door for oil companies using eminent domain to build dangerous pipelines through the back yards of families across the state, and it would make it more difficult for communities to hold local landfills accountable for poor practices."
Legislators return to session Friday with both House and Senate Republicans holding veto-proof majorities.
Learn More