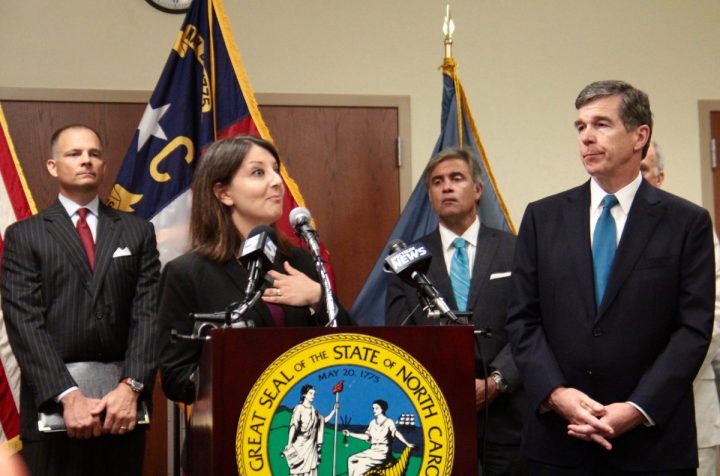 WILMINGTON — The North Carolina Department of Environmental Quality will deny a permit to Chemours to discharge GenX into the Cape Fear River and the State Bureau of Investigation will review the issue for potential criminal violations Gov. Roy Cooper announced during an appearance here Monday.
Speaking during a public appearance that followed a closed-door session at the New Hanover County Government Complex, Cooper said the actions are part of a series of steps his administration is taking in response to ongoing concerns about the safety of water in Wilmington and surrounding areas.
Flanked by three cabinet secretaries, the New Hanover County legislative delegation and local elected officials, Cooper told a crowd of reporters and area residents that the state is seeking additional help from the Centers for Disease Control and the Environmental Protection Agency in determining the risk from GenX and other chemical compounds recently detected in the river, which is the source of drinking water for more than 200,000 residents in Pender, Brunswick and New Hanover counties.
"We have to make sure that we know how this happened with GenX and what we can do to make sure that our water is protected in the future," Cooper said. "Getting this right is critical."
Chemours is in the process of applying for a new federal discharge permit under a federal program managed by DEQ. Cooper said DEQ will deny Chemours' permit request to release GenX, and issue a new draft permit that prevents GenX release. The draft permit will include a clause allowing DEQ to quickly re-open the permit if needed to regulate and enforce levels of any emerging compounds, based on new scientific findings.
Also, according to the governor's office, DEQ will make changes to its permit application process that require companies to disclose more information about the unregulated pollutants they release and require additional monitoring of unregulated pollutants.
Cooper said he recently had conversations about GenX and other so-called emerging compounds discovered during testing with both CDC Director Brenda Fitzgerald and EPA Secretary Scott Pruitt.
Fitzgerald agreed to begin the CDC's work on long-term exposure studies, Cooper said, and he discussed with Pruitt the 2009 federal consent decree that gave Chemours the right to discharge GenX in part by classifying it as a byproduct. "He is looking into whether that consent order needs to be updated and tightened," Cooper said.
Rep. David Rouzer, R-N.C., whose 7th District regional office is in the county government center, also attended the closed briefing but was not at the public session.
The governor also said he expects to have a request for emergency funding for DEQ and the Department of Health and Human Services ready when the General Assembly returns in early August.
DEQ Secretary Michael Regan said during the appearance that his department's portion of the request would total roughly $3 million. About $2 million would go for additional hiring of engineers and scientists and costs for sampling and analysis.
Regan said the department is stretched thin from years of cuts and would also like to see the rollback of a $1 million reduction in the overall DEQ appropriation that was part of this year's budget package. Cohen said DHHS will ask for funds to set up a water safety unit that would include a dedicated epidemiologist, toxicologists and a science educator.
Rep. Deb Butler, D-New Hanover, focused on GenX and the effect of DEQ cuts during this year's budget debate. Butler said Monday that the local delegation supports stepping up the response, but it's unclear for now how the leadership will respond to the call for more emergency funding.
Among the steps outlined Monday, Cooper said he asked the SBI to work with the EPA and DEQ to determine if the terms of the consent decree or the plant's discharge permit had been violated and whether a criminal probe should be opened.
Chemours did not respond to a request for comment. The company issued a statement in June saying it did not believe its releases of GenX had an effect on the safety of drinking water drawn from the Cape Fear River.
Concerns Rising
The GenX story broke in early June when the Wilmington Star News reported on an extensive study of the presence of "Legacy and Emerging Perfluoroalkyl Substances," some of which are known carcinogens, in the Cape Fear watershed.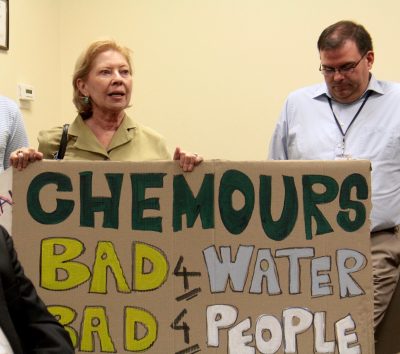 The study identified the Chemours plant in Bladen County south of Fayetteville and about 100 miles upriver from Wilmington as the source. Chemours is a Dupont spinoff that manufactures complex "performance chemicals" used in manufacturing.
GenX is classified as an emerging contaminant by the EPA, industry shorthand for saying a compound is new and has not been extensively studied.
The governor's announcement comes as Wilmington-area residents, increasingly alarmed by reports of GenX and other compounds in the river, have started water distribution programs and repeatedly pressed elected officials for answers. Last month, a public forum on the river contamination drew more than 300 residents.
On Monday, Cooper and his cabinet members received similar scrutiny during a question and answer session.
Some were hoping that the governor would not only acknowledge concerns, but also commit the state to providing alternative drinking water supplies. Many of those in attendance said they worry about the safety of the water despite the go-ahead from DHHS.
Questions and Skepticism
Sonya Patrick, a member of the National Black Leadership Caucus, has been helping with water drives in city's African-American community.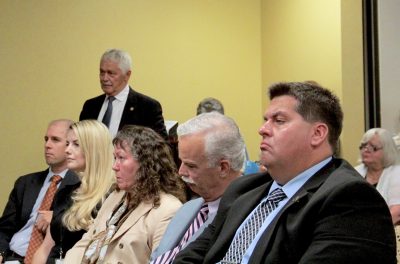 "We don't have time for a dog-and-pony show. We are talking about people's lives here and they admit that their conclusion as to drinking the water is [based] on limited studies," she said. "That doesn't make anybody feel safe. We need some concrete answers and concrete solutions and they can at least provide clean water until we come up with a solution. We deserve that as citizens of North Carolina."
Residents, including former Wilmington Mayor Harper Peterson, were skeptical of the assessment that water is safe to drink and repeatedly pressed DHHS Secretary Dr. Mandy Cohen for her reasons for giving the OK.
Cohen described the new levels set by the state as extremely conservative, representing the total for 70 years of exposure. Since Chemours agreed to stop discharging GenX, Cohen said the levels in the river have steadily dropped.
"We're happy that Chemours is no longer discharging," Cohen told residents. "We're seeing the levels come down and that's why I am comfortable saying that folks can continue to drink the water."
In an interview after the session, Peterson said there is too little science to justify the state's confidence in the assessment.
"It's alarming," he said. "I think it's very unprofessional."
The governor's announcement of legal action, more science and adding back to the DEQ budget were positive steps, he said, but the community is worried now and many have lost faith that they are getting straight answers.
"I think that's all good," he said of the governor's proposals, "but to come out and say it's safe with that kind of confidence. I mean, why are we all here if the water is safe?"
Frank Williams, chairman of the Brunswick County Board of Commissioners, was more upbeat in his assessment. Williams released a statement following the meeting, calling it productive and encouraging.
"I am particularly appreciative of the Governor's insistence that state employees treat the GenX issue as if their own families are drinking the affected water every day," Williams said.
New Hanover County Commissioner Rob Zapple said he was also glad to see the state effort. Zapple said it was clear from the meeting that the governor is serious. But the community is still going to struggle with trusting local and state government on whether the water is safe to drink, Zapple said.
"I think there's a lot of frustration out there," he said. Water is unique, he added, a constant, lifelong necessity. "It's not like we can give up water."
Whether to set up an alternative distribution system for bottled bottled is a difficult decision Zapple said.
"The logistical end of it is huge," he explained. "Is it really necessary or are we letting an emotion take over. We don't know what the best call is. We're trying to take in everything we can. I can tell you that today is a better day than yesterday, having the full force of the state involved."
Learn More