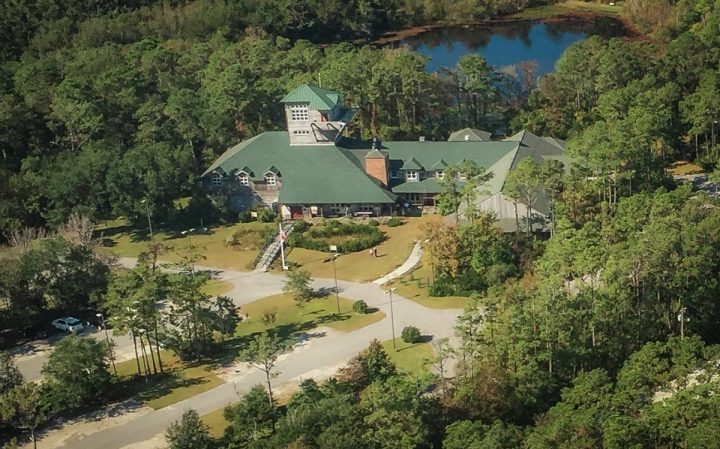 HARKERS ISLAND – The Core Sound Waterfowl Museum and Heritage Center stands as a testament to the efforts and dedication of its supporters, volunteers and sponsors since it was conceived in 1992 by a group of decoy carvers.
The hard work that went into building the museum in Down East Carteret County to highlight the community's waterfowling traditions has paid off. The museum is celebrating its 25th anniversary this year.
"This museum is far more than a building, or a single program, or a static display; this museum is a community, 'a place for the people' proud and determined to hold onto our 'way of life and this sacred place we call home'," said Karen Amspacher, the museum's executive director.
With "To establish a facility that will enhance the community, state and region by creating a resource, which brings together the historical, cultural, artistic, environmental and educational elements needed to preserve the rich waterfowl heritage of eastern North Carolina associated with the Core Sound area," as its mission, it's only natural that its 25th anniversary celebration scheduled for June 23 and June 24 at the museum would highlight its history, culture, arts, and especially, music.
A recently rediscovered original, 1951 recording of Harkers Island music legend the late Ivey Scott's "The Booze Yacht Run Ashore," will be played at 11 a.m. June 24 during the "Tribute to Harkers Island Music Traditions." Storytellers Rodney Kemp and Connie Mason and North Carolina Arts Council Director Wayne Martin along with those linked to the Island will talk about music on Harkers Island, from Scott, who died in 1959, to the late James Allen Rose, a musician, commercial fishermen and boatbuilder who died in 2013 and was best known for his model boats. They will also share memories from the island school singing in the '60s. Scott's niece, Emily Styron, and Rose's son, Allen Rose, are slated to play a few songs as well.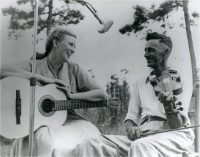 "Thanks to the N.C. Arts Council and the vision of Director Wayne Martin, the long-awaited release of the Ivey Scott original recording will be part of our 25th anniversary celebration and a project of the N.C. Arts Council's 50th," wrote Amspacher about the discovery of Scott's recording.  "All my life I have heard about Ivey Scott. Whenever any mention of music, especially dance music, is made on Harkers Island, Ivey Scott is always the center of the discussion. In a community rich with music for generations, Ivey Scott remains the most talked-about character ever to sing and dance on Harkers Island."
Amspacher said that Harkers Island will be forever indebted to Jean Ritchie Pickow, an American folksinger and songwriter. "Without her passion for music and her commitment to recording treasures such as Ivey Scott, his music would have been lost with the last generation of Islanders who knew him."
The recording, found by Martin, is more than a dusty tape stored in the archives of the Library of Congress, she continued. "He found a piece of Harkers Island history that might never have found its way back home without him. Thanks to Jean Ritchie and Wayne Martin, Ivey Scott's music will never die. May this be the revival of preserving all the music that is a part of the heritage of Harkers Island. The music traditions of the Scott and Rose families continue today, spanning generations, from churches to dance halls. Wherever a trace of family-community kinship can be found, there's music."'
Ivey Scott's album will be available for purchase starting June 24 and the museum.
Following the program about Harkers Island music, church choirs and community groups will perform those musical traditions found Down East.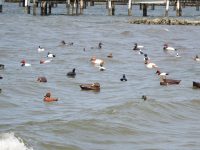 The entire day of June 24 is Core Sound Community Day with activities scheduled for 10 a.m. to 6 p.m. In addition to the celebration of Harkers Island music traditions, there will be the Rig of Six Working Decoy competition, Superior Decoy Craftsmanship and International Wildfowl Carvers Association-style decoy competitions, old shorebird exhibition, antique waterfowling roadshow, an arts and crafts fair, children's activities and local seafood.
The two-day celebration kicks off the evening of June 23 with the unveiling of the Core Sound Gallery's new Anniversary Exhibition that highlights the museum's history, leaders and accomplishments. Visitors of the museum will find a mixture of photographers, interpretive panels and voices from the past 25 years, which give a glimpse of the work, dedication and commitment the museum represents.
"This exhibition has been impossible. How do you even touch on 25 years that has encompassed thousands of miles and hundreds of people and places that caused us to want more, to dig deeper, to reach higher? Everywhere we have been, individually and in small groups, we have returned home challenged and inspired to do more for our communities and to hold on a little stronger to the traditions we love and share. We have learned so much about ourselves, our past and all that 'Core Sound' means," said Amspacher.
She added that she hopes this exhibition "gives a glimpse of all that we have seen and learned and shared through events, exhibitions, publications, projects and 'just being here' every day to share our stories with visitors, students and one another."
'Core Values' Documentary to Premiere
Also June 23, there will be the Heritage Gallery dedication honoring longtime museum supporters Purcell and Helen Jones, both now deceased, and premiere of the documentary, "Core Values: Reflections on Core Sound Duck Hunting and Decoy Traditions."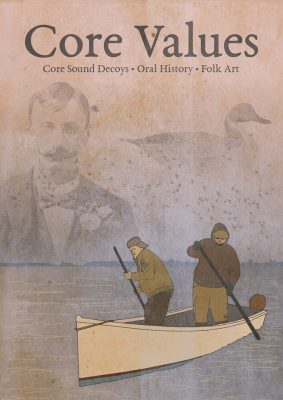 The documentary tells the history of the old decoys carved and used on Core Sound and will be part of the new exhibition. The film features Doily Fulcher and Jerry Talton, decoy collectors and historians, vintage footage remembering carver Homer Fulcher from the Stacy community, aerials of Core Sound during hunting season and dozens of Core Sound decoys from more than 100 years of waterfowling along Core Sound.
Robbie Smith, the vision and producer of this documentary, participated in a Q&A for the museum.
He said he became interested in Core Sound decoys and hunting because he grew up hunting with his father and grandfather.
"I have fished the waters at Davis Shore, Portsmouth, and other parts of Carteret County. When I started collecting decoys several years ago, the Core Sound carvers became a natural starting point as I felt a connection to the area," Smith expounded.
Smith explained the inspiration came from Doily Fulcher, whom he said is a widely respected authority and historian on Core Sound decoys and the men who carved them.
"I believe it is important to capture the oral history as told by him and I wanted to do it on film. I believe his shared knowledge will be important to the decoy collecting community and to all folks who love the Down East heritage, which is so important to our state," he said. "His knowledge is immense and needs to be shared. Doily grew up around many of the great Core Sound carvers. He has collected the decoys and has documented their history."
Key contributors to the film, Smith said, include not only Fulcher, the main historian in this film, but also Talton, another historian who brings great value to both the collecting and carving community. The documentary also features vintage footage of Homer Fulcher, who, along with Alvin Harris, are the bridge between the old school carvers and the new school of carvers. Both men taught decoy carving at Carteret Community College.
"The Core Sound Museum shared some film footage of an interview with Homer Fulcher in 1994. It is an important piece of oral history and I am thankful that we could include it in this film," Smith said.
Looking ahead to the future, Sammy Humphries has a small but important part in this film. Smith said he represents the future of decoy-making and stands firmly on a foundation built by great Core Sounders well more than 100 years ago.
Smith hopes that the long-term value of this film is that it becomes an important historical reference on Core Sound decoys and carvers.
"I hope it brings value to our state, to the Down East community, to decoy collectors, and folk art collectors. The Core Sound decoys have great art appeal and many are considered investment pieces," Smith continued.
Learn More