Reprinted from the Outer Banks Sentinel
ROANOKE ISLAND — When the 2017 season of "The Lost Colony" opens on Friday, the production at Roanoke Island's Waterside Theatre will aim the spotlight squarely on a milestone event: America's longest-running outdoor symphonic drama turns 80 this year.
"The Lost Colony" will celebrate with some high-tech upgrades and a rolling out of the red carpet for some distinguished alumni — including two performers who appeared in the play 78 years apart.
Lost Colony CEO Bill Coleman said it's been hectic making final preparations for his fifth season at the helm of "The Lost Colony."
"It's an all-out dash from January to opening night on May 26," Coleman said, "but I'm excited about what we have in store for people this season."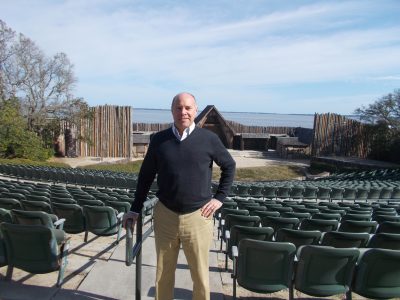 Opening night will be the kick-off to the 80th anniversary celebration, featuring cake served during intermission.
Other special events will include monthly "pre-show talk-backs," providing the opportunity to meet the director, Ira David Wood III, production designer William Ivey Long and a third key member of the artistic staff.
The centerpiece of the season-long celebration will be the alumni reunion, running June 30-July 2. On Saturday, July 1, alumni are invited to the show.
"They're a great audience — except for the fact that every alum, to a person, will tell you, 'The show's not as good this year. The best show was the year that I was in it,'" Coleman observed.
One highlight of the July 1 celebration will be a presentation of "our oldest alum and our youngest." The oldest is Marjalene Thomas, who appeared as a child in 1938 — the show's second season.
"She's played the queen, Eleanor Dare — just about every major woman's role except Agona," said Coleman.
The youngest alum was identified only as "Baby Barker" on Virginia Dare Baby Night last season, when she appeared as the newborn Virginia Dare in the christening scene. She is the daughter of Rob and Alex Barker and the granddaughter of Patsy Hart, who plays Agona this year.
"When she went on," Coleman said, pausing dramatically, "she was four days old." Indeed, her parents "auditioned" her for the part before she was born.
Adding to this year's excitement are capital improvement projects funded by a $75,000 grant from the Outer Banks Visitors Bureau and a $5,000 grant from the Outer Banks Community Foundation.
PNC Bank is also supporting the projects as this season's title sponsor.
"We're upgrading our technology," Coleman said. "This is a very competitive field we're in in terms of what people want to do with their dollars. We have to be competitive in terms of the sound, the lighting and the total product that we deliver. It all has to be up to the expectations of today's audience."
About half of the funding will go toward upgrading the theater's sound equipment.
"We replaced half of the microphones two years ago, going from analog to digital. This year we're replacing the other half," Coleman said. At a cost of "several thousand per unit," the change is expensive, but well worth it: "It will make the show sound a lot better."
Lighting designer Joshua Allen is also continuing an ambitious lighting upgrade begun in 2016. Taking $40,000 in funding for new lighting made available last year, Allen used his connections as a lighting consultant to bring in an additional $100,000 in donated or loaned lighting equipment.
"It made a huge difference for us last year," Coleman said, "and we made some major advances in our lighting. And he's continuing that this year." Among the changes is a continuing move to LED lighting, which Coleman said uses less electricity, gives off less heat and opens up new capabilities such as changing colors "with the push of a button" at any time during the performance.
Another upgrade is in the works for the production's guest services. Along with new signage, the theater is continuing to expand its move to fiber-optic cable, linking the administrative offices with the box office and concession stands and providing the "fastest possible connections to the internet," while bringing the capability of scanning people's tickets directly from their phones and taking credit cards at concession stands.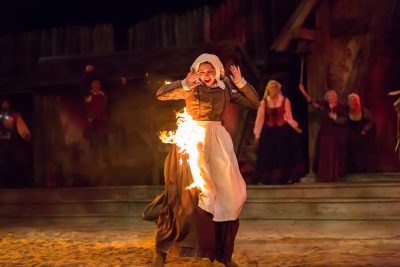 Several new large monitors in the theater's lobby will present previews and information on other shows and programs, along with "fun facts" and trivia questions.
Estimating that 97 percent of the cast and crew have been finalized, Coleman said, "We've got a lot of great people coming back."
Returning cast members include Don Bridge as the National Park Service park ranger/historian, Terry Snead as Governor White, Joey Cassella as Manteo, Emily Asbury as Queen Elizabeth I, Christopher Flores as Uppowoc and John Bennett as Wingina.
"And we're very excited about Robert Hooghkirk returning as Old Tom," Coleman said. "He was very popular last year."
One change this year is Ethan Lyvers switching from the role of Sir Walter Raleigh to John Borden.
Another change will be moving this year's curtain time back 15 minutes to 7:45 p.m., "primarily for the convenience of our audience," while retaining the "better lighting" of last year's 7:30 curtain.
"And then everybody's excited about Erlin Zavala playing Wano, the son of Manteo," Coleman said. "He's a local boy who goes to Manteo Elementary School. He grew his hair out for the role and he's really excited about being part of this production."
Of course, Coleman added, one indispensable returning favorite is the character known as "Burning Girl." The colonist who runs across the stage in flames during a climactic fight scene was added back to the show in 2015 after being absent for many years.
"Our stunt coordinator, Jason Tate, helps us with other stunts as well," said Coleman. "But he comes for two or three weeks and puts that particular stunt together."
The specialist in movement direction and performance, fight choreography and pyrotechnics is valued especially for his "very expensive 10 seconds" of fiery excitement. "They lather her up in this fire-retardant gel," Coleman said. "It's kind of chilling, I'm told, and keeps the body temperature so cool that you don't want to be in it for very long. And the gel is also put on the clothing that we don't want to burn.
"And then the apron is treated with something that is flammable, and it all has to be timed out very well. It's a fantastic effect."
Learn More