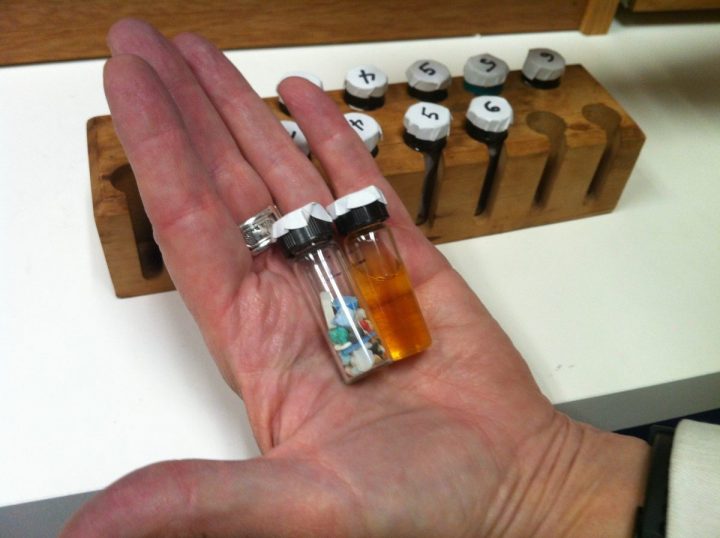 WILMINGTON – Consider the ubiquitous plastic water bottle. When you see one, do you think of it as a possible fuel source? Or that one day it might break down into tiny microscopic pieces on which larval fish will feed?
Given the convenience and inexpensiveness of plastics, it is in some ways no surprise that production of plastics has increased so rapidly, from 15 metric tons in 1964 to more than 300 metric tons in recent years. Plastics have progressed so quickly, though, that there is still so much we don't know about their impact on the environment, but scientists and researchers are trying to figure it out. The United Nations Environment Assembly recently found that the financial damage of plastic is thought to be $13 billion a year, because of its threat to marine life, tourism, fisheries and business. And a recent study from the National Center for Ecological Analysis and Synthesis said that 4.8 million metric tons of plastic waste enter the oceans from land each year. That's a conservative estimate, they found. It could be as high 12.7 million metric tons.
Closer to home, researchers at the University of North Carolina Wilmington are looking at other aspects of plastics on our lives – they're testing the burgeoning plastics-to-oil industry and learning more about how plastics work in the local ecosystem. "I do think people are understanding more about the consequences of plastics," said Susanne Brander, an assistant professor in the biology department. She mentions that some powerful images – like the picture of the albatross whose parents had been feeding it bits of plastic – can make an impression. "But there's still a lot to learn."
Brander and her students are looking at how plastics are ingested by the inland silverside, a small fish that feeds on zooplankton and is in turn prey for many birds and larger fish, such as the black sea bass.

"A lot of plastic goes unaccounted for," Brander said.
There are thoughts that plastics settle in the estuarine sediment and that they break down into pieces so small that even the human eye can't see them. Her preliminary results show that these fish are eating tiny pieces of plastics, and now these researchers are trying to determine the effects.
"How does that affect their growth and survival? If their bellies are filled with plastics, it would make sense that there are some long-term implications," she said.
On the other end of the spectrum, the questions are about how we can limit plastics from entering the waterways and oceans in the first place, before they have a chance to harm marine life.
"This is something we're doing to see if we can solve a problem," said Bonnie Monteleone, who works in the chemistry department at UNCW and is also the founder of the locally based nonprofit Plastic Ocean Project. In this case, she's talking about a depolymerizer, a reactor that converts plastics to oil.

One afternoon last month, Judson Bledsoe delivered a small-batch reactor to the rear of the chemistry department at UNCW, loaded it up with an assortment of plastic trash, and plugged it in. When everything goes well, the reactor produces oil from plastic in 45 minutes to an hour. On this day, it wasn't going as smoothly, and Bledsoe determined that there's another drain on the power source. Eventually, though, the depolymerizer broke up the series of hydrocarbons that were linked together to form the plastics. He's found that the return is about 80 percent.
"We started some experiments to see if we could produce a high-value oil from waste plastics. And there's some support for this. It could be a viable option and there's certainly enough to keep working with it," Bledsoe said.
Bledsoe's engineering background has been helpful as he's tried to make the reactor more efficient. He is now an environmental studies student, and his work has been focused on making the machine more cost-effective. He's also used it to test different kinds of plastics, including ocean plastics, to see the differences in the kinds of oil they produce. It is easy to collect materials for this work. On this day, it's an assortment of plastic packaging, and stuff that friends and coworkers collected for them. But they've become more particular about what they use. Plastic bottles, for example, are easily recycled so they focus on plastics that aren't as readily treated by traditional waste management techniques. And they've learned that PVC, or polyvinyl chloride, isn't a good choice because it makes a poor-quality oil.
"In addition to the oil, we're trying to learn more about the other byproducts," Monteleone said.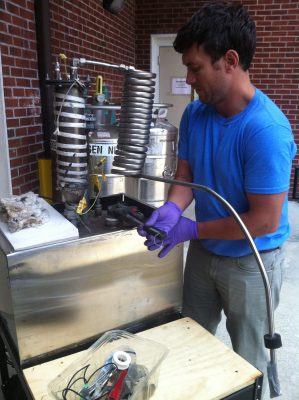 Bledsoe is capturing and weighing the light gases and the char residue, as well. "We're trying to look at it from every aspect," he said.
The reactor is made by PK Clean, a Salt Lake City-based organization that hopes to use this technology to create a useful product, and at the same time eradicate marine waste. The reactor at UNCW is a bench-scale conversion unit.
"One of the things we did is kind of look the paradigm. The company is primarily looking at business solutions," Monteleone said. But there are ways to work this technology into other scenarios. "Maybe it could work better in a non-profit approach," she said. "There could be a reactor at waste management facilities, maybe not to sell oil but to fuel the trucks and equipment on site."
In general, it makes sense to treat plastics this way. "For plastics, the No. 1 option is to not use it," Bledsoe said. "The No. 2 option, because so little plastic is recycled so it is just taking up a lot of landfill space, is to do something with it."
Monteleone has seen firsthand the impact of plastics in our oceans. She's traveled to gyres where floating pollution congregates and she's been to beaches around the world.
"Each place has its own story," she said. "In Hawaii and Bermuda, it's micro-plastics." Those islands tend to collect the small pieces of plastics that have been broken up the sun and currents. "I was standing on a beach and there was at least 10 inches of these micro-plastics."
In Wrightsville Beach, it's cigarette butts and their plastic filters, which don't biodegrade.
"Plastic is such a big problem," Monteleone said. "Studies say that more than 660 species are known to be negatively affected by plastics pollution. Plastics are the apex predator of the ocean."
Because Monteleone has seen the damage, she knows that raising awareness about the issue is a priority and that's a large part of the goal of the Plastic Ocean Project. The organization works on a number of programs – from encouraging restaurants to be ocean friendly to persuading retail shoppers to carry their own reusable bags. The group would also like to show more people what's at stake with the plastic pollution problem.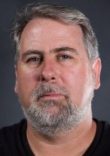 One of their more recent endeavors is to convert the plastics-to-oil reactor to solar power, so they can take it to events and educational programs. The project recently partnered with Mack Coyle, owner Coyle LLC of Wilmington, to make a portable solar generator to power the depolymerizer.
"We did a test run and everything went well," Coyle said. He's been working with solar energy for eight years, using equipment from North Carolina-based Carolina Growler, to power several local events such as the O'Neill Sweetwater Pro-Am Surf Fest. With the depolymerizer now portable and solar-ready, they plan to take it to local schools.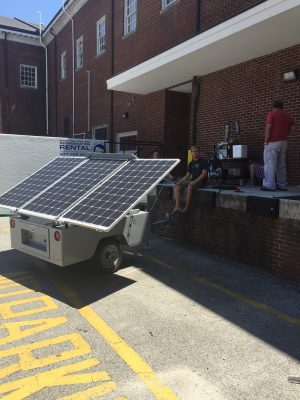 It may also make an appearance at another upcoming event, the Fishing 4 Plastics Tournament to take place on June 3. This one takes a different approach to the traditional tournament and is inspired by trips Monteleone has made to the sargassum mats off the coast of North Carolina. Six teams are signed up to leave from Beaufort to go 50 miles offshore to this brown algae that home to a wide variety of fish and marine life and also tends to be a place where ocean plastics accumulate. "The goal is to have fun and the safely and gently remove plastic debris," she said. Prizes, such as gift cards and sustainable fishing gear, will be awarded for most plastic collected by weight and number –as well as for categories like the most unusual piece found, most useful piece found, and plastic pieces with the most languages.
In her work, she's taken students on similar trips. "When we get out there, it's amazing the impact it has when they start pulling plastic into the boat," she said. The area is an important fishing spots on the east coast, hosts five of the seven species of sea turtles. Teams will also be searching for lost fishing gear, also called ghost gear, which has been known to entangle marine life. "We're really excited about the event," she said. For those who can't make it off shore, there's a beach sweep of Radio Island and a community plastics-to-art project outside the N.C. Maritime Museum, as well as food, games, and live music.
Monteleone knows that this type of experience can be eye-opening. "But another real goal is catching it before it ends up in the ocean," she said.
Plastic Ocean Project, along with Surfrider Cape Fear Chapter and Wrightsville Beach Keep It Clean, have another initiative to ask restaurants to curb single-use plastics, such as straws and take-out containers. This 'Ocean Friendly Establishments' program is self-regulated, but expects businesses to only serve straws on request, for example, and to educate wait staff about plastics. A list of more than 30 participating business, most of which are in the Cape Fear and Crystal Coast areas, is on their website.
"Taking small steps can be important," said Dr. Brander. She's gotten into the habit of avoiding straws and using foil in place of to-go containers for leftovers – but still gets a strange look or two when she does. "More people are becoming aware of the issue, but change is slow."
There are other ways to help, too. If you can't make the fishing tournament, look for other events like beach cleanups, Monteleone said.
Brander suggests reaching out to elected officials, on both the federal and state levels. A lot of the work done in the area depends on grants that might be hampered by budget cuts, she said. And state officials recently voted to overturn a longstanding ban on single-use plastic bags on the Outer Banks.
"The reality is, we all have to work together to make this happen," Monteleone said.
Steps to Curb Use of Plastics
The Plastic Ocean project recommends a few simple ways that people can curtail the amount of plastic pollution.
Ask to be served a drink without a straw when dining out.
Bring your own containers for leftovers, or ask for a piece of foil to wrap them in, instead of plastic or Styrofoam containers.
When fishing, make sure that you don't leave any equipment, packaging or fishing line behind.
Use re-usable shopping bags and a stainless-steel bottle in lieu of plastic bags and water bottles.
Participate in cleanups and beach sweeps in your area.
Pay attention to packaging when you shop: Avoid plastic containers and ask your favorite brands to consider not using plastics.
Learn More