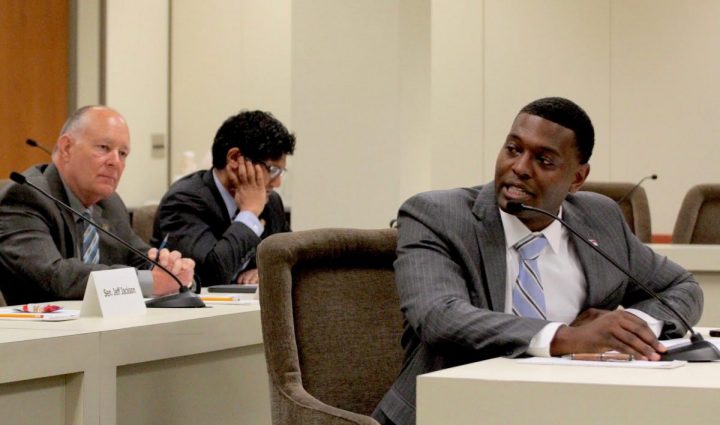 RALEIGH — Department of Environmental Quality Secretary Michael Regan cleared a key hurdle Thursday with a unanimous confirmation vote by Senate Agriculture, Environment and Natural Resources Committee.
Regan, a Wayne County native, opened with a message about expanding the department's transparency, broader stakeholder outreach and whittling down a backlog of permits in the DEQ pipeline.
Senators quizzed Regan for roughly 45 minutes on environmental policy, challenges within the department and interactions with Environmental Protection Agency, where Regan worked for two decades.
Regan said in addition to expanding the department's stakeholder process, his main goal is to work through a backlog of permits that has stretched the average wait time for a permit from DEQ to two years. He said he would look for ways to make the permitting process more efficient and easier to understand and asked senators to support a funding increase requested in the governor's budget plan to add staff to clear the backlog.
Responding to questions, Regan said in general he did not foresee the need for additional regulations. He also said DEQ would not pursue a a state clean power plan in light of the Trump administration's decision to pulled the plug on a federal Clean Power Plan last month. The state recently withdrew from a multi-state legal challenge to the new rules as a result of the action.
Asked about the tensions between commercial and recreational fishing industries and their interactions with the department, Regan said he has already held meetings on the subject with representatives of both sides and recognizes the difficulty of striking a balance. He said DEQ would evaluate the state's fisheries management plan and concerns around it and open discussions between the groups to develop a new framework.
"I think the commercial industry and the recreational industry can coexist," Regan said.
The committee approved his nomination unanimously in a voice vote. The next stop in the confirmation process is the Senate Select Committee on Nominations.
So far, the Senate has approved all of Gov. Roy Cooper's cabinet picks although the governor and legislative leaders are still locked in a legal battle on confirmation process, which was initiated in a special session at the end of last year. Cooper challenged the legislation requiring Senate confirmation and asked for an injunction, but an appeals court recently gave the green light for the confirmation process to continue pending a final outcome in the case.
In an interview after the hearing, Regan declined to comment about the controversy over the process saying that would be up to the courts to decide. He said the committee's questions were fair and the discussion helpful.
"As a proponent of transparency and stakeholder engagement this gave me an opportunity to introduce myself to this body and answer questions and reduce any myths that might be out there that would prevent me from working positively with the General Assembly," he said.