MOREHEAD CITY — A search is underway by state environment officials for a new director for the North Carolina Division of Marine Fisheries.
Braxton Davis has been serving in the role for the last 11 months, as well as serving as the director of the Division of Coastal Management. The divisions had separate directors before April, when Davis was appointed to head both.
The Department of Environmental Quality cites the Davis' workload as the reason for finding a new lead for DMF.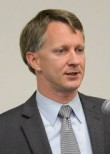 "Braxton has been an outstanding leader for our agency and has served admirably as the chief for these two divisions for almost a year," said Michael Regan, secretary for the North Carolina Department of Environmental Quality. "Braxton and I and our leadership team have discussed the workload of managing two divisions, and we all agree that oversight of both divisions is more than one person can handle in a long-term situation."
Until a new director is found, Davis will continue serving in both roles. After a DMF director is appointed, Davis will only lead DCM, which he has done since 2011.
The position description states minimum requirements for the job are a bachelor's degree and seven years of environmental work, including two years in a supervisory capacity.
The application will remain open until 5 p.m. on March 22.
Learn More