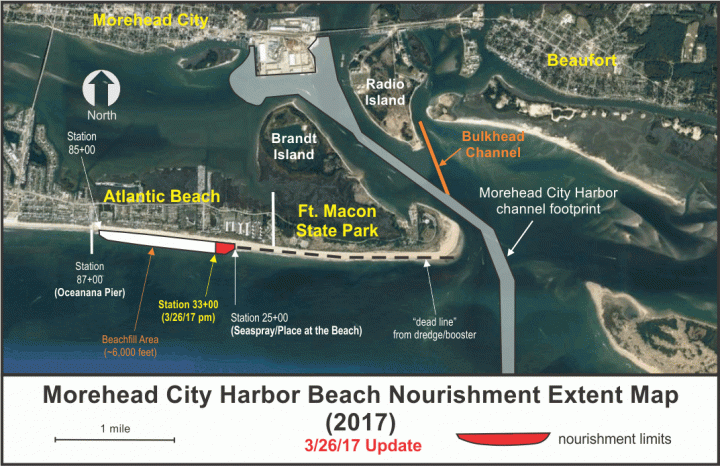 ATLANTIC BEACH — Dredging to remove shoaling in the shipping channel in Beaufort Inlet began Friday, with the spoils going to re-nourish the beach west of Fort Macon State Park in Atlantic Beach.
Dredging company Great Lakes Dredge and Dock is using the Illinois, a cutter-head and suction-pipeline dredge, for the project, which is part of a rotating three-year cycle created by the Army Corps of Engineers to maintain navigation in the Morehead City Harbor. The maintenance plan includes using so-called "beach quality" sand from a designated area of the inlet for beach re-nourishment at Fort Macon and Atlantic Beach, rather than placing the material at a disposal site.
Shoaling in the inlet is a recurring problem that affects business at the North Carolina Port of Morehead City. The channel, which has a federally authorized depth of 45 feet, is currently restricted to vessels with no more than a 33-foot draft.
The Carteret County Shore Protection Office, which manages beach re-nourishment projects, said an estimated 500,000 cubic yards of sand would be dredged, mostly from an area known as the "Cutoff" between Shackleford Banks and Fort Macon State Park, and placed directly on the beach.
The dredge agitates the sandy bottom with a cutter head, which looks like a giant drill bit. The slurry of sediment and water resulting from the agitation are suctioned through a long tube and deposited on the beach.
The company is expected to complete the project by April 30.
Learn More