WILMINGTON — State regulators want to reclassify 16 miles of the lower Cape Fear River as swamp water, a move that could relax regulation of wastewater discharge upriver, but Rep. Billy Richardson, D-Cumberland, introduced a bill on March 8 in an attempt to stop the action, the Star-News reported.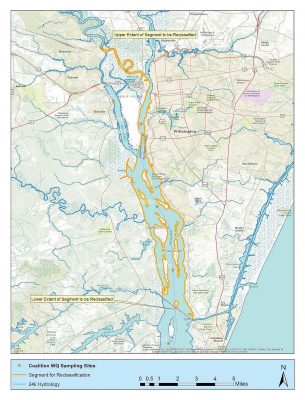 The section of the river at issue, from Navassa to Snow's Cut, has been found to have lower oxygen levels, which can be caused by pollution sources upriver. If the classification of the area is changed to naturally low-oxygen, swampy waters, it could favor upstream polluters, including sewage-treatment plants, factories and farms, that would otherwise have to reduce pollutants in their wastewater.
The Lower Cape Fear River Program, regional wastewater dischargers, municipalities and academia, sought the change years ago, saying low oxygen levels measured in the area are naturally occurring. The Environmental Management Commission granted the request last year, but opposition challenges put the decision on hold.
Richardson said the reclassification was dishonest, as the section of the river affected is deep and wide enough for international container ships at the Port of Wilmington.
If Richardson's bill passes, the reclassification will not take effect. The bill has passed its first reading in the House and has been referred to House Standing Committee on the Environment.
Learn More