RALEIGH – Sen. Harry Brown, R-Onslow, isn't giving up on his fight against renewable energy development in North Carolina.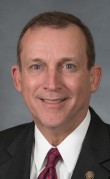 Brown and Sens. Louis Pate, R-Wayne, and Norman Sanderson, R-Pamlico, filed a bill in the North Carolina General Assembly on Tuesday that would halt permits for new wind facilities while an independent study is done on the effects that building wind turbines could have on the state's military operations.
The bill, the Military Operations Protection Act of 2017, would ensure there are no conflicts with the state's six existing installations before additional projects are developed, Brown's office announced.
"Our military installations have been the cornerstones of our communities for generations, and they provide jobs to countless North Carolinians who are proud and privileged to support them," Brown said in the announcement. "It's unfortunate that taxpayer-subsidized incentives to the renewable energy industry are resulting in higher energy costs to N.C. consumers, but at the end of the day, this bill isn't about the merits or lack thereof in subsidizing wind energy. It is about our responsibility to protect the investment the U.S. military has made in our state and honor our commitment to being the most military-friendly state in the country."
Brown introduced a similarly named bill in 2016 that he described as necessary to keep the state from losing its military installations and their economic benefits. But Pentagon officials disputed that there was a problem and expressed support for the state's existing law that allows for military input on proposed wind farm development.
Brown notes that the state is home to roughly 60 percent of all incentive-qualifying wind and solar energy facilities in the nation. Brown cited and linked to in his announcement an online Carolina Journal article, "Duke Energy: Renewable producers getting a good deal at ratepayer expense."
Learn More