DURHAM – Researchers at Duke University say a recent study found high levels of selenium in fish in three North Carolina lakes receiving coal ash waste from power plants.
"Across the board, we're seeing elevated selenium levels in fish from lakes affected by coal combustion residual effluents," said Jessica Brandt, a doctoral student in environmental health at Duke's Nicholas School of the Environment, who led the study.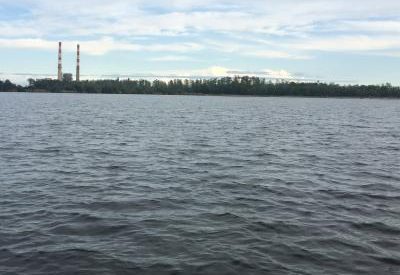 Selenium is a naturally occurring element that is concentrated in coal ash and other coal combustion residuals. Early life exposure can cause deformities, impaired growth and reproduction, and in extreme cases death in fish and aquatic invertebrates. Because selenium accumulates in the food chain, it also can be toxic to birds that eat aquatic animals containing high levels.
Brandt and her colleagues published their peer-reviewed study Monday in the journal Environmental Science & Technology.
They measured selenium levels in surface water, bottom-sediment waters and fish from three North Carolina lakes: Sutton Lake near Wilmington, Mayo Lake near Roxboro, and Mountain Island Lake near Charlotte. The three lakes are, or until recently were, discharge sites for effluents from coal-fired power plants. Four types of fish tissue were analyzed: liver, muscle, ovary and testes.
The team also measured selenium in water, sediment and fish tissues in three similar lakes — Adger, Tillery and Waccamaw — with no such history of contamination. Samples were collected over a three-month period in spring 2015.
"Catastrophic releases of coal ash like the Dan River spill of 2014 get all of the attention, but there is ongoing, continuous contamination of aquatic ecosystems from hundreds of coal ash ponds across the country," Brandt said. "People fish in these lakes for recreation and subsistence purposes. We want to protect these public resources."
The EPA recently revised its selenium threshold criteria for aquatic health, and now places greater weight on concentrations in tissue rather than in water for evaluating ecosystem effects.
"Selenium concentrations in surface water don't tell us as much about the risk of exposure to fish," Brandt explained.
Of the three coal ash discharge lakes tested in the new study, Sutton Lake had the highest levels of selenium. Eighty-five percent of all fish muscle samples examined there contained selenium levels above the EPA's threshold.
North Carolina has new coal ash management rules in place to close coal ash ponds at some power plants, Brandt noted. "But it will be important to continue monitoring sediments and fish tissues at these sites after the selenium inputs are stopped," she said. "You have to look beneath the surface to understand how these problems persist over time."
The new study did not evaluate potential human health risks posed by the coal ash residual contamination.
Co-authors of the new study were Emily Bernhardt, professor of biogeochemistry; Gary Dwyer, senior research scientist, and Richard Di Giulio, Sally Kleberg Professor of Environmental Toxicology, all of Duke.
Learn More