WILMINGTON – The Enviva wood pellet domes at the North Carolina Port of Wilmington are operational and loading the first export shipment of the biofuel to Europe this week, the State Ports Authority announced Thursday.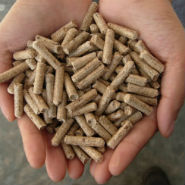 The Enviva terminal, which includes two storage domes that can hold up to 45,000 metric tons of wood pellets each, is estimated to boost the local economy by more than $16 million per year and ship more than 1 million tons of pellets annually.
"The Port of Wilmington is a key nexus for global commerce and an economic engine for the state of North Carolina," said Enviva CEO John Keppler. "We are excited to be an important part of the port's ever-increasing volume of trade."
The pellets, considered a renewable energy source, are used as fuel to generate electricity at power plants converted from coal-fired generation, a move to cut emissions of greenhouse gases. But burning wood does generate carbon dioxide, a greenhouse gas. Research has also indicated unrestricted biofuel production could result in habitat loss for wildlife.
Enviva earlier this year announced grants totaling $295,000 to two conservation groups to protect bottom-land forests along the Neuse and Roanoke rivers.
Wood pellets can be delivered to the Wilmington port by truck and rail. The rail link has the capacity to handle about half the total volume.
"The Enviva domes are an important part of our ports modernization plan," said North Carolina Ports Director Paul Cozza. "This project will increase bulk exports, thus expanding the business of our general terminals which is a vital portion of our strategic plan."
With facilities that include the terminal at the Port of Wilmington and the Enviva wood pellet production facility in Sampson County, Enviva employs more than 100 in the Cape Fear Region and anticipates an annual economic impact of about $160 million. The company has signed a 21-year lease with two five-year renewal options with authority.
"This is about furthering our economic contribution to the City of Wilmington and the State of North Carolina," Ports Authority Chairman Tom Adams said in the announcement. "On top of the 100 jobs Enviva has created, there are nearly 200 additional jobs supported by their shipping, trucking and logging needs and the economic activity those jobs create."