Some local governments in North Carolina and elsewhere are struggling with the increased costs of recycling as prices for the materials have dropped in the past couple of years, but the head of the state's recycling program says the industry will soon stabilize.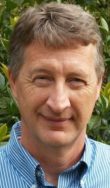 Scott Mouw, chief of the recycling section of the state Department of Environmental Quality, said prices industries pay for recycled glass, aluminum, paper and other products have been in a "trough," and recycling companies have been forced to renegotiate some contracts. But he added that the fee increases are normal and necessary in a worldwide economy in which commodity prices fluctuate.
"We're coming out of that trough," Mouw said recently. "I know we're seeing some price issues and some adjustments between companies and local governments, but I don't think these (prices companies charge local governments) are going to continue to go up, year after year. I think that once the companies make these adjustments and ensure that they are able to stay in business, things will stabilize."
Swansboro, a growing town of about 3,500 people in Onslow County, has a fairly robust recycling program with weekly, curbside pickup of large roll-out containers. But falling commodities prices recently prompted about a 10 percent increase in the town's recycling contract with Sonoco, a publicly traded firm that's a major player in the industry.
The new deal, signed in November, will cost the town about $5,000 extra this fiscal year. That might not sound like a lot, but in a town with a total general fund budget of just over $4 million, a relatively high property tax rate of 35 cents per $100 of assessed value and a solid waste fund of $278,000, it's a significant hit.
Swansboro signed a five-year contract with Sonoco of Jacksonville in 2011, but agreed to a $30-per-ton surcharge on recycling items in the renewal of the contract in November, said Scott Chase, town manager. The town had budgeted about $48,000 for recycling for fiscal year 2016-17, which began in July and ends in June. Town officials are considering eliminating glass from the list of materials accepted for recycling, since that's one of the major problems in the commodities market.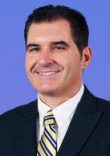 Other towns are considering smaller recycling containers. This comes as many, including Swansboro and Morehead City, have moved in recent years from small bins to the roll-out containers – but Mouw doesn't think either reaction is a good one.
"Glass is very heavy," he said. "If a household recycles 600 pounds of materials in a year, probably a fourth of that is glass. That's 150 pounds."
That, he said, adds up over time. And that weight, no matter how insignificant it might seem, is far costlier for a town to dispose of in a landfill, where tipping fees apply, than it is through increased recycling service fees.
All of this, Mouw said, is incredibly complicated, affected not just by the needs of municipalities and counties and the companies that do the recycling, but also by worldwide commodity prices and the economies of countries like China, which is a major buyer of recycled materials for use in its industries.
When China's economy slowed recently, demand for recycled products decreased. And when oil prices dropped worldwide, that also hurt demand for recycled materials, especially those made in part from oil. Plastic, for example, is derived from oil, so recycled plastic becomes less attractive when oil prices are low.
Part of the problem, Mouw said, is that when many local governments signed contracts with recycling and waste firms, the world was a different place. When oil prices were much higher, it made recycled materials much more attractive.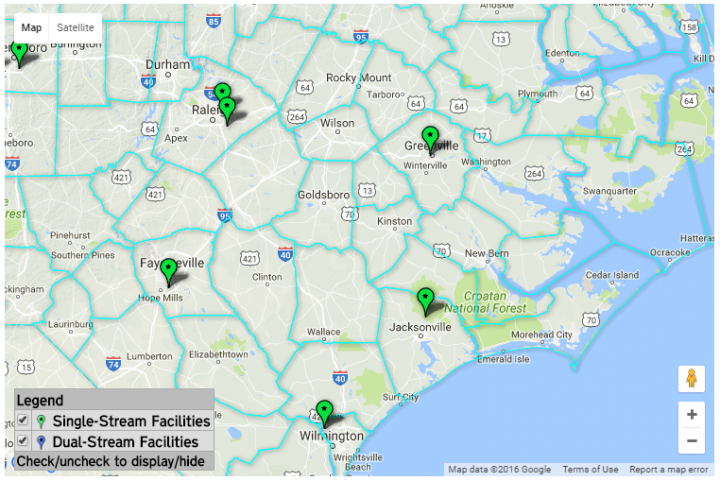 Recycling took off in the 2000s, especially after about 2011, but demand for the products has since declined. It has been, Mouw said, "a perfect storm" that has demanded a bit of a "reset." But it's nothing to be alarmed about; there's no real "crisis" in recycling, he said, just a maturing of what is still a very young industry.
It's also important to remember, Mouw added, that recycling is not just a green "service" provided by local governments. It's now an important part of the world economy, with thousands of jobs dependent upon it, especially since the development of material-recovery facilities like Sonoco. The rise of these facilities about five years ago has made recycling a big and successful business, Mouw said.
In the past, consumers did the work, separating the recyclable materials – paper, glass, aluminum – themselves. When recovery facilities arose, then folks could just throw all those materials into one big container and let the companies do the sorting. It became easy, almost like tossing stuff in the garbage can, and the number of materials accepted increased. That's when recycling really took off. It's also when jobs in the industry multiplied, Mouw said.
States and local governments, concerned about the increased cost of feeding ever-growing landfills, also recognized the value of recycling. State laws were passed to require recycling of certain items.
North Carolina passed laws to prohibit disposal of aluminum cans, as well as many plastic and glass containers.
If you can't throw these items away, but the demand for them is low, a glut arises and the prices paid for the material go lower.
Mouw said he doesn't think any state laws need to change to address the current situation. There's no need to panic, he said; recycling isn't going away.
Indeed, according to statistics from the Environmental Protection Agency, more than 34 percent of American's garbage is now recycled, a gain of more than 400 percent since 1960. 
Not Just Glass and Plastic
And it's not just the prices of glass and plastic that have fallen. Recently, bales of aluminum cans that not so long ago were selling for $2,000 per ton were selling for only $1,100 per ton, according to industry figures. Demand was down. There have been gluts – oversupply – in paper, as well.
Again, though, Mouw thinks things are rebounding. While drivers might not like higher oil prices and higher gas prices at the pump, the higher oil prices make recycled commodities more appealing.
It's crucial to remember, Mouw said, that for local governments, recycling service, like other town services, isn't supposed to be a money-maker.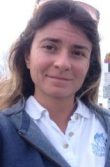 Lisa Rider, assistant solid waste director for Onslow County, said the county, which has a recycling program that includes 10 free drop-off sites, isn't planning any changes in its program. While it's not supposed to be a big money-loser, she said, nor is it supposed to be profitable.
"There's no way that recycling costs will exceed the cost of the landfill costs," she said.
Rider, who is an ardent environmentalist deeply involved in not just recycling, but also in the worldwide effort to remove trash from oceans, believes, like Mouw, that despite adjustments in costs to local government, recycling as a service – and a benefit to the environment – is here to stay and will continue to grow. Where would all that stuff go, she said, if it were not recycled? Also, many people are enthusiastic about recycling, and it's a routine part of their lives.
"We are all struggling a bit with the market at the moment," Rider said, but Onslow isn't looking at any changes in its service. 
Economic Importance
Sonoco and many smaller companies play important economic roles.
"Everybody thinks it (recycling) is just about being 'green,'" she said, "but it's really just as much about the economy now. Yes, it's a good thing for citizens and local governments to do, but it's also about jobs and the impact on the overall economy."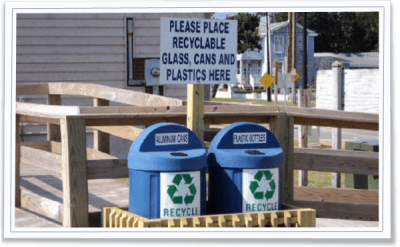 Recycling can significantly reduce household waste disposal costs. Onslow County's solid waste disposal convenience sites charge $1.50 for a bag of garbage. Rider recycles so thoroughly that she generates only one bag of garbage per month, and she and her husband don't need curbside garbage pickups. This amounts to $15 to $20 a month in savings, which especially helps those with low or fixed incomes.
Consumers, Mouw and Rider said, can help keep costs low by paying attention to what they put in recycling bins and roll-out containers. Things that don't belong – plastic bags, for example – stop sorting machines from working, which increases costs. It's also best, they said, if consumers make at least some effort to ensure that the things they recycle are relatively clean.
Mouw also said the company he works for, and other recycling firms, are very sensitive to the effects price increases have on the local governments, and work hard to limit those effects.
For example, the new contract with Swansboro covers only one year, and the surcharge could change over the course of the contract. If commodity prices go up, the surcharge could be reduced.
During a November board of commissioners meeting, Chase, the town manager, said that after discussions with Sonoco, he came away thinking "the trend is favorable."
He noted that the town's garbage and recycling costs are paid out of an enterprise fund, akin to collecting a fee from residents that accurately reflects the cost of the service.
"This is always going to be a moving target," he said of the town's trash and recycling expense. "But we have to cover the costs."
Not Everyone is Affected
Some local governments have yet to see any problems. Emerald Isle, a summer resort town on Bogue Banks in Carteret County, isn't looking at any changes, in large part because of a very favorable contractual arrangement.
Town manager Frank Rush said Emerald Isle's residential solid waste service is contracted to Simmons and Simmons, based in Swansboro, but another firm, Waste Industries, takes – at no cost to the town – all of the recycled materials collected by Simmons and Simmons. That could eventually change when the contract runs out, but for now it's a win-win for the town and its residents and thousands upon thousands of summer visitors.
Similarly, Morehead City Manager David Whitlow said his town was not experiencing any problems.
Morehead City recently went to the roll-out containers, which hold about four times as much as the old bins, and expanded the products residents can toss in. At the same time, the town went from weekly service to every other week. That, and the elimination of the need for workers to pick up the bins – it's mechanized now with the big carts – kept the city's contract with Waste Industries relatively stable. And, Whitlow said, if the market is having any effect, Waste Industries hasn't reflected that in talks with the city.
All in all, Mouw said, he's confident in the health of recycling programs.
Recycling facilities need local governments, Mouw said.
"They need to be connected to local governments. What we're seeing right now is an effort to hit the mark that allows them to stay in business" without overcharging local governments. "I think they will hit that mark."
Learn More