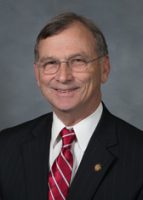 Sen. Bill Rabon, R-Brunswick, has been named as the new chairman of the Senate Rules Committee, replacing former Republican Sen. Tom Apodaca of Hendersonville.
The committee chairman position is a powerful one. The committee manages legislation between chamber committees and the floor, assigning bills to other committees for study and recommendation.
The announcement was made by Senate leader Phil Berger, R-Rockingham, today.
Rabon previously served as co-chairman of the Senate Finance Committee and co-chairman of the Senate Transportation Committee.
The General Assembly will reconvene next week for a Hurricane Matthew recovery and mountain wildfires special session.
To Learn More