The Z. Smith Reynolds Foundation's Environment Program Officer, Hawley Truax, will be moving to a new role at the Environmental Defense Fund in January 2017.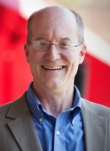 Truax has been at Z. Smith Reynolds for eight years, where he worked on climate change strategy across partisan lines.
"The Foundation has greatly benefitted from Hawley's ability to build and maintain strong relationships throughout the environmental community," said Jane Smith Patterson, trustee of the Z. Smith Reynolds Foundation.
In his new position as the Southeast regional director at the Environmental Defense Fund, Truax will work with partners to address some of the biggest environmental problems in the region.
Z. Smith Reynolds is in the process of working on a new strategic vision in 2017, and the organization said Truax's departure "is not an indication of any decisions on the part of the Foundation as to what the future will hold."
Z. Smith Reynolds describes itself as dedicated to improving the lives of North Carolinians through investments in organizations that build a sustainable and vibrant state.
The Environmental Defense Fund, one of the world's largest nonprofits, says it uses science and economics to solve environmental problems.
To Learn More