Janice Allen, deputy director of the North Carolina Coastal Land Trust,  received last week one of the state's most prestigious service awards, the Order of the Long Leaf Pine.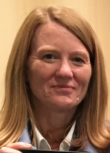 The governor typically presents the award to North Carolina residents for exemplary service to the state and their communities "that is above and beyond the call of duty and which has made a significant impact and strengthened North Carolina," according to the Order of the Long Leaf Pine Society.
Allen, who works out of the trust's New Bern office, is known for her work to protect long leaf pine forests, carnivorous plant habitats, wetlands, among other natural areas. One of her most notable initiatives is an encroachment partnership with the military to protect coastal areas from development and to protect the military from incompatible development. A decade later, the partnership has led to more than 8,000 acres of protected land and $31 million in investments.
The Coastal Land Trust was founded in 1992 and has become the largest land trust, geographically, in the state, serving 31 counties along the coastal plain.
To Learn More