CAPE LOOKOUT – Patrick "Pat" Kenney, superintendent of Cape Lookout National Seashore since 2011, will soon be heading west.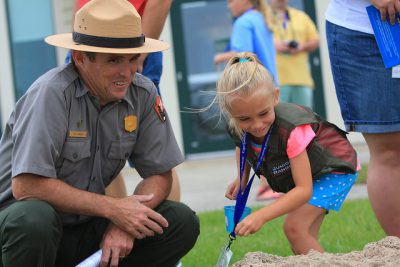 Kenney was recently selected as the new deputy superintendent of Yellowstone National Park. The park's Superintendent Dan Wenk made the announcement Thursday.
"It's a great opportunity," Kenney said Friday. "Yellowstone was the first national park created in the world. It's pretty impressive to have the opportunity to go there and work."
During his time at Cape Lookout, Kenney oversaw major facility improvements, a new concessions contract for a passenger ferry service, storm recovery efforts following Hurricanes Irene and Sandy, management of off-road vehicles to ensure the preservation of shorebirds and sea turtles and improved energy efficiency in the park.
"I am happy that Pat will join our team and provide leadership for Yellowstone," said Superintendent Wenk. "He comes to us with extensive operational experience, project management skills, and the ability to build relationships both inside and outside the organization."
Prior to managing Cape Lookout, Kenney served as the planning branch chief at the Denver Service Center, which is the central planning, design and construction management project office for the National Park Service. There, he managed numerous planning efforts in a variety of parks including Mount Rainier, Everglades, Big Cypress and Badlands.
Kenney began his National Park Service career as a resource management specialist at Big Cypress National Preserve in 1990. A 26-year veteran of the service, Kenney is a certified project manager and has a degree in zoology from the University of Wisconsin-Madison. He and his wife Dyanne are happy about returning to the West and exploring the Greater Yellowstone area.
"I came from the West to come here, so it's a welcome change in some respects," Kenney said. "Obviously, it's a little sad, this is a great staff and they're good people. There's mixed emotions to leaving."
Kenney said he'll be making the move sometime after the first of the year.
As deputy superintendent, Kenney will direct day-to-day operations of the 2.2 million-acre park, supervising the largest park operations program in the service.
Operations include maintenance; law enforcement; search and rescue; emergency medical; wildland and structural fire; resource education; youth programs; resources management; science; research; business management that includes $120 million annual commercial activities; and contracting and human resources. The annual park operational budget is $34 million. The annual program of projects averages $40 million. At peak season, 850 employees work in the park.
Learn More