WILMINGTON — The chairman and one co-vice chairman of the 20-member panel that advises the state Coastal Resources Commission has called for creation of an ad-hoc group to review and try to solve what they view as potential conflicts between state rules and the most recent flood insurance rate maps produced by the state and the Federal Emergency Management Agency.

Coastal Resources Advisory Council Chairman Rudi Rudolph, head of the Shore Protection Office in Carteret County, and council co-vice chairman Spencer Rogers, a coastal engineer with North Carolina Sea Grant and UNC-Wilmington, pitched the idea during PowerPoint presentations at the council's most recent meeting in September in Wilmington. They hope to pitch the idea to the Coastal Resources Commission when it meets again, Nov. 30-Dec. 1 at the Hilton Doubletree in Atlantic Beach.
The slideshows show contrasts between where some flood elevations would be set in the new maps, and where some flood levels have actually been in storms of recent years.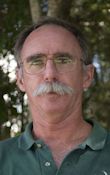 Part of the problem, according to Rogers, is with the maps themselves, which are in draft form, but which, based on historical data and incidents, seem to have overstated flooding risks in some areas and understated those risks in others. That, he said, sets up some potential conflicts with setback requirements under the state's Coastal Area Management Act, and possibly some conflicts with state building codes, which govern what kinds of things can be built in flood zones and whether buildings must be elevated or not in those locations. For example, some properties that would be moved from the VE (wave zone) could, under the new zone they are in, be allowed to have buildings that are not elevated, or could have basements.
"There's no clear pattern," Rogers said, and in some cases the decisions seem to defy logic.
But the state has to use the maps once they're adopted, and the local communities and insurance providers do, too.
"It might be that we need to look at changing some things," Rudolph said.
To examine those kinds of issues, Rudolph and Rogers would like to see the state get members of the commission and its advisory council, the state Building Code Council and representatives of the North Carolina Floodplain Mapping Program together to talk.
Rogers said he thinks that if that can happen, most of the issues can be resolved fairly quickly and easily.
The rate maps show the flood risks in various areas of communities in the United States and designate high-risk areas, or areas with a 1 percent or higher annual risk of a flood, known as a 100-year-flood, and moderate- to low-risk areas, or areas with a less-than 1 percent annual risk of a flood.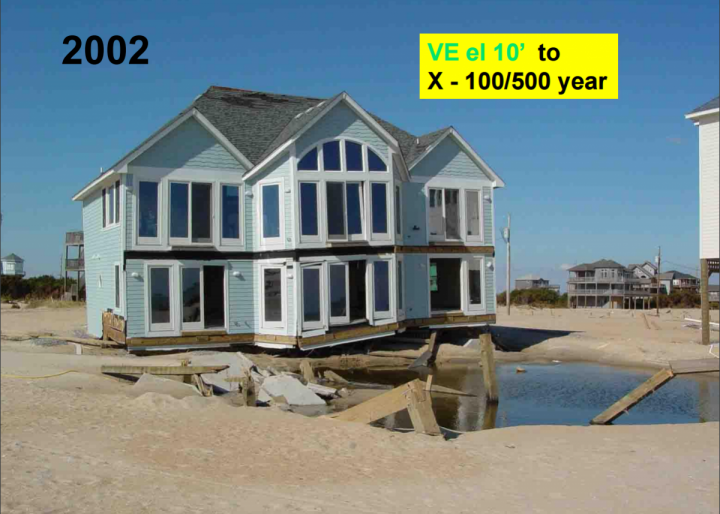 On rate maps, areas of moderate to low risk are zoned B, C or X. Higher-risk areas are in zones that begin with either the letter A or V. Areas of undetermined risk are zoned D.
In high-risk areas, flood insurance is mandatory, though rating options may be available to create savings. In moderate- to low-risk areas, flood insurance is recommended, but optional.
Back when the maps were first released for review in early summer, officials in several local governments contacted by CRO said they were surprised by some of the areas removed from the highest-hazard flood zones, particularly along the oceanfront, and either placed in lower-hazard zones or not placed in any hazard zone.

"They're just maps, and people need to realize that lines on paper don't mean there won't be floods," said Donna Creef, director of the planning department in Dare County.
In Dare County, the proposed rate maps would remove thousands of properties from flood zones altogether and move many others to lower-danger zones.
"Mother Nature doesn't necessarily do what maps and lines say she will do," Creef said.
In other areas, such as Emerald Isle in Carteret County, the changes might have something to do with beach-nourishment efforts and dune stabilization projects, but also the fact that there simply hadn't been many hurricanes in recent years.
In Emerald Isle, the number of buildings in the VE zone – the highest danger zone for flooding – will decrease from 1,135 to 441 if the new maps are approved without change. Some were moved out of the flood hazard zones entirely.
In New Hanover County, planning director Ken Vafier did an analysis this past summer and concluded that, "the maps are changing to less restrictive zones on many properties around the county. Of course, this is not the case for every single property."
Beaufort County doesn't have an oceanfront, but it does have a long shoreline along what in recent years has come to be called the state's "inner banks." Beaufort County planning director Seth Laughlin sounded a lot like Creef.
"What we saw was very much unexpected," Laughlin said of the new maps.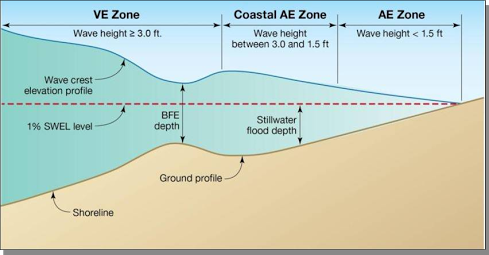 The unincorporated parts of the county, he said, saw likely improvements in flood insurance rates for 4,000 to 5,000 properties, and relatively few that would see negative changes.
Like Creef, Laughlin said he's grateful that many property owners will likely see insurance rate cuts and might be able to do different things with their property, but he wonders about the complacency the maps might induce.
In years past, FEMA did all the work on the maps for the state, but that has changed in recent years. After Hurricane Floyd exposed some major problems with the maps in 1987, Rogers said, efforts to improve the maps began, but proceeded very slowly, only one county per year. More than half of the maps at the time were more than 10 years old, and three-quarters were at least five years old. But most counties didn't have the money or staff to do their maps on their own.
As a result, in 2000, 22 federal and local community entities joined North Carolina and FEMA in an agreement to work together to update and maintain accurate, up-to-date flood hazard data for the state, and North Carolina created the Flood Plain Mapping Program.
Eventually, the state took over the program lead, with FEMA's OK, and many feel it's done a much better job, in part because it depends more on local folks who know the areas better, but also because the technology used is much better.
Scientific models created over the past few years, incorporating storm surge and other data from more than 20 named storms since the early 1980s, helped hone the maps.
Rogers said he isn't contending that the state didn't do a good job once it took over the lead role; in fact, he said the state improved the process and generally improved the maps. But that doesn't mean the maps are perfect, or that they mesh perfectly with existing state rules and codes. And consistency is important because the maps are used by local government officials to make decisions on permits.
Rogers said he isn't too worried about the potential "apathy" or "complacency" mentioned by folks including Creef and Laughlin, especially along the oceanfront areas of barrier islands. Structures there might end up removed from the VE zone under the new maps.  He said most who build there realize that no matter what the maps indicate, there is risk, and it can be quite significant. But, he added, removing inconsistencies among the maps, the state's building code and CAMA rules is important.
Rudolph said he believes it would be valuable to get people from all of the agencies involved together, and hopes he and Rogers will be on the commission's agenda in November to make much the same presentation they made to the advisory council.
"I don't want to say the maps are wrong," he said. "I think it needs to be a cooperative effort to resolve some of the issues we see in terms of conflicts."
Rogers said there is a precedent for the type of cooperative discussion he and Rudolph would like to see take place. Back in the 1980s, "we made some significant improvements in the building code" as a result of such efforts, he said.
"I think what Rudi and I are talking about is not something that would create additional regulations," he said. "What we're talking about, really, is doing a better job of applying the regulations we have now under the new maps."
Note: Rudolph said on Monday he and Rogers plan to present the slideshows again during a meeting of the Carteret County Beach Commission at 2 p.m. Oct. 24 at the Pine Knoll Shores town hall. — The Editor.
Learn More