From an Island Free Press report:
The Dare County Board of Commissioners, during its meeting on Monday, changed the name of its citizens' advisory panel that has been focusing on Hatteras Inlet shoaling issues.
The board gave unanimous approval to a motion to change the name of the Oregon Inlet and Waterways Commission to the Dare County Waterways Commission.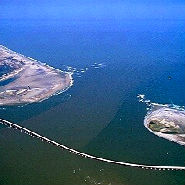 "We have been discussing a potential name change for the Waterways Commission for some time," Overman said in an email after the meeting, "and with all that is going on right now with respect to the Connecting Channel and the short route, I felt that it was a good time to make the change to reflect a concentration on Hatteras issues. Although the Waterways Commission will have responsibility to provide advisory information on all Dare County waterways, there will be at the moment a large effort put forth to relieve the issues facing Hatteras."
Dare County has two panels of citizens and users to advise the Board of Commissioners about issues with the county's inlets. One is named The Oregon Inlet Task Force and the other — until Monday — was named the Oregon Inlet and Waterways Commission. Both meet monthly.
Hatteras boat captains and others said Hatteras Inlet wasn't getting enough attention.
The Oregon Inlet Task Force members made it clear that they didn't want to confuse the issue by adding Hatteras Inlet to their business. The Dare County Waterways Commission will now address Hatteras Inlet issues as well as Oregon Inlet.  The group voted to alternate its meetings, which used to all be in Manteo, between Manteo and Buxton.
County commissioners also filled two vacancies on the Waterways Commission. The two new members are Dan Oden, whose family owns Oden's Dock marina in Hatteras village, and Ronald Stowe, a retired dentist who now lives in Hatteras village and is a member of the Hatteras Marlin Club, a private, boating and fishing oriented club whose members are regular users of Hatteras Inlet.
The eight members of the new Dare County Waterways Commission now include Chairman Dave May, Vice-chairman Ernie Foster, Fletcher Willey, Danny Couch, Steve "Creature Coulter, Allen Burrus, Dan Oden, and Ronald Lowe.  All but May and Willey are Hatteras islanders.
The first meeting of the newly named commission was Tuesday.
Learn More