The Theodore Roosevelt Conservation Partnership, a coalition of organizations and grassroots partners working together to preserve the traditions of hunting and fishing, recently presented its 2016 Lifetime Conservation Achievement Award to philanthropist Louis Bacon, founder and chairman of the Moore Charitable Foundation Inc.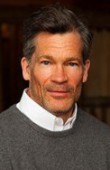 Bacon has spent more than two decades supporting efforts to conserve threatened habitat, protect open spaces and safeguard clean water through the foundation, which he founded in 1992. The foundation, through its North Carolina affiliate, the Orton Foundation, has supported the N.C. Coastal Federation's efforts to protect the Cape Fear River from industrial pollution such as the formerly planned Titan America cement plant in Castle Hayne. It has also worked to counter other threats, including waste from large-scale animal feeding operations throughout the region and coal ash contamination from Duke Energy's Sutton Plant near Wilmington. The foundation also focuses on habitat restoration and wildlife protection through the Nature Conservancy North Carolina, the Audubon Society and other groups.
Bacon helped found in 1999 the Waterkeeper Alliance, the umbrella organization for hundreds of local environmental groups across the world advocating for the defense of clean water, energy and farms.
"Theodore Roosevelt's legacy is one of great environmental success, but conservation success today requires as much, or more commitment than in Roosevelt's time, when tens of millions of acres of natural wildlife habitat could be set aside with the stroke of a pen," Bacon said. "Conservation success today is also about tackling the issue of environmental justice. We must guarantee that all citizens have access to clean water and clean air as well as access to the outdoors that we all love."
Learn More