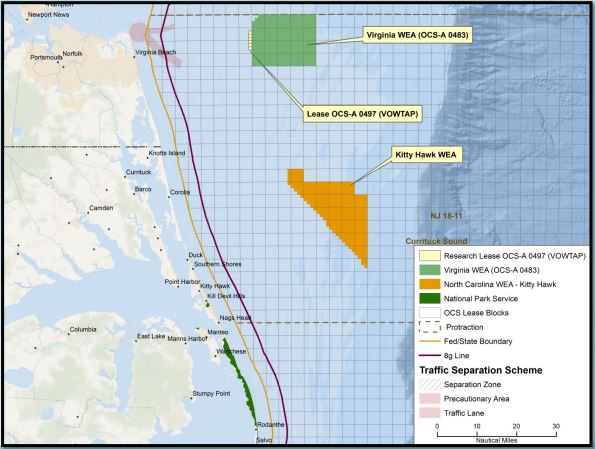 North Carolina's environmental secretary says proposed lease sales for commercial wind-energy development off the N.C. coast would be "irresponsible" without a guarantee that the state will get a cut of the revenues.

Donald van der Vaart, secretary of the N.C. Department of Environmental Quality, included the comments in a letter dated April 26 to Abigail Ross Hopper, director of the Bureau of Ocean Energy Management. The letter was submitted as DEQ's comments in response to BOEM's proposed sale notice and request for companies interested in bidding in an internet auction for leases in federal waters of Kitty Hawk.
"The issue of revenue sharing is the only potential barrier to North Carolina extending its full support for the Kitty Hawk Wind Energy Area lease," according to the letter. "Moving power inland from an offshore wind power plant will require extensive infrastructure at a significant cost to the state."
It would be "irresponsible" for a lease to occur without North Carolina receiving a portion of the federal revenues, including lease sale rents and production royalties to offset some of the state's infrastructure investment, van der Vaart said. "With your support, Congress is more likely to act quickly to pass equitable offshore energy revenue sharing legislation."
The secretary's letter also calls for protection of the environment, including marine life and habitats, and economic interests, such as coastal tourism and property values.
The Kitty Hawk area, one of three areas off the N.C. coast identified for wind-energy development, is about 24 nautical miles from shore and covers about 122,405 acres. Two areas off the coast near Wilmington were also identified initially, but the Interior Department changed its strategy in response to the state's concerns about effects on coastal views and potential harm to the endangered North Atlantic right whale.
Learn More