MOREHEAD CITY — A new nonprofit organization is keeping an eye out for polluters and other threats to coastal waters in and around Carteret County.
The Crystal Coast Waterkeeper, an environmental protection group licensed by the international Waterkeeper Alliance, announced in January that it was up and running, working to protect and support healthy water quality in and around Carteret County. The advocacy organization recently opened an office here at 700 Arendell St., Suite 2, to focus on Bogue Sound, Back Sound and Core Sound, the creeks and streams that drain into them and adjacent offshore waters.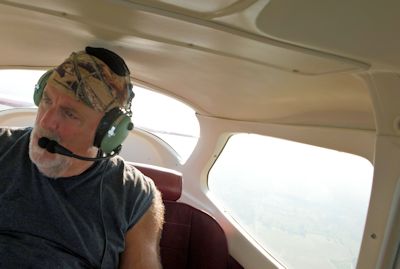 The alliance was founded in 1999 by Robert F. Kennedy Jr., environmental attorney and activist, and a number of existing waterkeeper groups. Its goal is swimmable, drinkable and fishable water everywhere.
In this area, Larry Baldwin is the public face of the organization and the official Crystal Coast Waterkeeper, a title that's a registered trademark of the alliance. He's also the executive director of Coastal Carolina Riverwatch, a New Bern-based volunteer group dedicated to working with waterkeepers across the state. Baldwin, who is one of 12 waterkeepers in the state, said the work is based on advocacy.
"If we find an issue that needs to be dealt with, that's when we come in," Baldwin said during an informal gathering he hosted for area town officials last week at the Golden Corral. Town managers from Emerald Isle and Swansboro attended, as did Newport Mayor Dennis Barber.
Baldwin said towns here depend on a healthy coast to support the economy. Water quality is vital to tourism, commercial and recreational fishing and the quality of life here, he said.
"We are working with towns to preserve what we have here," Baldwin said.
The recent federal decision to hold off granting leases for oil and natural gas drilling off the N.C. coast was important, Baldwin said, because the potential for an accident could affect the coastal economy here, just as it did on the Gulf Coast in 2010 after the Deepwater Horizon disaster, an explosion aboard the Macondo oil well drilling platform that created the largest marine oil spill in U.S. history.
"There are ongoing problems from that damage," Baldwin said.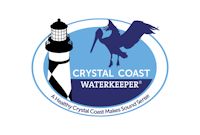 Even without the risk of an oil spill here, coastal waters may become threatened by pollution from industry, development, agricultural operations and other factors. Baldwin is equipped with two donated boats and supported by a board member who is a licensed airplane pilot in his efforts to keep a watchful eye out for polluters. It's a formula that has proven useful in other areas where disaster might have otherwise gone undetected for longer than it did.
A riverkeeper was early on the scene to investigate in early 2014 after Duke Energy's coal-ash pond in Eden failed and spilled ash and wastewater directly into the Dan River, Baldwin said. The Waterkeeper Alliance continued to monitor river conditions, including water sampling that showed high levels of arsenic, chromium, iron, lead and other toxic metals downstream from the spill. The alliance released its water sample testing results in about two days, apprising the public when Duke's and the N.C. Department of Environmental Quality's test results were still unavailable.
Here, the Crystal Coast Waterkeeper's jurisdiction includes not only sounds but also ocean waters, which can help in terms of standing when legal action must be taken against a polluter, Baldwin said.
"It helps to be able to say it's an area we've been looking at over time," Baldwin said Tuesday in an interview.
Baldwin's group isn't the first nonprofit to provide water keepers. The N.C. Coastal Federation was licensed by the alliance for three coastkeepers , who covered the entire N.C. coast. The federation dropped its licenses in 2009, and the role had been unfilled since then.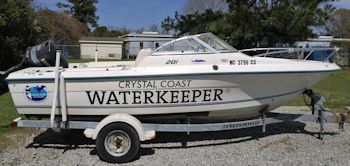 Baldwin, a native of Hagerstown, Md., moved to North Carolina in October 2002 to become the Lower Neuse Riverkeeper, a job he held for about nine years. During that time, a big focus was on large hog and poultry farms that violated federal environmental laws by illegally dumping animal waste into creeks, rivers, ditches or on adjacent lands.
After working for the alliance for several years, Baldwin said he jumped at the chance to become the Crystal Coast Waterkeeper. "I enjoy being what I refer to as 'out in the field.' This gave me the opportunity to get back to directly working with people and using my time and talents in that regard," he said.
As far as threats to local waters, Baldwin said the big one was Atlantic offshore drilling, which the Obama administration recently removed from consideration in the five-year plan for 2017-22.
"I don't think we're out of the woods with that yet. There are bills pushing to change that ruling," Baldwin said, adding that seismic testing remains a concern for the Atlantic coast.
Otherwise, sewage treatment plants in the area that discharge into local waters will be an area of immediate focus.
"We've got some oyster problems in the Newport River, areas that are constantly being closed because of bacteria, that are not getting state attention or support," he said. "There's going to be some regional issues that will come up. We will take care of them as we go along, in addition to monitoring, education and participating in public forums such as the recent ones on offshore drilling issues."
There may also be developments at the N.C. Port of Morehead City that require attention, Baldwin said.
"There's some talk of a liquid natural gas terminal on Radio Island and certainly there would be some concerns with that," he said. "We're not necessarily looking for trouble; we just want to be a part of protecting the Crystal Coast because it is such an unbelievable place."
Another focus is adding to the number of volunteers within the organization. The Crystal Coast Waterkeeper board includes nine members, but more are needed.
"We are looking for a diverse board, people who understand the region, and volunteers, especially those with boats for monitoring," Baldwin said.
Those interested can call 252-514-0629 or email larryb@crystalcoastwaterkeeper.org for more information.
Learn More