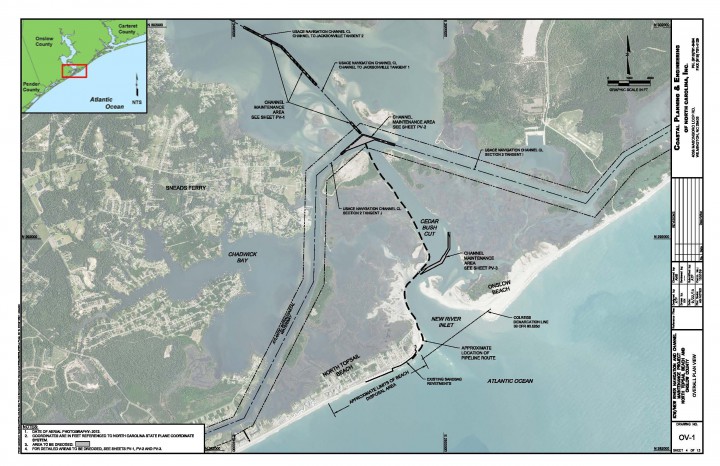 NORTH TOPSAIL BEACH – A $2.45 million dredging project to maintain the navigational channel in the Intracoastal Waterway in New River is underway.
Town officials said today the work began Tuesday evening. The joint Onslow County-North Topsail Beach project includes dredging along about two miles of existing waterway navigation channels. Beach-compatible sand from the project is to be placed along the northern oceanfront shoreline at North Topsail Beach, about as far south as the Topsail Reef condos.
The dredging will take place in the Intracoastal Waterway in New River, including the channel crossing and Cedar Bush Cut.
The Army Corps of Engineers has historically maintained the navigational channel and placed the beach-compatible sand on the north end of North Topsail Beach, but during recent years federal funding has not been available for the work.
The town and  the county began working with the coastal engineering firm, Coastal Planning & Engineering in 2012 to obtain permits to dredge the area. The project has been permitted and money for it came from the state's Shallow Draft Inlet Fund, which will cover about two-thirds of the cost. The town and Onslow County will each contribute half of the remainder.
Cottrell Contracting Corp. of Chesapeake, Va. was awarded the contract.
Learn More