RALEIGH — Sara Hallas, coastal education coordinator with the N.C. Coastal Federation's northeast office in Manteo, recently received the 2016 Conservation Communicator Award from the Hugh Hammond Bennett Chapter of the Soil and Water Conservation Society.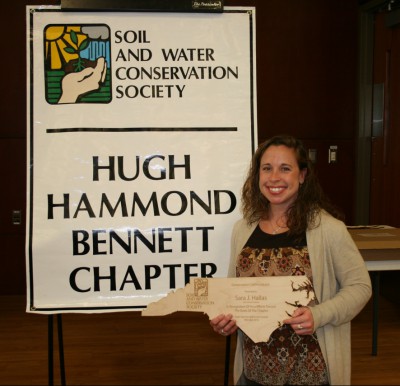 The award, presented Saturday in Raleigh, honored Hallas' outstanding environmental education and outreach, including organizing the Coastal Environmental Educators Network, a coalition of environmental education organizations and professionals in northeastern North Carolina. The network's mission is to create a sense of value for the region's natural and cultural resources through partnership and networking. The network consists of more than 30 member organizations, including state, federal, university and nonprofit organizations.
Hallas was one of several individuals and organizations honored during the event held at the Five Points Center for Active Adults on Noble Road.
Hallas joined the federation staff in 2008. She previously worked as a special activities instructor at the N.C. Aquarium on Roanoke Island. She leads outreach programs from the northeast office.
The Soil and Water Conservation Society works to foster the science and the art of soil, water and related natural resource management to achieve sustainability.
Learn More