MOREHEAD CITY — The Army Corps of Engineers is considering a plan to relocate the shipping channel at the state port here to try and resolve longstanding shoaling problems, the Carteret County News-Times reported.
The plan would shift the channel in Beaufort Inlet westward, away from Shackleford Banks and closer to Fort Macon.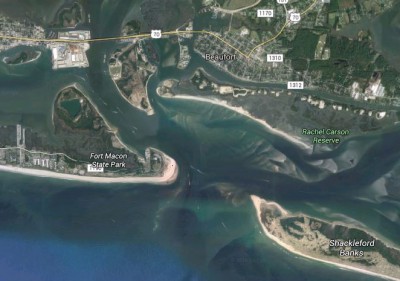 Shoaling has affected business at the port. The channel is federally authorized to a depth of 45 feet, but ships are currently limited to a 37-foot draft.
The Corps is preparing an environmental assessment, according to a Feb. 4 letter signed by Elden Gatwood, chief of the Corps' planning and environmental branch.
"Shifting the channel alignment approximately 300 feet west, away from Shackleford Banks, would provide a navigation channel more aligned with natural deep water," according to the letter. "This would reduce maintenance dredging requirements and increase ease of navigation for containerships calling on the Morehead City State Port terminal."
Any material removed from the inlet deemed to be beach quality would be stored in nearshore placement areas or at Fort Macon and Atlantic Beach.
Learn More