RALEIGH – North Carolina's environmental secretary says the federal Environmental Protection Agency was wrong in its criticism of the state's process for the public to challenge environmental permits via judicial review.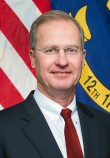 N.C. Department of Environmental Quality Secretary Donald R. van der Vaart responded last week to an EPA official who in October cited two pending court cases as examples in which citizens' access to judicial review of state-issued air and water pollution permits had become unduly restrictive.
Heather McTeer Toney, an EPA regional administrator, notified van der Vaart in a letter dated Oct. 30 that the decisions on public challenges to state permits for a proposed cement plant near Wilmington and a planned mining operation near Washington "cast serious doubt" on whether the state's federally authorized permitting programs can satisfy minimum federal requirements.
Van der Vaart, in a letter dated Monday, responded that the state had consistently provided the public judicial access beyond what federal law requires.
"North Carolina recognizes the important role our citizens play in protecting the environment. We will continue to protect the public's voice in the permitting process," van der Vaart writes. "Interestingly, a comparison between federal and North Carolina requirements to challenge an environmental permit indicates that the federal government's standard is more restrictive than the opportunities afforded to North Carolina citizens."
Van der Vaart goes on to say that EPA officials neither objected or identified problems with draft versions of the challenged permits when submitted to the federal agency for review. He writes that the threshold for public challenges had not changed since the early 1990s, when public access was expanded. The EPA never followed through with an explanation of how the state's permitting program failed to satisfy federal requirements, according to van der Vaart's letter.
"Read as a general statement of the need to provide citizen access to judicial review of permits, this letter could have gone to any state program in the country. In the context of the two particular cases to which your letter refers, your concern appears to rest on an assertion with a highly questionable foundation," according to van der Vaart's letter.
DEQ's initial response to Toney's letter was Nov. 16 in the form of a blog post that characterized the issue as a "misunderstanding about the role of public participation in the permitting process."
Learn More
Related Content