Reprinted from N.C. Health News
North Carolina is on track to meet new federal limits on the air pollutant ozone, according to environment officials' recent assessments of the state's air.
Numerous counties throughout the U.S. will initially struggle to meet the limits, according to the U.S. Environmental Protection Agency. Yet environment officials in North Carolina say the state shouldn't have any trouble, even in urban areas like Charlotte that have historically battled ozone pollution.
Carteret and New Hanover are the only two counties on the coast that are monitored for ozone pollutant. Both should meet the new standard.
The EPA's new rules cap ground-level ozone at a concentration of 70 parts per billion in the air. That cap, finalized Oct. 1, is more stringent than the 75-parts-per-billion cap used since 2008.
Ozone is one of six pollutants regulated under the federal Clean Air Act's National Ambient Air Quality Standards. The pollutant can cause a variety of health problems and can particularly harm children, the elderly and people with respiratory ailments, according to the EPA.
When breathed, ground-level ozone can cause acute lung damage. It can also lead to an increased number of asthma attacks and an increase in asthmatic symptoms, among other problems.
According to the EPA, by 2025 the new limits will lead to drastic national improvements in the public's health, including 230,000 fewer asthma attacks and 28,000 fewer missed days of work.
North Carolina may already be reaping the benefits of clean air. The state's counties have already met the EPA's new limits, based on measurements taken between 2013 and 2015, according to Tom Mather, a spokesman at the state's Department of Environmental Quality.
"Ozone levels have been steadily declining across North Carolina for the past 15 years, and we expect that trend to continue, so we do not anticipate any problems complying with the new standard," he said in an email.
The state's air monitors support Mather's confidence. Throughout the state, most counties measured ozone between 60 and 65 parts per billion, or ppb, a map of the monitors shows.
The highest measurement comes from Mecklenburg County, which includes Charlotte. Yet even there, ozone averaged 68 ppb, a level that still falls below the EPA's new threshold. Levels in Carteret County averaged 60 ppb and in New Hanover 61 ppb.
What Is Ozone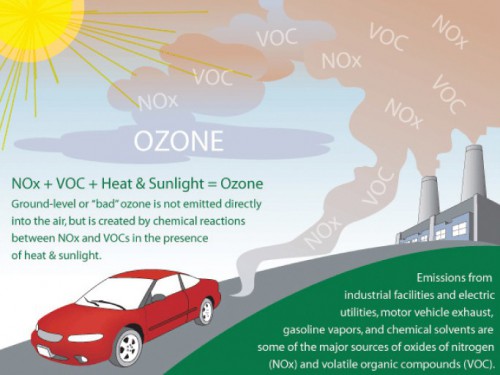 Ground-level ozone is a colorless gas and the product of chemical reactions among nitrogen oxides, volatile organic compounds and sunlight. These reactions are sped up by warm weather, which is partly why ozone can be a problem in areas like Los Angeles, which has a warm climate and a large population of car drivers.
Humans do much to create ground-level ozone. Cars and power plants, among other pollution sources, emit nitrogen oxides. Humans are also partly responsible for volatile organic compounds, since solvents and paints, in addition to other products, evaporate and release the compounds into the air.
But North Carolina's greenery is also partially to blame, according to Chris Frey, an engineering professor at N.C. State University.
"Vegetation, like trees, produces some volatile organic compounds that are photochemically active," he said. "So in North Carolina, because we have fairly lush green vegetation statewide, we tend to have plenty of organic compounds."
What helps keep ozone levels low then is our ability to minimize nitrogen oxide emissions, Frey said.
In North Carolina, that work largely fell on the Clean Smokestacks Act. The law, signed in 2002 by Gov. Mike Easley, required power plants to dramatically cut their emissions of nitrogen oxides and sulfur dioxide, another air pollutant.
To meet these requirements, Duke Energy and then-Progress Energy installed pollution-control technology on their coal plants. The companies also closed older, inefficient plants or converted plants to burn natural gas, a cleaner fuel source, Mather said.
But the law wasn't the only cause of the state's declining ozone levels.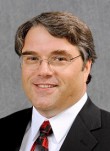 At the federal level, the EPA adopted more stringent pollution standards for cars and trucks, as well as diesel fuel and diesel engines.
"All these things together have led to the declines in (nitrogen oxides) emissions and improvements in air quality with regard to ozone and particle pollution," Mather said.
That has been the case even as North Carolina's population has grown, he said.
State data bear out this point. Fifteen years ago, North Carolina had roughly two million fewer residents than it has today. And yet between 2001 and 2003, 20 counties violated the EPA's ozone standard, which at the time was 80 parts per billion, as opposed to today's more stringent standard.
Mather said this trend of increasingly clean air will likely continue.
As residents continue to buy newer cars, North Carolina's auto fleet will continue to get cleaner, he said. And the EPA's proposed climate plans, if implemented and held up in court, would improve air quality, he added.
Not Good Enough?
But some health advocates and researchers say the EPA's new standard isn't strong enough.
Though the EPA's new standard "is an improvement, it falls short of what is necessary to safeguard healthier, longer lives for our children and for all Americans at risk," said Vickie Patton, general counsel at the Environmental Defense Fund, in a press release.
An independent advisory committee to the EPA echoed those sentiments. The Clean Air Scientific Advisory Committee, in a letter to EPA Administrator Gina McCarthy, wrote that "based on the scientific evidence, a level of 70 (parts per billion) provides little margin of safety for the protection of public health, particularly for sensitive subpopulations."
Frey led the panel that reviewed academic literature and made these recommendations. The group recommended that EPA choose a limit between 60 and 70 parts per billion. But the upper limit still raised panel members' public health concerns, he said.
"There was a general feeling that 70 parts per billion might not provide the margin of safety that's called for in the Clean Air Act," he said. "It's just barely below the level that, in clinical studies, led to effects in healthy adults."
But McCarthy countered that assessment, and concluded that the 70-parts-per-billion standard would be strong enough to protect health.
The EPA says that by October 2017, it will designate counties as being in or out of compliance with the new standard. Some U.S. counties will have until 2037 to meet the new ozone standard, depending on the severity of their pollution.
Learn More
This story is provided courtesy of N.C. Health News, a website covering health and environmental news in North Carolina. Coastal Review Online is partnering with N.C. Health News to provide readers with more environmental and lifestyle stories of interest about our coast. You can read other stories about health care here.