Even though Hurricane Joaquin passed far off the East Coast over the weekend, a combination of powerful coastal weather systems walloped the Carolinas with heavy downpours, strong winds and heavy surf.
At least two deaths in the state are blamed on the rains and related flooding and other conditions associated with a slow-moving, upper-level low and a nor'easter-type surface low moving this way from off the Florida coast. Up and down the N.C. coast, streets and roads were inundated, trees were toppled and beaches eroded, leaving numerous oceanfront homes and businesses at risk of falling into the ocean. Effects of the storm that began late last week extended into the state's interior.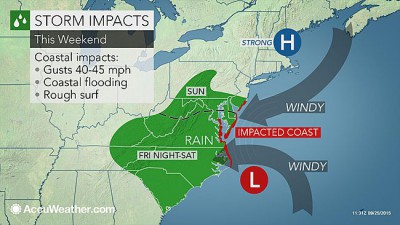 On Thursday, winds toppled a tree that hit a vehicle and killed a passenger near Fayetteville. Authorities said a Georgia man died Saturday on a rain-slickened road in western North Carolina.
The system was expected to continue to produce periods of heavy rainfall of as much as 4 inches through Tuesday night. Lesser rainfall amounts were expected on the northeast N.C. coast.
Record and near-record rainfall amounts are reported across the region. During the weekend, parts of Brunswick County, including Sunset Beach and Calabash, saw between 16 and 19 inches of rainfall, according to National Weather Service reports. More than 13 inches was reported in Southport and Leland, Winnabow and Bolivia saw nearly a foot of rain. Gov. Pat McCrory was scheduled to visit Brunswick County today.
In New Hanover County, parts of Wilmington received around 12 inches of rain with nearly 13 inches reported in the Myrtle Grove area. At the Battleship North Carolina on the Cape Fear River, the water rose enough to lift the decommissioned ship off the bottom for the first time in five years.
In Pender County, beach towns of Surf City and Topsail Beach received about 10 inches, according to National Weather Service reports.
Rainfall amounts tapered off farther north but Beaufort in Carteret County saw nearly 5 inches of rain and Hatteras Island in Dare County received more than 4 inches over the weekend.
Meanwhile, rain has been falling off and on for 12 days now in portions of North Carolina. Here's a look at rain totals since September 24:
Beaufort: 17.92 inches
Wilmington: 13.49 inches
Greensboro: 7.68 inches
Raleigh: 7.68 inches
Fayetteville: 7.55 inches
Charlotte: 3.77 inches.

The video taken over the weekend shows the overwash at Kitty Hawk.
Here's a summary of the coastal effects of the weekend's storm:
Kitty Hawk: N.C. 12 was closed again over the weekend after high tides flooded the road near Mile Post 4 where a sand bag wall was built to guard the road, according to reports in the Virginian Pilot. Rough surf had pounded that portion of the road for days. Highway crews were to assess the stability of the pavement and the condition of the sand bags in between high tides yesterday, according to a release from the N.C. Department of Transportation.
Hatteras Island: After fairly calm and warm weather Saturday, the rain picked up again Sunday afternoon and continued through yesterday when wind blew from the northeast at a steady 25 mph with gust reaching as high as 45 mph.
Standing water on the roadways was a problem in places in all of the villages on the island, especially the northern end of Hatteras, Avon around Kinnakeet Shores and in Rodanthe, Waves and Salvo, the Island Free Press reported.
Starting at the high tide Sunday afternoon, ocean overwash was pouring over the dunes in north Buxton.  Some overwash was also reported around Sandy Bay, just outside Hatteras village, and in front of the village's Civic Center.
The ocean also covered all the beaches at Cape Hatteras National Seashore and broke through the dunes in some places.  All off-road vehicle ramps are closed and Park Service facilities and campgrounds are shuttered. Even pedestrian access is difficult on most beaches on and either side of high tide.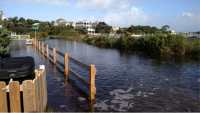 Ocracoke: Flooding washed away about 350 feet of dunes along N.C. 12 north of the village. The road is closed north of the Pony Pens after the ocean breached the dunes. DOT was able to fill a smaller, secondary breach Saturday but the highway remains extremely vulnerable to high surf and overwash, a department news release stated. Roads within the village have also flooded, a Hyde country spokeswoman said, but power remained on yesterday afternoon.
The National Weather Service Monday predicted another 3 to 5 inches of rain for Ocracoke Island over the next 48 hours, she said. A northeast wind is expected to build to 30 miles per hour with gust up to 45 miles per hour.
The state ferry to Hatteras is not running, and the island is under an evacuation order and state of emergency with only residents, non-resident property owners, and limited vendors allowed on via the Swan Quarter or Cedar Island ferries.
New Bern: The city on the Neuse and Trent rivers escaped without major flooding as of yesterday afternoon, but a series of downpours coupled with gusty winds left several trouble spots under water Sunday, including Union Point Park, Oaks Road at Jack Smith Creek, portions of East Front Street and South Front Street Channel Run in River Bend and Street Ferry Road in Vanceboro, according to the New Bern Sun-Journal.
Carteret County: Carteret County officials issued a state of emergency effective at 6 a.m. Monday, putting the county's emergency operation plan into effect, if needed. The step is required in case the storm lingers and the governor declares a state disaster area, in which case the county will be eligible to apply for reimbursement of costs associated with the storm or other assistance.
Cape Lookout National Seashore remained closed Monday. Once the weather clears, the National Park Service will need to conduct assessments of the damages and safety hazards caused by the storm, according to a park press release.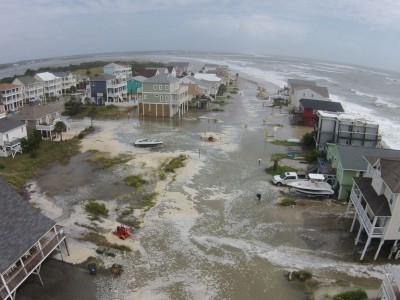 North Topsail Beach: North Topsail Beach town officials closed the town hall at noon Monday, "until further notice." The town remained under a state of emergency and residents are advised to stay off all area roads.
Nearly all roads in North Topsail Beach had "significant ponding of water" but were passable on Monday, according to an announcement posted at the town's Facebook page. A detour was posted at N.C. 210 between Gray and Green streets and the water level there had continued to rise since Sunday evening.
Since 7 a.m. Thursday through 11 a.m. Monday, North Topsail Beach had received a foot of rain with more expected throughout the day. The breach locations in the 400 and 1200 blocks of New River Inlet Road washed over Sunday night at high tide and more overwash was expected. At the north end of the island, beyond the road closure point at Seagull Lane, there was overwash at high tide Sunday night and Monday afternoon. Sand bags placed in front of oceanfront homes were displaced and there was debris in the roadway.
New Hanover, Brunswick counties: The Wilmington Star-News newspaper reported yesterday that dozens of roads in the two counties remained impassable yesterday, including all or portions of 57 roads in New Hanover County, which is maintaining a running list of road closures at www.emergencynhc.com/road-closures/. The Brunswick County Sheriff's Office is keeping a running list on its Facebook page.
Water Street in Wilmington flooded Sunday afternoon, after the Cape Fear River had risen nearly 5 feet over the last few days, according to the National Weather Service. It had not overflown onto Water Street yesterday afternoon but the street remained closed from Dock to Red Cross, the Star-News reported.
Historic flooding was reported in Carolina Beach, with Mayor Dan Wilcox calling the flooding the worst he'd seen in 25 years.
Related Photos and Video