One of the many pleasant amenities of living on the coast is that suits are rarely required for anything. But somewhere in the back of a closet I have one. A pretty nice suit, too, if I recollect correctly. Gray pinstripes, I think. I don it these days for just weddings and funerals, but I'll have to break it out tomorrow. No one I know has died or is getting hitched, but the good folks at the N.C. Wildlife Federation insist I wear it anyway.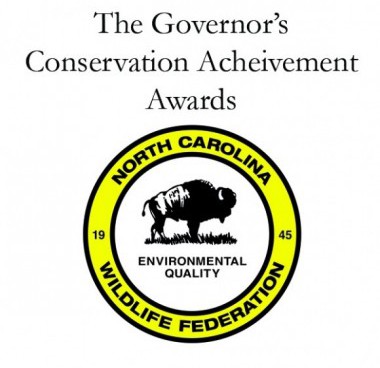 They're going to give us here at Coastal Review Online one of their Governor's Conservation Achievement Awards at a banquet in Cary. The official name of the award is Conservation Communicator of the Year, and it must be a pretty big deal because the letter notifying us of the award had this in bold type: "Dress for this prestigious event is business attire." I assume that doesn't mean shorts, flip-flops and a T-shirt proclaiming the Swansboro Yacht Club's spot fishing tournament – my team came in second two years ago.
So, I'll have to clean up Saturday to accept a conservation award that the federation has been giving out since 1958 when Gov. Luther Hodges was in charge. He allowed them to be called "Governor's" awards and they have been ever since. Every year, the federation recognizes sportsmen, scientists, volunteers, elected officials, groups, businesses, wildlife professionals and media representatives who have shown an unwavering commitment to conservation in North Carolina. The awards are considered the highest natural resource honors given in the state.
"Each year we are amazed at the commitment and creativity of North Carolina citizens in protecting wildlife and wild places," said T. Edward Nickens, the federation's Awards Committee chair. "Many of our award winners tell us their Governor's Conservation Achievement Award represents the high point of their career—whether they are full-time scientists or full-time volunteer conservationists."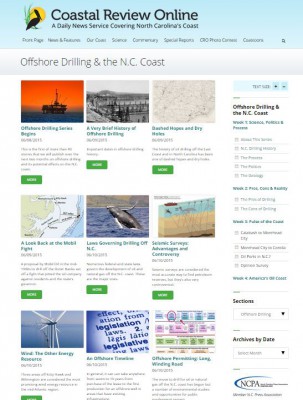 We are certainly proud to have been chosen in only our third year of existence. Since launching Coastal Review Online in 2012, we have strived to report factually and unflinchingly on the environmental and conservation issues facing our coast, while also highlighting our region's culture, history, people and places. Winning this award will only encourage us to redouble our efforts.
We will certainly be in good company Saturday. The other award winners with coastal connections are:
Land Conservationist of the Year: Harriett Hurst Turner and John Henry Hurst. When the brother and sister sold 290 acres of rare maritime forestland to North Carolina last year, it boosted the size of popular Hammocks Beach State Park near Swansboro in a deal that will also bring back to life a historic camp that will be used for nature education.
Legislator of the Year: Sen. Harry Brown. As the senior chair of the state Senate Appropriations Committee, Brown of Jacksonville has led the effort to restore funding for land and water conservation. Under his leadership, funding for the Clean Water Management Trust Fund and other conservation trust funds has risen every year.
Natural Resources Scientist of the Year: Ron Sutherland. A conservation scientist for the Wildlands Network, Sutherland of Durham is actively involved in both research and education. He is a tireless voice for the conservation of public resources and was a leader in efforts to prevent the initial sale of N.C. State University's Hofmann Forest in Onslow and Jones counties. He was a recipient of the N.C. Coastal Federation's 2015 Pelican Award for his work to conserve Hofmann Forest.
Marine Fisheries Enforcement Officer of the Year: Justin Lott. Lott patrols the waters of Dare and Currituck counties, whose rich maritime legacy continues with a robust recreational and commercial fishing industry. Lott is known for keeping a keen eye out for fishing violations and has participated in educational and search and rescue operations, as well.
Our Girl in Paris

When world representatives gather in Paris in November for a crucial conference to achieve a new agreement on climate change, our Cate Kozak will be there to report for Coastal Review Online.
Kozak, who lives in Nags Head and writes about the Outer Banks for our news service, was notified this week that her press credentials were approved for the United Nations Framework Convention on Climate Change, which starts Nov. 19. She'll write about climate change issues as they relate to the N.C. coast.
They'll probably force her to gussy up as well.