WILMINGTON — Was it the Cape Fear region's Brunswick County? Brunswick, Ga.? Brunswick County, Va.? All of them lay claim to the original recipe for Brunswick stew, that steaming mélange of corn, tomatoes, lima beans, potatoes and so much tender, shredded chicken.
Or should that be beef? Or pork? Or a combination of beef, pork and chicken? This is where self-proclaimed Brunswick stew purists roll their eyes. Squirrel is the choice for true Brunswick stew, they say — unless you've trapped a raccoon or opossum.
Wait. The debate isn't over yet.
Some people consider black pepper vs. cayenne pepper. Others like Brunswick stew more sugar-sweet than spicy. Discussions center on soupy or thick. Georgians like Brunswick stew in a bowl; North Carolinians prefer it as a side dish to pulled pork and fried chicken, possibly because Brunswick stew is a way for barbecue houses to use up leftover pork and fried chicken.
Food arguments over regional variations on a single dish usually boil down to, as chef Larry Casey put it, growing up "dirt poor" and making do.
"When I was a kid, we normally put whatever in it," Casey said of Brunswick stew.
The version Casey serves at his Casey's Buffet Southern cooking restaurant in Wilmington is hardly the one he grew up loving in New Bern, where he and his cousin, as kids, trapped and sold raccoons to earn money.
"In a (Brunswick) stew, it's (raccoon) absolutely perfect," Casey said.
His memories sum up cause for the Brunswick stew debate. Like Casey, many Southerners recall Brunswick stews containing foods their families raised and hunted.
"My mom and my aunts always had tomatoes that had been cooked and canned in the pantry," Casey said, "as well as corn and green beans, etc., canned in the pantry, freezer. And making Brunswick stew was definitely a means of stretching the protein."
Turns out, Brunswick stew has always been a humble mishmash of whatever was available.
Historians say Brunswick stew started in Brunswick County, Va. They credit early 1800s slave and hunting camp cook James Matthews. Legend claims he was known for a fine squirrel stew. Matthews slow-cooked the meat on the bone with bacon, onions, butter and a crumbled loaf of stale bread, creating a rich, dense stew.
Matthews' employer, Dr. Creed Haskins, and Haskins' relatives living in and around Mount Donum, Va., deemed Matthews' stew the original Brunswick stew in letters. The correspondences were printed in the 1906 booklet Brunswick County, Virginia: Information for the Homeseeker and Investor, published by the Brunswick County, Va., Board of Supervisors.
Vegetables in Brunswick stew showed up later. No one knows exactly when. Perhaps, it was the batch Haskins is said to have made famous at an 1828 rally for Andrew Jackson. Corn and limas hark to Native American succotash. "It seems safe to say that Indians were making stews with wild game long before any Europeans arrived, and in that sense, there was Brunswick stew before there was a Brunswick," the late Southern cuisine authority John Edgerton wrote in Southern Food (Alfred A. Knopf, 1987).
Sacred as "authentic" Brunswick stew is to its fans, recipe tinkering continues.
"Indeed, it would appear that there is not just one secret but even tens of thousands of secrets, at least one for every Southerner who makes the stuff," author Wilber W. Caldwell wrote of Brunswick stew in Searching for the Dixie Barbecue: Journeys Into the Southern Psyche (Pineapple Press, 2005).
Champion Brunswick stew maker Oren Knicely's various recipes respect most opinions of what constitutes true Brunswick stew.
The Shallotte resident a few times has won the December Brunswick County Brunswick stew cook-off, usually held in conjuction with the town's Christmas parade. He also competes in the Brunswick, Ga., Brunswick stew cook-off, but he alters his secret recipe to suit Georgia tastes.
For North Carolinians, Knicely adds smoked pork, brisket and chicken breast in a stew of onions, tomatoes, okra, potatoes, carrots, lima beans and creamed corn.
"When you're eating it, it's got just a little bit of sweet then the heat kicks in right behind the heat," Knicely said.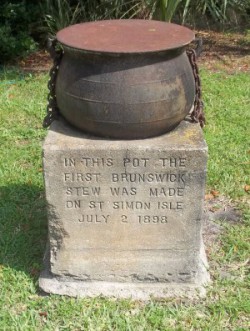 In Georgia, cooks prefer pulled pork and pulled chicken in a more vinegary, ultra-thick stew.
No matter the recipe, one characteristic is key across state lines. "The paddle you're stirring with should stand up (in the finished stew) without a problem – freestand," Knicely said.
Rules and tradition don't stop N.C. chefs from doctoring Brunswick stew. They may begin with a classic mirepoix  — chopped onion, carrot and celery sautéed together. To that, they might add garlic, herbs, smoky chilies, homemade barbecue sauce and grilled meats.
"Maybe a deconstructed thing, where you have the butter beans and corn with a pork chop, and the Brunswick stew flavors in the background." Wilmington chef James Doss brainstormed.
The owner of the Port City's Rx and Pembroke's restaurants grew up eating Brunswick stew alongside barbecue in the eastern N.C. pulled-pork capital of Goldsboro.
How about a cornbread bowl filled with Brunswick stew, Doss said. "Or maybe with grilled chicken or a grilled pork chop or braised and pressed pork belly, stewed butter beans and fresh heirloom tomato sauce."
The original Brunswick stew formula may never emerge. Two things are for sure: Different recipes will always stir a fuss, and wondering who is right is a mystery best served with big helpings of Brunswick stew.
"When I was a kid," Casey said, "I didn't know anything about it — except we cooked it and we loved it."