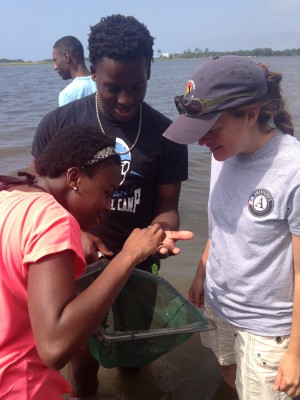 OCEAN — When the chance came to apply for a job at the N.C. Coastal Federation through AmeriCorps' Project GEOS — Growing Environmental Opportunities through Service – Rachel Davis took the leap.
She was doing field research on environmental issues. She'd spent years working for the National Oceanic and Atmospheric Administration and various nonprofits, and enjoyed her work. Her undergraduate degrees in biology and environmental science from UNC-Wilmington were being put to good use.
But she had two desires that weren't being met.
Davis longed to get back to Carteret County, where she graduated from West Carteret High School in Morehead City. She missed family and friends and the things that make the North Carolina coast dear to the hearts of those who have lived there.
Although she still had a burning desire to help the threatened coastal ecosystem, Davis also wanted to do that work on a more personal, practical and grassroots level, she said recently. She wanted to educate others and spark that same zeal for the coastal environment.
She got the job at the federation's headquarters in the Ocean, a community between Morehead City and Cape Carteret, in Carteret County. Now, she is working hard, having fun and learning the skills she'll need to get a permanent job in environmental education.
"I'd been out in the field for a while, about 10 years, but I had volunteered for the federation when I lived in the area, and I knew it was a great organization," she said. "I didn't know much about GEOS or AmeriCorps, but when I heard about the opening, I applied. It's turned out to be perfect."
Rachel Bisesi, a coastal educator for the federation, said the organization is new to the AmeriCorps program, too, but already likes it, a lot.
"We've got one service member here in our central office, one in our southeast office in Wrightsville Beach, and we're looking for one for our northeast office in Manteo," Bisesi said. "It's similar to the Peace Corps, but the participants are working in the States. It's also a great way for us to augment our staff and get new things accomplished that we otherwise could not."
The goals of the program, Bisesi said, are to make environmental education more accessible to diverse audiences, provide tools for people from diverse backgrounds to become future leaders in conservation, build bridges between conservation groups and communities and connect more North Carolinians to the outdoors. All of those fit well with the mission of the federation, which engages hundreds of students and volunteers and prides itself on tackling environmental issues at the grassroots level.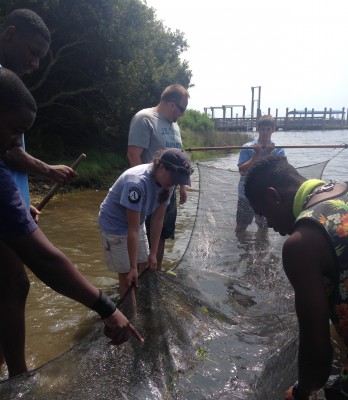 "Our service members work for 10 months," Bisesi said of the AmeriCorps volunteers. "And they will provide 1,700 hours of service in that time. It's fulltime work, really a little more than 40 hours a week, and they stay busy."
Some of volunteers' stipend comes from the federal government, some from the state and some from the federation.
Most participants in the program, Bisesi said, are college graduates with relevant degrees, and many, like Davis, are looking to transition from one part of the field to another. The stipend the program provides, like most in such endeavors, isn't enough to make the proverbial "living," but the sponsoring organizations are able to help the participants find ways to make it work.
For Davis, it's been fairly easy so far, since she has family and friends nearby. But the point, she said, isn't the money; it has helped her move onto the new career path she wants, and to do good things for the environment and others at the same time.
And that's just what she's doing.
"We're reaching out to some groups that we haven't been able to reach before, going places we haven't been and planning to do even more of that," Bisesi said. "We've been to Maysville [a small town in Jones County, inland from the coast] and we're looking to do some more work in the schools in Morehead City and Beaufort."
"It's a lot of work, but it's also a lot of fun," Davis said, a month into her job. "It's an opportunity for me to get experience and learn more about what I want to do while giving back to the community that I grew up in and love.
"Every day is a new adventure. I work with new people all the time, and get to see all kinds of species that I haven't seen, or haven't seen in a while." Egrets, for example, Venus fly-traps, and red-cockaded woodpecker habitat, Davis said.
"I'd definitely recommend this to others," Davis said. "It's a great opportunity, and it opens up a lot more opportunities. You meet a lot of people and go a lot of different places. I'm really glad I found out about it and applied."
AmeriCorps, the parent program of GEOS, is a public-private civil society program supported by the government, foundations, corporations and other private donors. It offers part-time and full-time positions in community service work in education, public safety and health care in addition to environmental protection, and was created under President Bill Clinton by the National and Community Service Trust Act of 1993, which incorporated VISTA (Volunteers in Service to America) and the National Civilian Community Corps (NCCC).
More than 80,000 members participated in 2012. AmeriCorps members take the same Oath of Service as other federal government employees, and many go on to work for the government, nonprofits or foundations.
For more information about the AmeriCorps GEOS program at the N.C. Coastal Federation, call Rachel Bisesi at (252) 393-8185.