Last of two parts.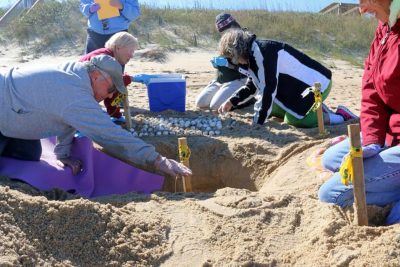 When it comes to destinations that are rich with recreational opportunities and teeming with wildlife, few places can compare to North Carolina's barrier islands. However, vacationers in search of the perfect spot to kayak, kiteboard, surf or suntan aren't the only ones who travel hundreds of miles to visit the islands. Every year, from May to September, adult female sea turtles crawl out of the Atlantic Ocean and onto the state's beaches, where they carefully dig a hole deep in the sand and lay dozens of eggs.
Even though each nest is laid safely above the high-tide line and can contain more than 100 eggs, the vast majority of sea turtles born each year don't survive longer than their first few days—and those that do often find themselves face-to-face with a variety of potential threats that reduce or eliminate their chances of ever reaching adulthood.
In an effort to combat the myriad of problems—both natural and manmade—these sea turtles face and to help increase their chances of survival, a team of like-minded people on the Outer Banks joined forces in 1995 to form the nonprofit Network for Endangered Sea Turtles, or NEST. Founded by Millie Overman, the organization relies solely on volunteers, who spend their time marking and monitoring sea turtle nests, responding to sightings of stranded sea turtles, raising awareness of the problems that plague sea turtle populations and rehabilitating sick or injured turtles that require medical assistance before they can be released back into the wild.
---

In this spin on the ALS challenge, a large crowd watches NEST volunteers release a rehabilitated loggerhead and green sea turtle back into the icy ocean.
---
For nearly 20 years, the all-volunteer network has worked tirelessly to ensure the five species of sea turtles that frequently nest on the beaches of the Outer Banks—the loggerhead, leatherback, green, Kemp's ridley and hawksbill—can safely reach the shoreline to lay their eggs each summer. In the months that follow the mother sea turtle's trek from sea to shore, many volunteers spend hours guarding the nest sites and protecting the eggs from predators before finally helping to usher the hatchlings to the ocean once the nest has "boiled." Their extensive efforts not only increase the turtles' chances of surviving and thriving for decades to come, they also provide area residents and visitors an up-close and personal look at these creatures who have captivated adults and children of all ages for centuries.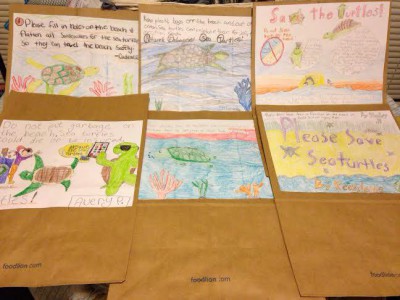 "There is something that is just charismatic about sea turtles that people connect with," said Karen Clark, who serves as program coordinator at the Outer Banks Center for Wildlife Education in addition to her work as a NEST volunteer. "I think, in part, it's almost like a prehistoric connection with them. These guys spend their entire lives in the ocean, and then suddenly people may be lucky enough to get a chance to see them emerging from the beach. It's just an awe-inspiring experience."
Despite the pleasure derived from witnessing this experience in person, those who are fortunate enough to see a boil are well aware of the dangers the hatchlings face once their arduous journey across the sand is complete and they slip beneath the surface of the water. From being struck by boats, ingesting plastic and encountering waterborne contaminants to falling victim to predators, contracting illnesses and becoming entangled in debris and fishing gear, the problems that prevent the majority of hatchlings from surviving to adulthood are wide and varied. Perhaps the most common problem for sea turtles along the Outer Banks is a condition known as cold stunning: a hypothermic reaction to cold water that can result in decreased heart rate and circulation as well as lethargy, shock and potentially death.
Drawn to the shallow, briny waters of the sounds in search of bottom-dwelling blue crabs and various types of vegetation, two species of sea turtles in particular—the green and Kemp's ridley—are frequently affected by cold stunning and struggle to survive once the condition sets in.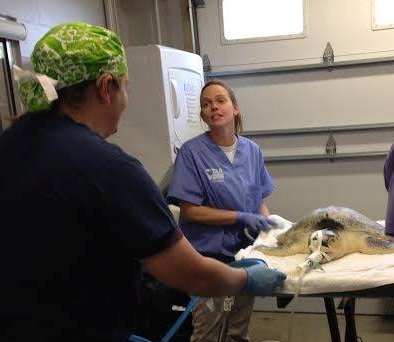 Because the cold-stunned sea turtles quickly become disoriented and often wind up stranded on the shoreline, volunteers are needed to help spot these suffering animals and bring them immediate assistance. Thanks to NEST's longtime partnership with the N.C. Aquarium on Roanoke Island, the dozens of sick, injured or cold-stunned turtles spotted each year have access to exceptional care that can dramatically increase their odds of making a complete recovery.
After its inception, NEST secured a spot at the site of the aquarium to use as a rehabilitation center for sea turtles that required treatment before they could be released back into their native habitats. However, it quickly became evident that a larger facility was needed if the nonprofit was going to continue caring for the hundreds of sea turtles reported as stranded each year.
In June 2014, NEST partnered with the aquarium once again and swapped its former behind-the-scenes rehabilitation facility for a modern structure called the Sea Turtle Assistance and Rehabilitation Center, or STAR Center. Housing eight permanent tanks of various sizes and room for additional temporary tanks, as well as a food storage and preparation area, treatment room, laundry facility and records office, the 3,000-square-foot STAR Center allows staff and volunteers from both organizations to better care for turtles with more severe injuries or conditions that result in a longer-term stay. The center also serves as an excellent spot for NEST volunteers to educate visitors about sea turtles and display the treatment and rehabilitation efforts that are currently underway.
"What makes the facility really special is that the public can now view our patients and learn about each unique story," said Christian Legner, curator of the aquarium. "These turtles are able to be ambassadors for their species and the ocean ecosystem while they are recuperating."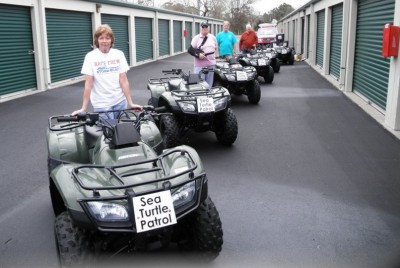 With the perfect platform for raising sea turtle awareness and educating the public now in place, NEST volunteers hope to inspire future generations to carry on the organization's mission of ensuring survival of the species for centuries to come.
"The sea turtles—the little guys, the hatchlings that we see on our beaches now—we'll never see them again; they're gone," said NEST volunteer Louise Vance. "So we have to educate the public because, in 35 years, when they come back, we need the kids of today to be interested, to want to help them, to really, really be involved. That's one of the great things about NEST. We are trying to get as many young people as we can interested in what is going on in our oceans, because if they aren't, the oceans will die, and we don't want that."
At the end of each season, once the nests have been laid, the hatchlings have been safely escorted to the sea and the turtles in need of care have been transported to the rehabilitation facility for treatment, NEST volunteers and aquarium staff focuses on instilling a desire to protect sea turtle populations and the one-of-a-kind stretch of shoreline the unique species call home in everyone who visits the STAR Center.
"I hope that we can engage and educate our visitors as they learn about sea turtles and the other animals that share their ecosystem," said Legner. "Fostering a love for the ocean and the environment is the most effective way to help protect these species."