Years ago, I found myself standing in a Piggly Wiggly check-out line behind the owner of a popular country cooking restaurant in Jacksonville. She purchased just two ingredients: a mound of well-ripened bananas and boxes of Nilla Wafers, leaving no doubt as to what was on the dessert menu that day: 'nana puddin'.
Attend a family reunion, church supper, holiday gathering or funeral wake in eastern North Carolina you're bound to see a big pan of banana pudding. The soft, sweet custard full of banana flavor melts its typical Nilla Wafer crust as quickly as it does Southerners' hearts.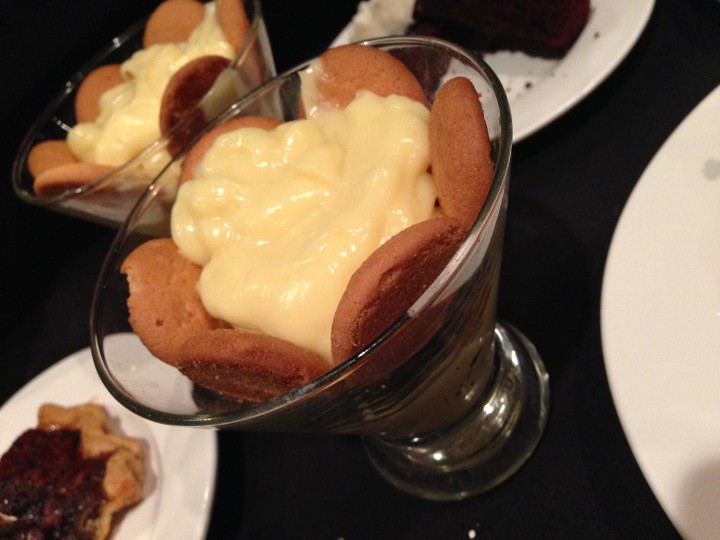 Try to forget instant pudding layered with store-bought vanilla wafers and frozen whipped topping. Yes, it tastes good, and it is an approved substitute among many Southern cooks, but it's not real banana pudding.
Many eastern North Carolinians remember their grandmothers' banana puddings as homemade baked custards wearing meringue crowns. The dessert is kin to British milk puddings of the 1800s.
Early in America's history, importing bananas from the faraway tropics to American shores was an expensive undertaking. Around the 1870s, two American entrepreneurs focused on shipping bananas from the Caribbean to Boston, New York and New Orleans. A decade later, banana recipes showed up in American cookbooks. By the early 1900s, many listed banana pudding, a dessert that satisfied Southern sweet-tooths.
Around the 1950s, quick recipes using convenience products replaced meringue-topped, homemade banana puddings. After all, lots could go wrong with the old recipes. The custard might be soupy, the meringue spongy. Cooks embraced instant banana pudding in packages that required simply adding milk and stirring before pouring the mixture over packaged vanilla cookies lining a pan. The garnish? Cool Whip, of course.
Nowadays, easy banana pudding recipes rule, but every now and then, it's nice to compromise with a past-meets-present version. Top it with fresh whipped cream instead of meringue if you'd like.
Old-fashioned Banana Pudding With Custard and Meringue
For pudding:
3/4 cup sugar
1/3 cup all-purpose flour
Dash of salt
3 egg yolks
1 3/4 cups milk
1 teaspoon vanilla extract
6 ripe bananas, sliced
About 18 vanilla wafers
For the meringue:
4 egg whites
1/4 teaspoon cream of tartar
6 tablespoons sugar
½ teaspoon vanilla extract
Prepare pudding: In a double-boiler over simmering water, mix sugar, flour and salt. Beat egg yolks and combine with milk. Add yolks and milk to sugar mixture, stirring constantly to blend well. Cook uncovered, stirring frequently, for 10 to 15 minutes, until mixture thickens. Remove from heat and stir in vanilla.
In a Pyrex loaf pan, spread one-third of the cooked custard. Top with one-third of bananas, then one-third of vanilla wafers. Repeat for two additional layers or more, if ingredients permit.
Prepare meringue: Preheat the oven to 350 degrees.
In a mixing bowl, beat egg whites until frothy with an electric mixer. Add cream of tartar. Continue beating until the whites stand in soft peaks that fall over when the beater is removed. Then beat in the sugar a tablespoon at a time. After all sugar is used, beat in the vanilla.
Assemble pudding: Spread meringue over the pudding, covering the entire surface and the edges of the pan. Bake for about 15 minutes or until meringue is slightly browned. Refrigerate until ready to serve. Serves 4 to 6.