Reprinted from the Tideland News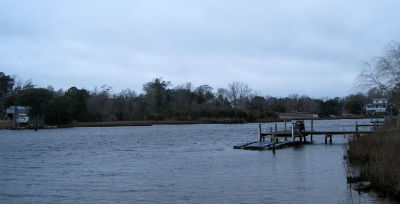 SWANSBORO — Recent biological samples taken from the bottom of Hawkins Creek in Swansboro indicate significant problems that could eventually result in state recommendations to improve stormwater management in the area.
Jim Gregson, supervisor of the surface water protection office at the state Division of Water Resources in Wilmington, said Monday that he'd like to get more samples in order to more clearly characterize where sediments in the creek are coming from, but he said the results so far indicate that long-term runoff problems are partly responsible for the creek's problems, not just the discharge from a local stormwater pond on Jan. 9 that led to the state's investigation.
If additional sediment samples confirm his suspicions, Gregson said, the state may meet with officials from Swansboro, the state Department of Transportation and others, including perhaps the N.C. Coastal Federation, to try to explore ways to improve stormwater management. Then, Gregson said, it would come down, as it always does, to money, and who would spend it.
The biological samples the state took late last month from Hawkins Creek and from nearby Dennis Creek generally showed that while salinity levels in the two streams are similar, there were far more benthic organisms – worms and such – in Dennis than in Hawkins.
According to an email to Gregson from Larry Eaton, a Raleigh-based benthic macro-invertebrate specialist who does headwater stream biology studies and stream restoration monitoring for the state Division of Water Resources, hard, constructed surfaces in the Hawkins Creek watershed increase runoff that leads greater variability in salinity levels. Highly fluctuating levels could explain the lack of benthic organisms.
"In summary," Eaton's email concluded, "Hawkins Creek has problems."
Pumping water from the pond in January and longstanding stormwater issues along N.C. 24 in western Swansboro may all be contributing to the creek's problems, he wrote.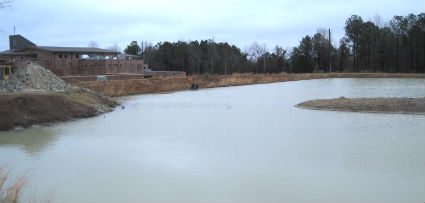 This whole issue began with the discharge of stormwater from an infiltration-style retention pond into wetlands adjacent to Hawkins Creek. A state report three days later found Ward Farm,  the pond's owner, had violated numerous provisions of its erosion- control numerous permit, including failing to properly implement the erosion and sedimentation control plan and to provide adequate ground cover and an adequate buffer. Ward Farm is a mixed residential and commercial development along Hammocks Beach Road in Swansboro.
All of the noted problems were in connection with the retention pond at the construction site for an addition at Swansboro United Methodist Church, which is near the Ward Farm retention pond behind the Hampton Inn in Swansboro. John Freshwater of Ward Farm designed the church pond to operate in conjunction with his Ward Farm pond, which serves the Hampton Inn and is to serve planned new development there.
Freshwater had drained and discharged water from the Ward Farm retention pond on Jan. 9 in order to install a skimmer, as required by his permit. The flow picked up sediment from the church site. That sediment ended up in wetlands and in Hawkins Creek.
The state doesn't plan to fine Freshwater or the Methodist Church, though the law allows fines of up to $5,000 a day. Bridget Munger, an outreach and education coordinator for the Land Quality Section of the N.C. Department of Environment and Natural Resources, has said that the state prefers to work with permit holders to try to quickly bring them into compliance to repair any damage to wetlands or surface waters and to make sure the problems do no recur. The section handles erosion control permit.
The owners of Ward Farm worked quickly to fix the problems, she said, and have sent her office daily progress reports.
Gregson said Monday that he'd like to see more samples taken to determine where the sediment is coming from. Once the samples have been adequately characterized, he said he'd like to convene a meeting of all parties involved and work toward solutions.
"We would take a look at the whole watershed and get everyone together to talk about some after-the-fact best management practices," he said.
As for the sediments that are already in the creek – and likely severely reducing the number of benthic organisms that normally characterize such a creek – it's not out of the question that some dredging could occur.
Though the it doesn't support shellfish harvesting, the creek is classified as primary nursery area by the N.C. Division of Marine Fisheries. That designation would make getting the necessary dredging permit difficult. But Gregson said there might be an exception, if it can be shown that there is and has been a navigable channel use by boaters over time. If that's the case, it might be possible to do some dredging so long as that channel is not expanded.