Reprinted from the Tideland News
SWANSBORO – Two state agencies are investigating the pumping of a stomwater pond in Swansboro that led to the muddying of a local creek.
Eddie Privett, a commercial fisherman in Swansboro, saw the pumping on Friday and called the N.C. Division of Marine Fisheries, which notified the state Division of Water Quality, said Susan Massengale, a state spokeswoman. The division then notified the N.C. Division of Energy, Mineral and Land Resources.
That agency is responsible for stormwater permits, while the water division protects surface waters. Both agencies are under the state Department of Environment and Natural Resources.
The land resources' office in Wilmington stopped all work at the site Friday, Dan Sams, an engineer in the office, said late Friday. He noted that local developer John Freshwater had a permit to install equipment in the pond, but he said didn't know if the permit provisions were followed.
"Our job is go see it and ask questions and make sure the permit is being followed," he said.
Tim Simpson of Swansboro shot this video last week of the pumping of a stormwater pond that muddied a local creek.
Sams' office sent Karl Hammers, an environmental specialist, to investigate on Monday. The state Division of Water Quality sent Jim Gregson, a surface water protection supervisor in the Wilmington office, to Swansboro Monday.
At issue is whether Freshwater, a partner in Ward Farm LLC, properly followed state rules and the provisions of his permit when he pumped the pond in the mixed residential and commercial development along Hammocks Beach Road in Swansboro. The major concern is whether excess water and sediment from the pond was pumped to Hawkins Creek and adjacent wetlands. It is a violation of state law if too much sediment from a construction site fouls a creek or river.
Freshwater called the problem temporary and inadvertent, and said he was operating under state permits to install equipment called a skimmer in the retention pond. Ironically, skimmers are designed to remove sediment.
Gregson said Monday that he saw pictures and a video taken Friday that indicated a possible violation because of all the sediment in the water. He said yesterday that he didn't believe there was an intentional violation. Hammers said yesterday that he was in the process of preparing a report, which would be made public.
It all began Friday morning when Privett went to Hawkins Creek. That afternoon, he told the Tideland News, a local newspaper, that he had noticed that the water level was much higher than normal for low tide and that the water was a "creamy, milky blue." He said he was curious about the cause. He ran into Tim Simpson, a friend who operates a tour boat in Swansboro, at the grocery store. They decided to investigate.
Privett said they found a 10-to-12-inch line at the creek that was discharging water. They trekked through a patch of woods and found that the pipe led back to the retention pond, where a diesel pump "as big as what a fire truck uses" was operating, Privett noted.
Privett and Simpson took photos and video, which they eventually sent to the state, and Privett said he told a person operating construction equipment at the site to stop the pump and call Freshwater.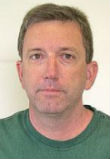 John Freshwater
The pumped was stopped about 2:30 p.m. Friday, Privett said. He estimated that the water level in the pond dropped by about 18 inches in 30 minutes. He said that the plume of sediment from the pumped water made it to the Intracoastal Waterway, about a half-mile away.
"There was a lot of water going into the creek," he said.
Freshwater said at the site Monday that he had to lower the water level in the pond so he could install the skimmer.
He was joined by contractor Joey Humphrey of Humphrey Durwood & Sons of Jacksonville and engineer David Newsom, another partner in Ward Farm.
Freshwater, a developer, engineer and a former Swansboro town commissioner, emphasized that the effort was a "dewatering – a one-time event – not a discharge." Any turbidity, he said, was "inadvertent."
"We were trying to make an improvement, to do the right thing," Freshwater said.
He said he didn't know how much water had gone from the pond into the creek.
Gregson said Tuesday after visiting the site that too much water appeared to have been pumped from the pond too fast. Sediment from an adjacent construction site at Swansboro United Methodist Church construction site was then carried into Hawkins Creek. He said he didn't think that Freshwater had done anything intentionally wrong.
The stormwater pond, Freshwater explained, serves a hotel, the largely vacant Ward Farm development and Swansboro United Methodist Church, where an addition is being built.
"The facility was designed in compliance with all state requirements as a wet pond, a type of facility which normally discharges collected rainwater to a receiving stream, Hawkins Creek in this case," he said. "However (Ward Farm LLC owners) several years ago, working with the N.C. Coastal Federation and the state, converted it into an infiltration basin, generally considered more environmentally friendly, as it does not discharge stormwater but infiltrates collected rainwater into the ground."
This basin, Freshwater continued, is also permitted to handle stormwater runoff from the ongoing construction at the Methodist church. That required installing a temporary skimmer to remove sediment from the runoff. In order to install the skimmer, Freshwater added, it was necessary on Friday for some of the recently collected rainwater to be pumped out of the basin.
"As recommended by the state," he said, "that pump discharge was directed to a settling/filtering system prior to being allowed to flow offsite. Unfortunately, some unintentional, unanticipated turbidity may have temporarily occurred during that process.
By midday Monday, Newsom said, the skimmer was installed and working and no additional pumping had been needed. Silt fences and other measures were added Tuesday, he said, to control runoff from the church project.