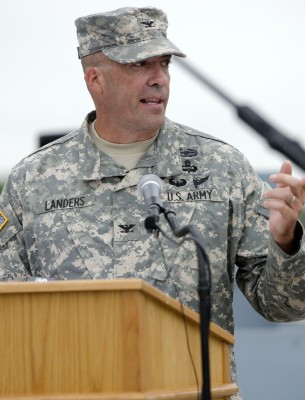 WILMINGTON – He was looking for more out of life when he left New York and headed to a southern university to pursue a degree in landscaping architecture.
He had etched a map of his future that included serving one tour in the Army – enough to pay his college tuition and answer his intrigue of the Reserve Officers' Training Corps.
Twenty-five years later, Col. Kevin Landers Sr. is now at the helm of the U.S. Army Corps of Engineers Wilmington District.
"I fell in love with every aspect and every facet of my military journey," Landers said in his spacious office in the district building about a block off of Wilmington's busy Market Street.
Commissioned as an Army officer after graduating from the University of Georgia in 1990, Landers has served in various capacities in combat engineering, ordnance, construction and topographic fields.
He climbed the ranks in typical fashion completing a host of military schools and fulfilling leadership roles as a platoon leader, battalion executive officer and battalion commander of the Fourth Engineer Battalion in Fort Carson, Colo. during a year-long deployment during the wars in Iraq and Afghanistan.
His list of military medals and awards take up a hefty paragraph in his biography. He has earned a Bronze Star, Meritorious Service Medal, Defense Meritorious Service Medal, Army Commendation Medal and the Combat Action Badge to name a few.
All have led to this point in his career where he faces what he describes as his most diverse job yet as the Wilmington District's 53rd commander. This is a role that has him overseeing multi-million dollar construction projects at Fort Bragg and working with state and local governments vying to implement costly projects, many along the coast, in a time when federal coffers for those projects are on a steady decline.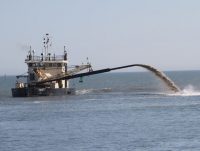 "I see my purpose as being the leader of a group of subject- matter experts," Landers said. "I'm the CEO of a third of a billion dollar organization. I have to look at are we meeting our customers' needs and are we meeting the needs of the federal government. The biggest challenge for us as an organization is to really get our arms around the funding."
This is where Landers said creativity comes into play. A big part of it is about trying to secure funding for projects important to the state and local towns, which compete with other states and local governments for money in a dwindling pool of federal resources.
North Carolina's five shallow-draft inlets are one such example. Keeping them unclogged and open from shoaling is a priority for the beach towns that depend on them for boating access to the Atlantic.
The reality, Landers said, is that these inlets do not rate well on the "rack and stack" at the national level because the waterways are not utilized much for shipping traffic.
This has local beach towns, counties and the state picking up more of the tab on inlet and beach maintenance projects. This is a pattern that will likely continue as a newer funding initiative, one Landers refers to as "P3" – public/private partnership – is developed to pull in cash.
"I would say that we're on this continuum that is not going to show dramatic change," Landers said.
Federal funding for projects permitted through the Corps is on a downtrend while project costs are on an uptrend, he said.
A little more than six months on the job, Landers is learning the intricacies of the N.C. coast with its chain of barrier islands and shallow inlets.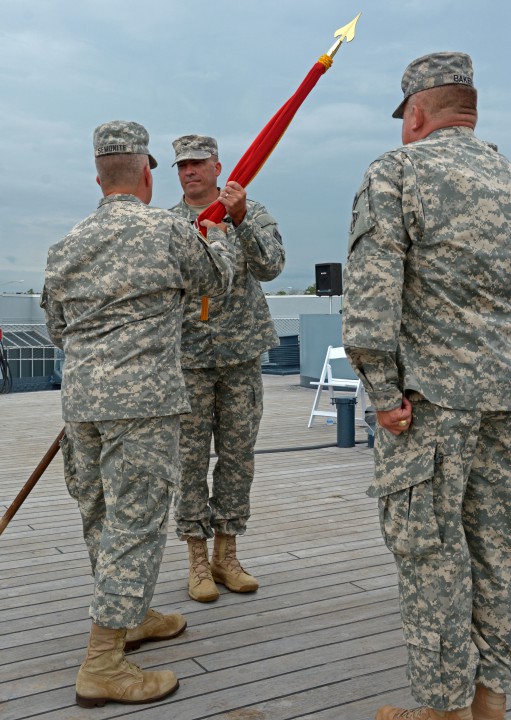 "I would argue that our coast in North Carolina is one of the most dynamic in the United States," he said. "This coast, I'm finding, is so dynamic that what is good for this specific spot may not be good for the next."
He's also trying to get a better understanding of what leaders in Raleigh want most.
"Understanding what the priorities are at the state level is not what I've got my arms around yet," Landers said. "I'm not used to a governor calling me up and saying, 'I need your help.' It's not something that's initially comfortable. I'm used to giving orders, but this is a challenge I embrace."
He's been working with the state on an emergency dredging project at the Morehead City port, where heavy shoaling has shallowed the channel, causing major problems for freight vessels.
The corps of engineers earlier this month secured $4 million for the project. It was a success for the state, but one that could become more of a rarity as states and local governments aim to get more proactive to prevent from reacting to such emergencies.
"The financial management part of this job is not something I appreciated until now," Landers said. "We're constrained by our budget. I have a financial team that keeps me straight."
That team is part of a 420-person civilian workforce under his command, one he will have for three years.
Landers said he's not sure what his next career move might be, whether he'll pursue advancement to the rank of the general officer level or retire and enter the next chapter of his life. Either way, he and his wife have agreed to call this state home once his Army career comes to a close.
"Ultimately, North Carolina will be our retirement home," he said.