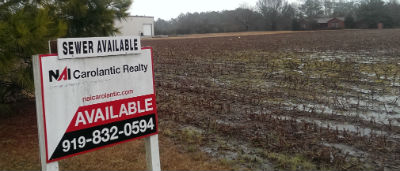 OCEAN — On the south side of N.C. 24, just west of Riggs Pork Market and about four miles east of the town limits of Cape Carteret in western Carteret County, there's a small, almost unnoticeable sign.
Like all such real-estate signs, it notes that the land behind it is for sale through NAI Carolantic Realty, based nearly 150 miles northwest in Raleigh. But there is something unusual about this sign. "SEWER AVAILABLE," it says along the top.
That's an important amenity. With sewer, much more could be built on those 21 acres than would otherwise be possible on septic tanks. Things like a shopping center for instance. And things like shopping centers can have serious consequences on water quality. In this case, the land drains to Bogue Sound, which carries one of the most sensitive water classifications in the state.
But where would this sewage go? There are no municipal governments on this part of N.C. 24, the main road between Morehead City to the east and Swansboro, with a sewer plant. And there's no public sewer system in all of unincorporated Carteret County.
There are, however, two large residential developments nearby with private sewer plants. Both are prime illustrations of the boom-and-bust coastal real estate market of a decade ago: Cannonsgate and Bogue Watch.
Both have expensive private sewer plants that were designed to serve houses that have yet to be built. So both have, in the words of the sewer business, excess capacity. Could that capacity be turned into a profitable regional sewer system that could adversely affect the sound?
A Little History

Both subdivision were the subject of intense land speculation during the boom in coastal land prices 10 years ago, but the bubble burst during the Great Recession of 2008 and neither development has fully recovered. According to records at the Carteret County Planning Department, of the 521 lots at Cannonsgate, 25 are occupied by houses. Things are a bit better just down in the road at Bogue Watch where 53 of the 241 lost have been developed.
Those aren't enough houses to provide the minimum flow that the sewer plants need to operate efficiently and treat waste effectively. Sewage is collected at the plants but is hauled away for treatment. That's an expensive proposition for the plants' owner.
That would be Aqua NC, a subsidiary of Aqua America, one of the country's largest private water utilities. The subsidiary, according to its website, operates 60 private sewer plants in the state. It has an office in Raleigh and lists C. Ruffin Poole as its manager for corporate development.
The last time Poole was involved with Cannonsgate didn't end well for him. The development figured prominently in the pay-to-play scandal that engulfed former Gov. Mike Easley after he left office. Poole was Easley's top aide. Federal prosecutors investigating Easley's political contributions alleged that major contributors called Poole "the Little Governor" because he was the guy tasked with resolving any problems donors faced with state regulators and with lining up appointments for them to serve on state boards and commissions.
In exchange for his work, the donors showered Poole with gifts, prosecutors alleged. He also was allowed to invest in coastal real estate developments at the same time as he was working to secure permits for those projects from state regulators, according to federal indictments.
Wilmington developer Lanny Wilson allowed Poole to invest in Cannonsgate in 2005, and in an attempt to curry favor for permits and an appointment to the state Board of Transportation, Wilson quickly turned a $30,000 profit for Poole, prosecutors said.
Easley and his wife later purchased a waterfront lot in Cannonsgate at a below-market rate.
Poole pleaded guilty to tax evasion in 2010 and spent 11 months in federal prison. The plea came before Poole was to go to trial on public corruption-related charges. Wilson was never charged, but he resigned his seat on the transportation board.

What the Permits Allow
Cannonsgate's sewer plant would likely serve the 21-acre tract on N.C. 24 because there are no other plants nearby, noted Jim Gregson, supervisor of the surface water protection at the state Water Quality Section in Wilmington.
A flyer by the realty company lists the tract for about $2.8 million and states that "county water is at the site and sewer capacity available at Cannonsgate Sewer Treatment Facility." The flyer also states that the tract is "zoned B-3 for Shopping Center Development."
According to Sarah Young, a spokeswoman for the state Division of Water Resources in Raleigh, Cannonsgate and Bogue Watch have state permits to treat and dispose of sewage. The permits don't allow the treated waste to be discharged into surface waters. It must be sprayed on the ground or sent to ponds on the property. Cannonsgate's plant has a capacity of 200,000 gallons a day and Bogue Watch 150,000 gallons, Young said.
Although neither plant is up and running, the Cannonsgate permit is good through June 2019, while the Bogue Watch permit expires on April 30, Young said.
The permits, she said, would allow the plants to treat sewage outside the developments, but Aqua NC would first need the approval of N.C. Utilities Commission to expand its service area.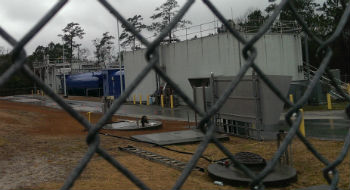 Gregson said it's not unusual for providers of sewer service in one development to make capacity available to other developments if their treatment plants have excess capacity. "They're in the business of selling service," he said of Aqua. "That's what they do."
Donald Williams, coastal area manager for Aqua NC, said last week he didn't know anything about the company planning to provide sewer service to areas outside the developments. The sewer plants are less than a mile apart and are linked together, Williams explained.  Sewage is collected at the plants and trucked elsewhere for treatment, he said.
Aqua, he said, is close to bringing the Cannonsgate plant online, and would certainly like to be able to sell sewer service to nearby property and might do so in the future. But it currently can't do that, Williams said.
"Our flow right now is only in the low thousands (of gallons daily, from Cannonsgate and Bogue Watch combined)," he said.
Before providing any treatment capacity to properties outside the developments, he said, Bogue Watch and Cannonsgate would need to build more houses.
"We've love to be able to do that," he reiterated. "That's what we're in business to do."
But he said it would be a little "presumptuous" to say that sewer is "available" for the 21-acre tract, because the development isn't really far enough along to know how much capacity might be available to outside customers.
Williams said Carolantic might have discussed that possibility with Poole. Scott Hadley, the Carolantic contact listed for the land, did not return phone messages. Poole would say only that it is "undetermined" whether sewer would be available. He said he did not recall talking to Hadley or anyone at Carolantic about it.
The two sewer plants must first provide treatment to homeowner in the development. Whatever capacity remains could eventually be available to outside customers.
"It might not be enough for a shopping center or a full development," Poole said. "Maybe it might just be enough for a convenience store or a small strip mall or a small townhouse community."
Sewer and Stormwater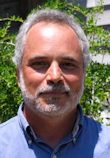 Centralized sewer allows land to be developed at higher densities than septic tanks would permit. More paved and built-on areas increase stormwater runoff. This might be especially true of a shopping center, which requires a large, paved parking lot. The 21-acre tract is near a creek that flows into Bogue Sound, which the state classifies as shellfish-growing waters.
Despite the increases in stormwater flow, Gregson said his agency thinks that sewer systems are better for water quality than septic tanks.
He called the Cannonsgate and Bogue Watch plants "state of the art," and indicated that if the Cannonsgate plant had excess capacity, allocating some of it to another development shouldn't cause problems.
Todd Miller would argue that point. He's the executive director of the N.C. Coastal Federation and has seen first-hand what happens to sensitive coastal waters when the land around them urbanizes. Numerous studies, he said, have shown a direct correlation between increases in constructed surfaces, like parking lots and roads, and high levels of bacteria in the surrounding water. The bacteria in the increased runoff, he says, end up closing shellfish waters because the clam and oysters that grow there become unsafe to eat.
"There's a reason why the waters are closed around all the urban areas along the coast," he said. "And all those places are served by centralized sewers. Install sewers and water quality will deteriorate unless state and local governments take effective measures to control the resulting runoff. History has shown that they rarely do."