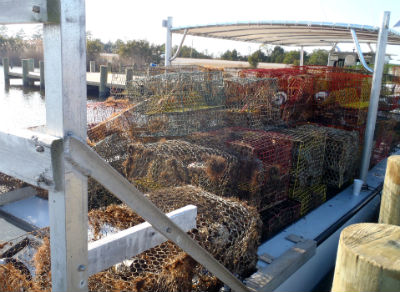 MANTEO — Helped by clear skies and slick-calm water, fishermen pulled unclaimed crab pots by the dozens out of northeastern North Carolina waters, stacking them up high on racks and decks of crab boats. By the end of the three-day marine debris removal project last month, hundreds of the left-behind or lost metal cages were cleaned from waterways between Ocracoke Island and the Virginia line
At the end of the N.C. Coastal Federation's two-year pilot program to collect derelict fishing gear, organizers were feeling good about the number of pots that were recovered and the amount of data that was recorded in the process.
"I think it went a lot better than last year," said Ladd Bayliss, the federation's coastal advocate in the Manteo office, "just because we were more prepared, and we improved our retrieval gear."
The project, the first of its kind in North Carolina, was paid for with a $35,000 grant from the National Oceanic and Atmospheric Administration, an $18,000 grant from North Carolina Sea Grant and $10,000 in matching money.
Bayliss said that, thanks in part to good weather conditions, nearly all of the northeastern district waters were swept by a crew that included 12 fishermen hired by the federation, three more than last year. And she said the retrieval gear — a long rod with pointed tines somewhat like a rake — was much more effective. The final number of retrieved pots is not yet available.
All told, she said, the program over two years involved 12 boats and a total crew of 24.
Thousands of crab pots are set every year in Albemarle, Roanoke, Croatan, Pamlico and Currituck sounds. A huge swath of the northeast corner of the state, the area stretches from the Outer Banks through Washington, Martin, Tyrrell, Dare and Chowan counties, from Alligator River to Oregon Inlet to Stumpy Point.
State regulations require the pots to be taken out from Jan. 15 to Feb. 7.
"It's kind of a quality-control measure," said Sgt. Brian Long, a law enforcement officer with N.C. Marine Patrol, "to ensure that the sounds don't become a trash dump."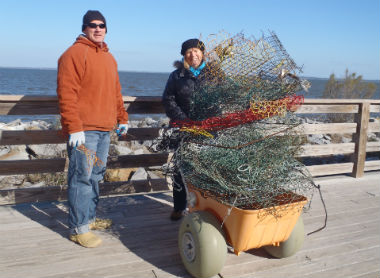 The Marine Patrol has removed as many as 8,000 pots from northeast waters during those closed weeks, but in recent years, the numbers have decreased to the hundreds.
In the interest of fostering the program's data collection, the Marine Patrol this year allowed the federation crew to fetch most of the stray pots. A bonus for them, Long said, is that officers were freed up to do more law enforcement duties.
"It's busy work," he said of the pot searches, "and if we can focus our patrol efforts on different things, it certainly helps."
The federation's crew last year came behind the patrol to clean up what they missed or had popped up afterward, which partly explains why only half as many pots were found.
"It was just an unbelievable volume compared with last year," said Willy Phillips, owner of Full Circle Crab Co. in Columbia and a participant both years in the project. "It was a huge success."
Phillips was also testing a sonar system on his boat to spot pots that are stuck in the mud or otherwise not discernable from the surface.
The majority of the pots they plucked out of the water, he said, most likely were lost during storms and not intentionally abandoned. Considering that each rigged pot costs about $45, losses would add up quickly for crabbers who set as many as 1,000 pots at a time.
"They're just too valuable to leave behind," Phillips said. "With all these guys, they can't afford to leave them."
Fishermen have the familiarity gained by going out day after day to check their pots, but they also have additional motivation to clear the sounds of the pots.
"Certainly, the crabbers would rather go out there and take up the gear than have marine patrol do it," Phillips said. "This way, if you put a lot more people and effort into it, you're able to open up a lot quicker."
If it's warm enough, Phillips explained, there could be an opportunity for crabbers to make money. The law allows the waterway to be reopened after Jan. 19 if few pots are found.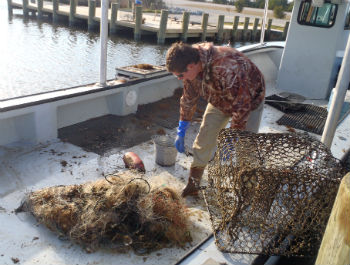 Ideally, he said, the program should be broadened with more participants. So far, even on a small scale, it has been a remarkable merging of efforts from biologists, environmental groups, watermen, government regulators and law enforcement.
"I think it's an evolving process," Phillips said. "There are just so many good parts of this thing, with people working together, rather than in opposition."
Troy Outland, a full-time crabber for 38 years and one of the watermen hired last year, also came back for a second year. The programs paid boat captains $300 a day and deck hands $100.
As they, scouted Albemarle Sound last month, Rayburn, mate Cody Rayburn of Manns Harbor and Sara Mirabilio, a fisheries specialist with Sea Grant's Extension Program in Manteo, scanned the surface for any sign of buoys that were attached to submerged crab pots. After spotting one, Outland pulled his boat alongside the buoy.
Using the retrieval gear and an electric pot puller on his 32-foot boat, Outland quickly raised pots out of the water, while Rayburn detached the cages. Glancing at the buoy, Outland almost immediately could identify the owner.
"Yeah, it's good friend of mine," Outland says after pulling out a grass-coated pot and buoy. "There was a huge storm in August. The pots got scattered around real bad."
Crabbers mark their buoys with their own colors and markings, almost like a signature. Some have different colored plastic sticks in the middle of the buoy. All of them include the name of the crabber, the boat number or boat name. Over time, local crabbers learn whose pots are where.
"When you're out here for so many years," Outland said, "it's amazing how you can know all that stuff, you know?"
Before Rayburn emptied the contents and moved the pots to the stern, Mirabilio — using a GPS-enabled computer tablet — recorded the number of live and dead crab and finfish in the pot, as well as the water depth, location, time and other details. With the new technology, places where pots tend to collect can be readily located.
"If you can go to certain hot spots, it's a lot more efficient," she said.
With pre-set lists installed, the technology also eliminates the need to scribble down information on a data sheet.
Data on crab pot bycatch, she said, could be helpful to both crabbers and fisheries managers. Crabbers can keep live catch if it's in season and meets size limits, but everything else must be thrown back, said Long, the marine patrol officer.
Mirabilio said that the program makes sense for the fisheries patrol and the fishermen.
"It saves the state money both in man power and fuel," she said. "And I think that truthfully, fishermen have a better sense of where the fishing effort was. They just know where to go."
Bayliss said that the federation is working on finding grants to continue the program annually with recurring funding.
Outland said that the program has been well received by fishermen.
"I haven't heard anything negative about it," Outland said. "Everybody loved to get the old pots out of here."