RALEIGH — North Carolina and other Atlantic Coast states could see far more jobs and benefits from developing offshore wind energy projects than drilling for oil and natural gas, according to a new study released yesterday byOceana, an international ocean advocacy group.
The new study underlines that there is far more potential in developing the state's wind resources than offshore oil and natural gas, Oceana's Randy Sturgill said at a press conference at the Legislative Building. The study compares energy output and industry build-out through 2035.
"A modest and gradual development of offshore wind would create 48,000 jobs for North Carolinians or about 25,000 more jobs than would be created by offshore oil and gas drilling over the project lifetime," Sturgill said.
Developing wind instead of gas and oil, he said, would also achieve energy independence goals without putting the state's sizable coastal tourism, recreation and fishing economies at risk, the study notes.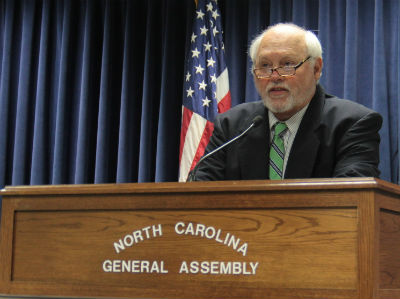 Oceana's Randy Sturgill says offshore wind would create 48,000 jobs in North Carolina. Photo: Kirk Ross
David Roger, field director for Environment North Carolina, said while there's so much focus on oil and gas, he hopes legislators don't forget the potential for wind energy.
"I think it's critical for us to remember that North Carolina has an abundant, clean resource right off our coast that will never run out," he said. "North Carolina has more offshore wind potential than any Atlantic state."
He said it is time for Gov. Pat McCrory and state leaders to "put some muscle" behind offshore wind development.
The study comes as the McCrory Administration has increased its push to open up the Mid-Atlantic region to oil and gas exploration.
In November, the state hosted a closed-door oil and gas symposium with policy experts, industry advocates and state, federal and local officials from North Carolina, South Carolina and Virginia.
At a press conference after the November event McCrory said the state needs more thorough studies in order to better understand the potential of offshore oil and gas resources.
At yesterday's press conference, Sturgill said even seismic testing, the initial stage of those studies, comes with a heavy cost to marine life.
Derb Carter, director of N.C. offices of the Southern Environmental Law Center, recalled the last hard look at oil and gas exploration, which took place roughly 25 years ago under the administration of Gov. James Martin.
Carter, who was appointed by Martin to the task force studying exploration, said that then and now the issue is whether it is worth putting the coast and an economy that relies on clean water at risk.
"The result was the state took a position that neither the federal government nor the oil industry had made their case that oil development could occur without doing substantial risk to the coastal economy."
Carter said one of the dangers of venturing down the oil and gas path is that the rules are stacked in favor of the industry.
"It's a sequence of steps," he said. "Once you start down that road it's difficult to turn back."
He noted that in the 1980s after Mobil Oil was denied the right to explore off of Cape Hatteras, the federal government was required to repay the company for leases to the tune of $158 million.
In an interview yesterday afternoon with Coastal Review Online, state Sen. Harry Brown, R-Onslow, said opening up the coast to offshore oil and gas exploration does come with risks and has long been a sensitive issue in the region.
"I think that's why we've been so slow in moving it forward," he said. "It's one of those issues where you just can't get it wrong. You've got to get it right to start with. That's why we've been slow and methodical, trying to make sure we do get it right."
At the same time, Brown said, it appears Virginia officials are pushing ahead with exploring offshore.
"If Virginia is going to do that, then it's going to affect North Carolina whether you want it to or not," he said. "In my opinion, if that's going to happen, we've got to get in the game with them."
Current federal law does not allow for Mid-Atlantic states to benefit from royalties like Gulf Coast states. McCrory has pitched the potential of sharing royalties as a main incentive for developing oil and gas resources.
Sen. Harry Brown
Brown said the state could greatly benefit from the additional revenue. North Carolina, he said, is almost last in the nation in revenue generated from energy exploration.
He said he supports looking at wind as a resource, and that there is ongoing work to identify areas on the coast where it is suitable environmentally and in a way that it does not interfere with military training.
Brown said his main concern with wind energy is that it is heavily subsidized.
"How long do you do that?" he said. "Sooner or later you've got to have a business model that can support itself and at this point wind hasn't proven that to me at all."
The question of subsides is a tricky one, depending on how the word is defined. Oil industry executives like to define it narrowly to include only direct government payouts or to favorable treatment in the federal tax code that all major industries receive. Oil and natural gas companies, they say, get little in the way of direct payouts from the government and receive tax breaks that are available to other industries.
Critics, on the other hand, have a more expansive definition that includes any government action that lowers the cost of fossil fuel production, raises the price received by energy producers or lowers the price paid by consumers. Tax breaks, loans at favorable rates, price controls and purchase requirements are among the items on their longlist.
Using that definition, Oil Change International, which advocates for transitioning to alternative energy, says credible estimates of annual fossil fuel subsidies in the United States range from $10 billion to $52 billion annually. That doesn't include the costs borne by taxpayers related to the climate, local environmental and health effects of the fossil fuel industry.
According to a study from the Worldwatch Institute, global fossil fuel subsidies totaled between $775 billion and more than $1 trillion in 2012, while renewable energy clocked in at around $66 billion in 2010.