MOREHEAD CITY — Less than half a year after facing – but eventually avoiding – a 20 percent funding decrease in Gov. Pat McCory's recommended 2014-15 budget, the North Carolina university system's coastal marine science centers are again under the microscope.
The centers, ranging geographically from Wilmington through a heavy concentration in Morehead City and up to Manteo, are caught up in a review, ordered last summer by the Republican-dominated General Assembly, of all the centers and institutes in the UNC system. The stated goal is to save $15 million, which would be redistributed throughout the rest of the system.
A working group of UNC's Board of Governors is conducting the review. It has narrowed its probe of more than 240 centers and institutes for possible closure down to 34. Amid protesting students, the group began interviewing the directors of those center in Chapel Hill yesterday. A final decision on them could be made as early as today.
The nine coastal science centers, though, are part of a separate review by the working group. The Board of Governors could discuss those findings as early as January.
The directors of the marine centers have been fielding visits and questions since summer, forced, again, to justify their missions. They could face budget cuts, or more radical changes. For example, there's a proposal afloat to combine N.C. State University's Center for Marine Sciences and Technology and UNC-Chapel Hill's Institute of Marine Sciences, both in Morehead City.
Some in charge of those centers are understandably reluctant to talk on the record about the review and its possible ramifications. Others were less reticent and a few were blunt.
Among the most outspoken was Nancy White, director of the system's Coastal Science Institutein Manteo. "We have been reviewed three times in the 11 years we have been in existence," she said.
She says she understands the need for legislators to satisfy their constituents. "We've been reviewed and reviewed and reviewed," White noted. "The last one before this, completed in 2013 by the AAAS (American Association for the Advancement of Science Research Competitiveness Program) found that we are all unique, with unique missions, and found that this was not an accident but was planned carefully."
For example, when it was formed in 2003, the Coastal Studies Institute's stated mission was to undertake research, offer educational opportunities, provide community outreach programs and enhance communication among those concerned with the unique history, culture and environment of the maritime counties of North Carolina. That's far different from the missions at UNC Wilmington's center and at the two in Morehead City.
White also dismisses the notion that the system might not need several marine science centers at different locations. That, too, was well-planned, she said, and was recognized by the AAAS review.
"The three regions of the North Carolina coast are so different," she said. Researchers and students tackle problems unique to those areas, White explained, and offer different educational opportunities.
"We certainly have cooperated with this … latest review," she said, "but to be honest, it's been done and done and done to death. What the AAAS report basically said is that what we (all the marine science centers) really need is more support."
It's certainly true, White said, that the CSI is doing its part financially. "Our whole budget is $625,000," she said, "and our return on that is $3 million in research assets. And we've only been in our building for two years. We're really just now getting the tools we need."
But, White added, a lot of the Board of Governors members are relatively new, as are many legislators. She suggests that they might not know what all these centers do or that their missions are different. "Patience," she said, "is required."
Eliminating redundancies is one of the stated goals of the review, but White noted that none of the other reviews found duplicative programs.
One of the documents guiding the review is a report that Christopher S. Brown, vice president for Research and Graduate Education for the UNC system, prepared this year for Thomas Ross, the system president. The report mentions, prominently, that CMAST and IMS, separated by a couple of blocks, could "merge and operate as a joint research center with a shared vision, master plan and director."
"This approach," the report states, "should help address several issues raised in the AAAS report and site self-assessments, including uncertainty surrounding the mission and operation of CMAST, lack of a central brand in Morehead City, facility utilization, and boat and dorm management."
Consolidating the centers, Brown explains, would allow the university system to fill the CMAST building "with high value occupants" and provide as much as $280,000 in additional rental income.
The system would also save money if the centers shared custodial services, machine shops, boats and storage, Brown's report adds.
Rick Luettich, director of the IMS, said several members of the Board of Governors visited his center in November. Like White, he noted that UNC has been reviewed several times,and has always been able to show that it is doing important work in an efficient manner. He's confident the latest review will again demonstrate the value of IMS and the other centers.
But, Luettich, like White, concedes he's a little perplexed by all the examinations. "We get substantial funding from the taxpayers of North Carolina and we are accountable and we understand that," he said. "At the same time, we generate substantial income and provide a tremendous service, and the previous reviews have all found that we are meeting our mission."
IMS got about $1.6 million in state funds this year, Luettich noted, but its scientists generated more than $25 million in grants.
IMS, the oldest of the coastal centers, is home to world-renowned scientists who apply their skills, and the skills of their graduate students and assistants, to a wide range of state, national and world issues, ranging from water quality to fisheries and ecology.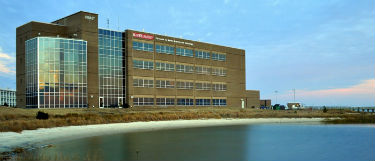 Consolidating the UNC and N.C. State University marine centers in Morehead City, says a UNC report, could provide as much as $280,000 in additional rental income. Photo: NCSU
"We were reviewed this spring by the university, and that report said we're meeting our mission," Luettich said. "I wouldn't say I'm worried about this one, or about us going away – our strength is our strength – but you always have be somewhat concerned."
Luettich said he's certainly not opposed to increased cooperation and consultation with CMAST, but notes that there's already an incredible amount of that taking place. Researchers work together on projects – as they do with other nearby agencies, such as the N.C. Division of Marine Fisheries, NOAA's fisheries lab in Beaufort and the Duke University Marine Lab in Beaufort – and there's constant collaboration and exchange of ideas. But, he added, IMS and CMAST are different and have different missions.
IMS, he noted, is part of UNC-Chapel Hill's marine science department; CMAST draws faculty from 12 different departments at NCSU. Combining such institutions, Luettich said, doesn't seem to be a logical step.
"We'd be naïve to think that people at the university system level and the state level don't have the right to look at how we spend our resources, and we have cooperated and will cooperate," he said. "We're also, certainly, willing to listen and think about ways to do things better. But we also want to convince anyone who looks at us that we are doing what we are supposed to do very well, because we believe that we are."
Luettich's counterpart at CMAST, David Eggleston, noted the AAAS report concluded that there were no areas of excessive overlap or redundancy in the marine science centers. He emphasizes a point made in that study: "Each UNC activity fills a unique niche, consistent with the institution's culture and mission, to serve a distinct set of stakeholders (research intensive, teaching intensive, cross-state programs including N.C. Sea Grant and UNC CSI)."
IMS, Eggleston said, works like a marine science department on the coast for UNC, while CMAST "is like N.C. State at the coast, with faculty representing three different colleges and seven different departments within the university."
CMAST's mission, he said, includes extension services – North Carolina Sea Grant and the N.C. Cooperative Extension Service – which focus more on working directly with the public and developing practical applications to solve specific problems, while IMS is more clearly focused on research. CMAST has numerous areas of emphasis – food science and veterinary science – that are far more reflective of the mission of N.C. State, a land-grant college, than of the mission of UNC-Chapel Hill.
The previous review, Eggleston said, actually concludes that combining IMS and CMAST would probably cost more money than it would save. And, like White and Luettich, he noted that CMAST's level of direct state support is small – only $270,192 from the general fund – while it generated more than $13 million in grants. The center's entire operational budget for the year, he said, was roughly $400,000, since the faculty salaries come from NCSU departmental budgets.
Still, Eggleston said he believes that the work that CMAST does, like the work the other marine sciences centers and institutes do, is important and unique, as the AAAS report said, and should stand up to the review and emerge with flying colors.