A Count Near You
Christmas Bird Counts are chances to join fellow birders of all experience levels and participate in a tradition that dates back to 1900. To take part in National Audubon's 115th Christmas Bird Count this season, contact the coordinator listed below. For other places in the Carolinas where bird counts are scheduled look at this map.
To learn more about the Christmas Bird Count in North Carolina, go here.
Alligator River National Wildlife Refuge, Dec. 30. Coordinator: Jeff Lewis, 252-216-6336
Bodie-Pea islands, Dec. 28. Coordinator: Paul Sykes, 706-769-9436
Camp Lejeune, Dec. 18. Coordinator: John DeLuca. No longer accepting volunteers.
Cape Hatteras, Dec. 27. Coordinator: Patricia Moore, 252-995-4777
Central Beaufort County, Dec. 14. Coordinator: Kevin O'Kane, 252-946-3003.
Holly Shelter and Lea-Hutaff Island, Dec. 14. Coordinator: Carson Wood, 910-859-94725; and James Abbott
Kitty Hawk, Dec. 20. Coordinator: Jeff Lewis, 252-216-6336
Pamlico County, Dec. 16. Coordinator: Liz Lathrop, 252-249-2646
Pettigrew State Park, Dec 30. Coordinator: Doug Lequire, 252-797-4475
Mattamuskeet National Wildlife Refuge, Dec. 29. Coordinator: Susan Campbell, 910-949-3207
Morehead City, Dec. 14. Coordinator: John Fussell.
New Bern, Dec. 15. Coordinator: Bob Holmes, 252-633-3003
Ocracoke Island. Coordinator: Peter Vankevich, 252-928-2539. Call or email for date.
Portsmouth Island. Coordinator: Peter Vankevich, 252-928-2539. Call or email for date.
Southport and Bald Head and Oak islands, Jan. 4. Coordinator: Ron Clark, 704-860-4469
Wilmington, Jan. 3. Coordinator: Sam Cooper, 910-799-3825
Paul Sykes will spend his 77th birthday outside in the cold and wind, trekking through bramble, squinting up to the morning sky, parsing every cheep, chirp and call, adding another check to his record-breaking run of Audubon's Christmas Bird Counts that he has participated in since 1953.
He made the 400 mark six years ago, and is at an even 475 now – more than anyone anywhere has ever done. When he completes this year's bird counts in Virginia and North Carolina, he'll be closer to his latest goal.
"I'm doing 15 this year, and by next year, I hope to get to 500," Sykes says in a telephone interview from his Watkinsville, Ga., home.
The 115th annual Christmas Bird Count will be held Dec. 14 – Jan. 5 in hundreds of locations throughout the continental United States and Canada.
But 2014 is a significant anniversary for Sykes: It will be 50 years since he started the bird count at Pea Island on the Outer Banks as a graduate student at N.C. State University. Sykes will drive from Georgia to the Outer Banks to do the Pea Island count on Dec. 28 and will then head the next day to Back Bay National Wildlife Refuge in Virginia, which is where Sykes did his first count in 1953 on the day after Christmas. And that is where he intends to be next year when he breaks the 500 mark.
"The Christmas Bird Count in Virginia Beach is always on my birthday," he says. "I haven't been home on my birthday in 50-some-odd years."
Sykes, who also compiles the counts, brings his trusty spotting scope with a tripod and recordings of bird calls. He also provides an abridged list of species he expects to see that particular count so that other participants can tally each bird or groups of birds throughout the day.
Each count — ideally conducted in the morning when it is quiet — is done within a 15-mile radius that is divided into sectors, each with an experienced birder in charge, Sykes explains.
Each person counts what he or she sees or hears, subject to later verification "if something looks out of whack," he says. Rare bird sightings must be documented to count, but many people use digital cameras to take photographs when possible.
"It's citizen science," he says. "It's not a rigid sampling design. But you can get things like trends from it."
With a friendly, quick-paced speaking style, Sykes barely hesitates before recalling numbers and facts from long-ago bird counts. Obviously sharp, he is also witty and lacks the hubris apparent in some highly trained scientists. For instance, he takes care not to offend when he has had to reject some claims from bird count volunteers.
"I'm the dictator," he says. "But I try to be diplomatic, because they're not scientists. I'm not trying to be mean — it's not a personal thing. Some people have a vivid imagination."
Born and raised in Norfolk, Va., Sykes first became intrigued by birds at age 10 when watching the hundreds of feathered creatures who visited his neighbor's numerous bird feeders. He saved up to buy binoculars and as a young teen started going out regularly with area birders. At 15, he did his first Christmas Bird Count, and by the next year, he was also compiling the findings that were later published by Audubon.
"During my early CBC years I had no idea that they would become a lifelong pursuit," Sykes wrote in a 2008 piece in American Birds, "but my interest has never diminished."
Over the years, Sykes has participated in Christmas counts in Alabama, Florida, Georgia, Maryland, North Carolina, South Carolina and Virginia.  The only year he ever missed doing any was in 1962, when he was in the Navy and deployed on a U.S. destroyer in the Mediterranean. He has meticulously recorded details of each count in files, including driving time, miles walked and total hours spent in the field. He even keeps track of the hours he sleeps (usually five to seven hours) the night before a count.
A wildlife research biologist for 42 years with the U.S. Department of the Interior, Sykes found his passion for birding dovetailed nicely with his job. For 16 years, he studied the painted bunting, a species of special concern in North Carolina.  At the height of the study, he was using a ton of bird seed — "I would bring in a semi-truck," he says — at 40 feeders.
He retired seven years ago, but that only gave him more time to go more places to find more birds. This year alone, he has traveled to Panama, Costa Rica, Dominican Republic, Alaska (twice), California (twice), Texas, Virginia, North Carolina and Florida (eight times). In January, he is going to Guatemala, then in June, back to Panama. He has also bird hunted (with binoculars) in Jamaica, Ecuador, Cuba, Bermuda, the Bahamas and Puerto Rico.
Along the way, he is steadily adding to the list of bird species he has spotted – so far he's seen 895 out of the estimated 980 species in mainland North America, north of Mexico.
Alaska is great, he adds, because rare birds can stray there after losing their way from Asia. Although he counts species he's seen elsewhere – ("Oh yeah, I keep track of everything," he says), those numbers were not readily available.
"It's a game," he says. "It's my hobby. Except my ecological footprint is probably horrible."
His wife and mother of his three children, Joan, he says, is "a saint" for putting up with his pursuit. Once in a while, she'll go along for the ride, he says, but she generally dislikes the conditions and the pace.
"She's a fair-weather birder," he says.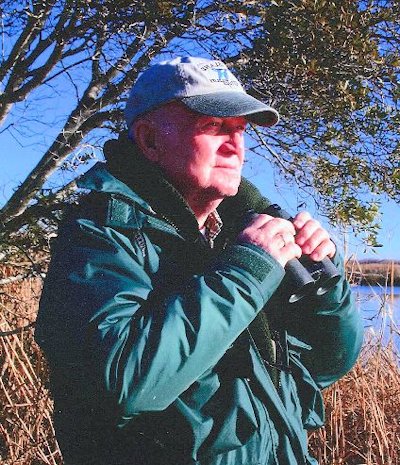 A retired scientist and a prolific author of scientific articles, Paul Skyes plans to continue counting birds until he reaches 500 Christmas Bird Counts. Photo courtesy of Paul Sykes
Sykes said he revels in the social aspect of birding and enjoys seeing the same friends every year at the counts.
The Christmas Bird Count, founded in 1900, is the longest-running citizen science survey in the world, according to the National Audubon Society. Along with the Breeding Bird Survey, done every June, the data have proved valuable in spotting trends in population and habitat change and determining which birds are in trouble, says Geoff LeBaron, the Christmas Bird Count director for National Audubon Society. The data also are being used currently to help predict and mitigate the effects of climate change on birds.
About 1,900 Christmas Bird Counts are done every year in the United States by about 71,000 observers, LeBaron says. With the United States now covered well, he says, Aububon is working to expand the counts to Latin America, which has many more species and less bird numbers compared to the United States.
LeBaron says that Sykes has been invaluable to the success of the bird counts over the years. "He is just willing to put the effort in," he says.
Sykes is not only well-known as a deft ornithologist and prolific author of scientific articles, LeBaron says. He's also an extraordinarily committed birder.
"Retirement is a different sort of concept when you're talking about someone like Paul," says LeBaron, who has known him for 27 years. "I think the world of Paul. He's very enthusiastic. His dedication to everything he does is just amazing."
LeBaron fondly related two stories that illustrates just how serious Sykes is about "listing" — a birder term that describes the quest to see different species. In 2007, news had reached Sykes that a brown hawk owl had been spotted in Alaska north of the Aleutian Islands. He immediately dropped everything and flew to Anchorage and saw the bird the next morning, beating out everyone except Alaskans.
But Sykes surpassed himself in 2009, right before the Christmas Bird Count, LeBaron recalls. Hearing that a bare-throated tiger heron had been sighted in Texas, he immediately drove there, saw the bird and drove back to Georgia. Then as soon as he returned, he heard there was chaffinch seen visiting a feeder in Massachusetts. He got back in his car and hi-tailed it to Boston, saw the bird and drove back to Georgia.
But then he heard there was an Amazon kingfisher spotted in Texas. So he got right back into his car, drove to the Rio Grande, saw the bird and drove back to Georgia.
"Then," LeBaron says, "he did the bird count."