WRIGHTSVILLE BEACH – Several retrofit projects designed to reduce stormwater runoff are currently being installed along roadways and other high pollution sites in this beach community.
The new projects are the latest in an eight-year effort to address water-quality issues in Masonboro Sound. The varied projects are designed to help state agencies, nonprofit groups and other communities develop and implement plans to control stormwater runoff, say the projects sponsors. Scientists will monitor the projects to determine how effective they are. The results will direct future plans. A team led by theN.C. National Estuarine Research Reserve, the N.C. Coastal Federation and the University of North Carolina Wilmington is heading the effort.
"We need to do this everywhere, if we're going to improve our water quality," said Tracy Skrabal, the federation senior coastal scientist and the manager of its office in Wrightsville Beach.
According to Larry Sneeden, whose Coastal Stormwater Services Inc. is the lead contractor, the six new projects are varied, although they all work pretty much the same way. Three of the sites, he explained, are in the center median of Causeway Drive and are re-directing runoff to the grass, instead of having it piped directly into the water.
Berms were placed in an existing stormwater ditch at another site, along West Salisbury Street, to slow the flow of runoff and allow it to soak into the ground, Sneeden said. A rain garden near the old fire station on West Salisbury is intercepting rain water from the drainage system, he explained.
"Basically," Sneeden added, "we excavated a basin, and placed sod over most of it, where we're putting in some wetland plants, mainly to allow water to infiltrate in and pick up nutrients."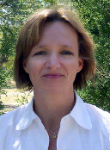 Tracy Skrabal

Larry Sneeden
The sixth site, described by Sneeden, as "the most interesting," will intercept water from the drain pipe at the end of Iula Street, which discharges into Banks Channel.
"They've been getting a lot of high bacteria counts (down there), which have led to swimming closures and warnings," said Sneeden. "This is going to intercept the stormwater."
These retrofit projects are just part of what Skrabal described as a "two-prong approach" to the stormwater issue. While encouraging the use of what's known as low-impact development, or LID, for future developments, the federation and its varied business and government partners are also seeking and discovering ways to correct problems created by existing development.
"We'll need to build smarter in the future, from the design stage," she said. "It's cheaper to design in LID, and we want to encourage that, but we need to look at existing properties, too.
"You could easily do hundreds of these small projects and not run out of locations," she added. "Many of these techniques can be done by property owners. We'll take these projects and use them as educational tools; we'll do tours, bringing property owners and engineers out and train them."
A $349,000 grant from the University of New Hampshire and the National Oceanic and Atmospheric Administrationis paying for the work.
The project is the latest outgrowth of a collaborative process that the federation organized in 2006 to address stormwater issues in Masonboro Sound. The state's coastal reserve system, UNCW, the N.C. Department of the Environment and Natural Resources, Wilmington, Wrightsville Beach, other local and state government organizations, land developers and contractors are among the partners. The team has completed several projects to reduce runoff in the Bradley and Hewletts creeks watersheds in Wilmington.
One of the main goals of the original effort was to create and implement a plan to allow regulators, scientists, developers and homeowners to collaborate on projects to control runoff, the largest source of pollution to coastal waters. Locally, that collaboration has extended beyond the 2006 team to include working partnerships with theNew Hanover County Soil and Water Conservation District, the state Shellfish Sanitation and Recreational Water Quality Section, the N.C. Division of Coastal Management and the N.C. Department of Transportation.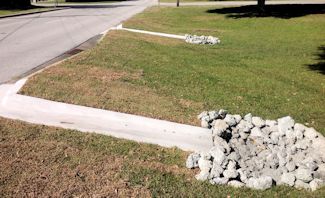 The project provides demonstrations of low-cost, effective solutions to direct stormwater runoff away from drains and waterways and into areas which allow the runoff to soak into the ground. 
"Part of our job," said Skrabal of the federation's place on the team "is to provide staff support and find these partnerships that accomplish our mission. These are the kind of collaborations that we thrive on."
While much of the collaboration at work on these projects, dating back over many years, appears to be concentrated in organizations, it's important to remember that these organizations are made up of people, some with their own personal reasons for getting involved.
"My family's been here since the 1800s," said Sneeden, a Wilmington native. "Growing up, I spent a lot of time at the beach, enjoying water sports, and my interest in the water carried over to my professional career."
Sneeden recalled that during his high school days, in the early 1970s, education about the local marine environment was focused more on flood control rather than water quality. That, he said, has changed, now that many local areas are closed to shellfishing, which informs his personal stake in the matter.
"I like oysters," he said.