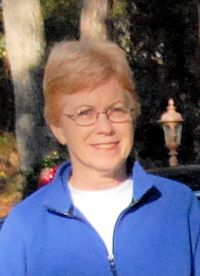 Peggy Birkemeier moved to the Outer Banks from Washington and was warned about black widow spiders, cottonmouth snakes and ticks. She stayed anyway. Photo: Courtesy of Peggy Birkemeier
KITTY HAWK – N.C. Coastal Federation Board Member Peggy Birkemeier probably should not be living in a coastal community. "I'm not really a beach person. I burn furiously," she says.
But when her husband, Bill, arrived on the Outer Banks to begin a 33-year career at the Army Corps of Engineers' Field Research Facility in Duck — the Duck Pier, to locals — Birkemeier and her daughter came along. It was a very different world than the life she had been living in the nation's capital.
"When we moved here (Southern Shores) in 1980 I had two older ladies come down here and they saw my 2½ year old and what they told me about was black widows, cottonmouths and the ticks that carry Rocky Mountain fever," she recalls. "That was my greeting. It's kind of a wakeup call when you come from Washington, D.C."
There were five houses on the street when the family moved in, and over the years she has had encounters with all the hazards the neighbors outlined. Plus a few others they failed to mention. "As we went through every hurricane you learn something new," she says.
If Peggy was not a beach person, she was someone who by temperament and training was an ideal fit for a growing Outer Banks community.
"My background encompasses a family history of reuse, recycle, compost, respect for nature. So that impacted my youth experiences and family," she says.
Those experiences gave her an appreciation for her new home. "You have to have the utmost respect for where you live," she says. "When you are living as close to the land and the water as we do here, it behooves you to really learn from your environment, to really enjoy your environment and maximize it."
She grew up outside of New York City in Yonkers, N.Y., in a family that was concerned about conserving everything.
"I grew up in a time after the war, and both my parents really got this, where we were recycling newspapers and rags and saving bottles, and grew our own food. I learned how all those processes work together," she says.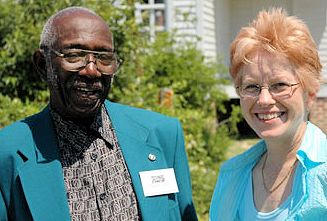 Peggy Birkemeier joined Milton Etheridge and others to restore an old school in Currituck County for African-Americans. The Historic Jarvisburg Colored School was dedicated in September. Photo:Historic Jarvisburg Colored School Association.
"Respect for the environment is a large part of my background," she goes on to say.
Her professional training is in education, and in her first professional position she served six years as an executive for the Girl Scouts. It was the beginning of a lifetime career in nonprofit service culminating most recently with her retirement from the N.C. Community Foundation in September of 2013.
If her professional background has been working with nonprofits, Birkemeier's passion seems to be the environment and problem solving.
That combination of skills and interests was first tested atJockey's Ridge State Park.
Created in 1975, the park was still struggling to find an identity in the 1980s and working with Friends of Jockey's Ridge, Birkemeier brought a different perspective.
"You have to know the questions," she says. "We invested the time in bringing all the scientists together. Hydrologists, dune specialist. 'OK. Tell us the questions. Don't tell us the answers. Tell us the questions we need to answer.'"
That view of how to get things done has become a part of how she sees herself — that ability to work with different groups of people and to take a look at problems, developing a creative approach to how they can be solved.
"I can bring people together to get something addressed," she says. "That really has been my modus operandi, if you will. I think collaboration is key."
Collaboration and discovering where to look for answers. "Is this the right question?" she asks. "Where are we going?"
Because of her involvement with environment issues and her husband's leadership role at the research pier where he retired as the director of the facility, Birkemeier knew about the federation and saw it evolve as it grew.
"I was becoming more aware that the Coastal Federation was  . . . changing and growing as they got better at asking questions," she explains.
The changes Peggy saw in the organization came at a time when she was thinking about where her energies would be most effective. "What would be the organizations I would like to most give my time to because it really addresses the values I have for the coastal environment; and the Coastal Federation matched that tremendously," she says.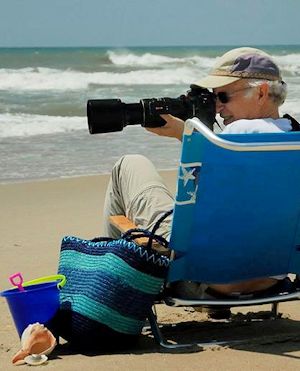 Bill Birkemeier brought his wife, Peggy, and family to Outer Banks in 1980 when he took a job at the Army Corps of Engineers' research pier in Duck. He's now retired and spends much of his time photographing the beauty of the Banks. Photo: Bill Birkemeier.
"I think the Coastal Federation is the best organization in our coastal counties to help citizens ask the questions and to show them some paths so they can get some answers," she adds. "Not that we have the answers. This is a pretty dynamic organization through our regional offices so we can help people work on regional questions and regional decision."
As the coastal population has grown, the role of the federation will become more important, Birkemeier says. "Can we as a community of users . . . can we resolve issues when they do come up?" she asks.
It is the manner in which the federation addresses the issues confronting coastal North Carolina that seems most important to her.
The federation, as it has expanded as an organization, has embraced the importance of that cooperative work for coastal North Carolina, according to Birkemeier. "Sometimes when you start a collaborative effort you think you know what's needed," she says. "But that collaboration brings a lot of people to the table, and you realize maybe I have to make an adjustment to make this work . . . You really have to have a strong willingness to keep asking the question and working with people who have been given the time to study these effects."
As she has become more involved with the federation board, Birkemeier has taken on added responsibilities. "They asked me to chair a development committee," she remarks. "Primarily because as a nonprofit you have to insure you have adequate funds to do the work that has to be done. That list of where do those resources come from has to be a varied list."
The funds are a means to an end; a tool that will enable the organization to continue to find ways to make the coastal environment a viable place to live. "The role of the Coastal Federation is empowering and enabling citizens, governments, the community to be better stewards for natural resources," she says.