MOREHEAD CITY — Construction and operations at the Morehead City port to export millions of tons of wood pellets made from N.C. trees will not have significant environmental effects, according to a N.C. State Ports Authority assessment.
The environmental assessment, a 53-page document submitted to the state Environmental Review Clearinghouse on June 4, pushes ahead the authority's plans to build wood pellet storage facilities at the ports in Morehead City and Wilmington.
The Ports Authority wants to seize an opportunity to ship wood pellets to Europe, where the demand for renewable energy sources is growing as governments pressure utility companies to cut greenhouse gas emissions.
Opponents of the proposed operations, which include removing timber in the state to create tens of thousands of tons of wood chips each year, argue it would deplete forest resources and have called the Ports Authority out for a lack of public transparency.
Building two storage domes, each about 30,000 square feet and about 140 feet high, will not require a Coastal Area Management Act permit because the facilities will not be built within or directly adjacent to the Morehead City Channel or Newport River, according to the review.
The Ports Authority also concludes it will not have to obtain a state water quality certification because runoff from new construction will not be discharged into natural waterways. The authority would ask the state to exclude the facility from stormwater management permit requirements because there would be "no change to impervious surfaces within the project site."
The state Division of Air Quality granted the port an air permit in April, covering a variety of regulations including registering air pollution sources and controlling and monitoring emissions.
The proposed storage facility "is not anticipated to result in direct impacts to the environment" and operations "could include minor increases in vessel and rail traffic" at the port, according to the assessment.
International WoodFuels plans to build a wood-pellet manufacturing plant in Sims to produce 285,000 metric tons of wood pellets a year, all of which will be shipped through Morehead City to a buyer in Europe. WoodFuels plans to begin operations in 2015, a move that would boost annual shipments of wood-pellets through Morehead City to at least 400,000 metric tons.
The company plans to take byproduct, including "low grade and un-merchantable" wood fiber such as stemwood, slash, tops and limbs, from millions of tons of timber currently harvested within a 16-county, 60-mile radius.
Scot Quaranda, communications director of Dogwood Alliance, one of more than a half-dozen environmental organizations that oppose the proposed operation, said the authority is simply not considering the off-site effects the proposed operation will have on the environment.
"They try to claim that whole trees and wetlands are not impacted," Quaranda said. "That's not trash wood. It's future saw timber stock. It's very disappointing. This decision by the clearinghouse and the Ports Authority is really a tragedy of justice for our forests. We're burning down the things that are supposed to save us from climate change to save us from climate change."
The environmental assessment includes a description of how existing rail lines would be the sole method to move wood pellets from the chip mill in Sims, a small town in Wilson County roughly 2½ hours northwest of Morehead City.
Each week, three shipments of wood pellets would be delivered to the port on Norfolk Southern Railway trains. Pellets would be unloaded through enclosed conveyor systems. Dust collection systems would be installed on the railcar unloading area, transfer buildings, storage domes and belt conveyors to minimize dust and particulates dissipating into the air.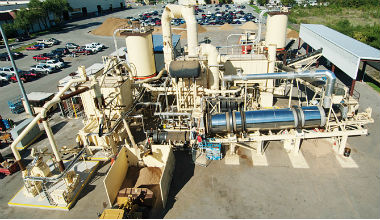 Here is a wood pellet plant in Chattanooga, Tennessee. Similar plants are planned for Eastern North Carolina that will make pellets that will be shipped from state ports in Wilmington and Morehead City to power plants in Europe. Photo: Hot-Mix Magazine
Each dome would store up to 40,000 metric tons of wood pellets.
WoodFuels would build the storage facilities, which would be owned and operated by the Ports Authority. It's a business venture that would create jobs and "result in a stable export business" because the contract is a minimum of 10 years, according to the assessment.
The set-up at the Wilmington port would be similar. Enviva Holdings, a Maryland-based company with plans to build wood-pellet manufacturing plants in North Carolina, would pay for the construction of two concrete storage domes and a ship loader/dock conveyor complex in Wilmington.
The Ports Authority also deemed that there would be no significant environmental effects in its assessment of the proposed facilities at the Wilmington port.
In response to that assessment, the Southern Environmental Law Center, along with a handful of environmental organizations, including the N.C. Coastal Federation, urges the Ports Authority to set a public hearing "to receive input from citizens who will have to live with the project's environmental impacts."
The environmental advocacy groups also call for the Ports Authority to complete a more detailed environmental study to adequately address the environmental effects of the wood pellet export project in Wilmington.
The Ports Authority does not plan to hold additional public meetings on either of the proposed facilities, said Laura Blair, senior director for external affairs.
"There's been quite a few public meetings associated with each of these projects," she said.
The state Clearinghouse will provide the Ports Authority with public comments submitted to the state about the Morehead City port environmental assessment after the public comment period closes July 7.
The comment period has closed for the proposed facility at the Wilmington port. The facility there requires the authority obtain a major modification to its existing CAMA permit.
"There is currently pending a CAMA application," said Matt Woodward, agency counsel. "That is now in the process of being looked at."
Operations at the Wilmington port are expected to start in July 2015.
"I don't know that we have a solid start date on Morehead City," Blair said.