Local economies are getting bang for the bucks that fund coastal restoration projects, according to recent federal report.
Coastal restoration projects completed throughout the U.S. in 2011 created more than 470 jobs and contributed $35.6 million in local economic stimulus, according to a Fish and Wildlife Service study.
"Restoration Returns: The Contribution of Partners for Fish and Wildlife Program and Coastal Program Project to Local U.S. Economies" is an analysis of the effects of coastal restoration projects on local economies. It found that coastal restoration programs totalled $19.2 million in 2011. The Fish and Wildlife Service invested $2.8 million in the those projects, which were then supplemented with more than $16 million in partner spending.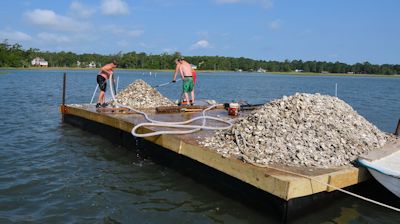 Oyster restoration projects like this one in the Lockwood Folly River create jobs and contribute tax dollars to local economies, according to a recent federal study. 
That meant that for every dollar that that the service spent in coastal restoration programs nationwide almost $7 was raised from other sources, creating more than $12 in economic returns.
The agency got less bang for its buck in North Carolina where it spent $623,000 on 50 coastal restoration projects in 2011. That attracted another $817,000 in partner contributions, for a leverage of a little more than $2 for every federal dollar spent. Those projects, according to the study, created 35 jobs.
This money supports local businesses that hire and pay employees. Those employees spend money in the local economy, which produces local tax revenues.
A total of $50,000 was invested in N.C. coastal projects in 2011 resulting in $3,000 in direct business taxes.
Dozens of shoreline and oyster reef restoration projects along the N.C. coast have contributed to local economies for years.
"The issue is that the projects do have tremendous economic value that we can put dollar and cents on," said Charles "Pete" Peterson, a distinguished professor at the University of North Carolina Institute of Marine Sciences. "Oyster reefs are certainly something where we have made a great deal of progress.  There are many services that oyster reefs provide. One of these ecosystem services is the sequestering of carbon. If we have natural environments that sequester that carbon we've done ourselves a huge service with tremendous economic value."
Oysters and the reefs that they form are crucial to estuaries. They filter water by removing pollutants, sediment and excess algae, help control shoreline erosion, provide habitat to juvenile fish, and are critical links in the estuarine food chain, supporting the production of crabs and fish.
The state Division of Marine Fisheries and environmental groups have for years been rehabilitating oyster habitats along the N.C. coast after the shellfish population was drastically depleted for decades beginning in the 1880s.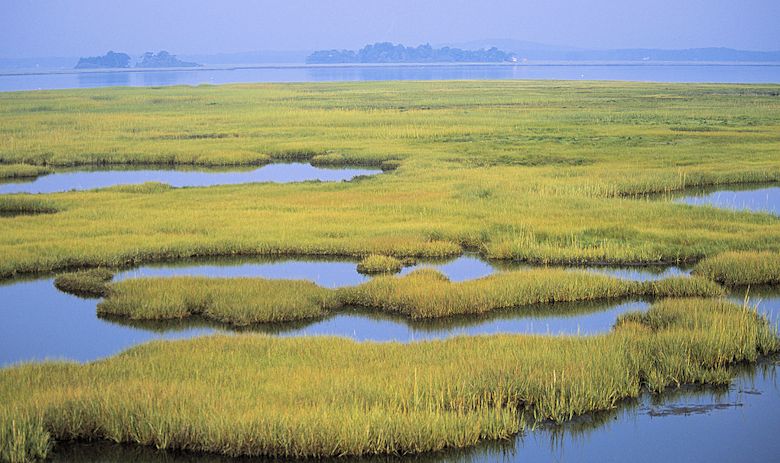 Functioning, healthy wetlands provide numerous benefits: clean water, erosion control, wildlife habitat, just to name a few. Photo: USFWS
Oysters induce denitrification, the process of converting nitrogen, which flows into streams and rivers from stormwater runoff, into nitrogen gas.
"By that process they help fight against the process of eutrophication that affects our estuaries here as well as elsewhere," Peterson said.
Taking care of these processes naturally saves what can be added costs to developers who, through a state program, must pay a fee based on anticipated nitrogen flow into waterways from a development.
The value of nitrogen removal from a 100-acre area of oyster reef habitat was estimated at $1,385 to $6,716 a year, according to the 2012 report "Economic Valuation of Ecosystem Services Provided by Oyster Reefs" published in BioScience.
Oyster reefs also serve as natural breakwaters, protecting public and private shorelines.
"That particular method of protecting shorelines against flooding and against damage from dangerous storms has tremendous value," Peterson said.
One such project was in Bogue Sound, where the habitat of 1,000 linear feet of shoreline is being restored.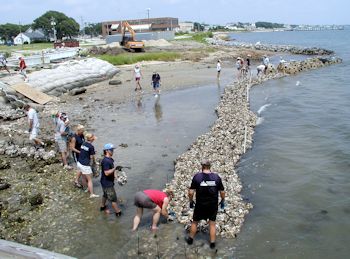 A shoreline restoration project on Bogue Sound along Carteret Community College lessened stormwater pollution.
The more than $793,000 project, led by Carteret Community College, includes construction of offshore gapped breakwaters, a sill using alternative stabilization and restoration materials including bio-reef balls and bags of oyster shells  and the planting of coastal marsh.
The project will lessen stormwater flow into the sound.  During a one-inch of rainfall one million gallons of stormwater flows from the campus and into the sound, according to the National Oceanic and Atmospheric Administration.
The NOAA Restoration Center's Community-Based Restoration Program in partnership with the N.C. Coastal Federation helped fund the project.
Cutting stormwater runoff should prevent further shellfishing closures along the sound.
Eroding shoreline and marsh at Nags Head Woods Ecological Preserve on the Outer Banks is also underway. The $93,000 project includes building  a half acre of fringing oyster reef using shell bags, planting of another half an acre of shoreline and adjacent upland areas and seeding more than a quarter acre with native widgeon grass.
In Myrtle Grove and Masonboro Sounds at Wrightsville Beach three acres of oyster reef habitat are being created.
These projects are among nearly 100 N.C. coast shoreline and oyster restoration programs implemented since the early 2000s through the Estuary Restoration Act.
Coastal restoration projects have been put into action over the years in several coastal counties, including Dare, Carteret, Brunswick, New Hanover, Pender, Onslow Tyrrell and Washington.
Last year in Hyde County the federation, in collaboration with local farmers, N.C. State University, the USDA Natural Resource Conservation Service and other state and federal nonprofits and agencies, began the process of restoring 2,750 acres of wetlands.
The project will remove millions of gallons of stormwater drainage from farmlands into tributaries of the Albemarle and Pamlico sounds, ultimately improving estuarine water quality for finfish and shellfish.