OCEAN — Leave the crowds on the beaches this summer to take a drive to see black bears, experience the wild beauty of a national seashore or kayak along a pretty urban creek.
The N.C. Coastal Federation's fourth annual Our Coast magazine makes it easy for tourists who are visiting the state's coast this summer and for the residents who live here to visit some special natural places where they can hike, launch a canoe or kayak, look for birds, wildflowers and seashells or learn about the region's heritage.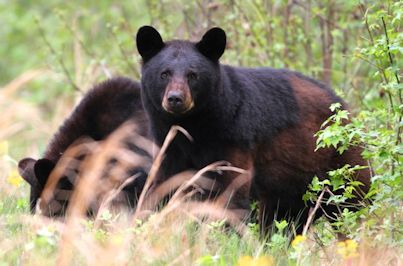 Alligator River National Wildlife Refuge has one of the largest black bear populations on the East Coast. You can ride into the woods to see some of them. Photo: Sam Bland
The 2014 edition has been fully updated with new stories about natural destinations along the northern, central and southern regions of the N.C. coast. We've also bulked up the food section to include more recipes. The free publication will be available this weekend at more than 150 locations along the coast. It should also be arriving in the next day or so in the mailboxes of federation member. You can download here.
We like to think that Our Coast is different from many tourist guides available each summer from Corolla to Calabash. It contains a mixture of places to where you can experience first-hand the natural wonders of our coast. Want to see black bears in their natural habitat? Our Coast describes a guided, driving tour you can take into the wilds of the Alligator River National Wildlife Refuge in Hyde County. If a more relaxing walk along quiet beaches looking for seashells is more to your liking, we'll tell you what to look for and when to go, as well as offer our choice of the best shelling beaches .
Other stories invite readers to kayak down easily accessible Calico Creek in Morehead City and learn about the legendary Confederate spy Emeline Pigott or to experience the solitude of Cape Lookout National Seashore.
Naturalist Sam Bland, a coastal native, offers an amusing take on flounder gigging and why it's best done when the water's "sic cam," while biologist Andy Wood provides a provocative look at moon jelly fish.
Our food writer Liz Biro combats the invasion of tropical lionfish to our waters by providing recipes on how to grill them in garlic and butter or add them to grapefruits, oranges and limes in tasty ceviche. If your seafood tastes are more traditional, Biro throws in a couple of crab cake recipes as well.  The staff of the federation also provides a few of their favorite places to eat. You'll find drive-ins, barbecue joints, oyster bars, donut shops and five-star gourmet restaurants.  Together, they offer a buffet of coastal dining.