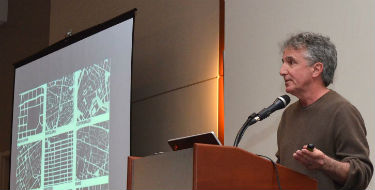 Scott Stewart, a landscape architect, once considered his relationship with environmental groups like "oil and water." Then, he started working with groups like the N.C. Coastal Federation on low-impact development. "Now, we're chocolate milk," he says. Photo: Tess Malijenovsky
RALEIGH — Hundreds of people filed into the convention center in late March for the Low Impact Development Summit to learn about an emerging approach to stormwater management that appeals to businessmen and environmentalists because it is often cheaper and better at controlling polluted runoff than ponds and other conventional methods.
Rick Catlin is certainly a fan. He is a state representative from New Hanover County and one of the meeting's featured speakers. "It provides a way to lower the cost of development while at the same time enhancing environmental protection," he said of low-impact development, or LID. "That's a win-win solution for all of us."
LID is a term used to describe an emerging land planning and engineering design approach to managing stormwater runoff. It emphasizes conservation and using a site's natural features to protect water quality. LID techniques, such as rain gardens, are usually engineered, small-scale controls that attempt to replicate the pre-development hydrology of a site and to detain stormwater close to its source
The two-day meeting, organized by the N.C. Coastal Federation, featured presentations from academic experts, national speakers, development professionals and government leaders on LID: its benefits, its impediments and its potential. There were also panel discussions on successful and practical applications of LID in residential, commercial and public projects from the coast to the mountains.
"I heard from several attendees that this was the best environmental conference they have attended in years," said Tracy Davis, the director of the N.C. Division of Energy, Mineral and Land Resources.
There are many reasons for people to tune in and turn on to LID. Stormwater runoff is now the largest sources of water pollution in the state. It is, for instance, the main source of the bacteria that closes shellfish beds on the coast.
Conventional methods of stormwater management usually channel runoff as quickly as possible into ugly ponds, where it's held for a time before discharging into surrounding waters. Despite many years of regulating polluted runoff, the quality of the state's waters continues to worsen.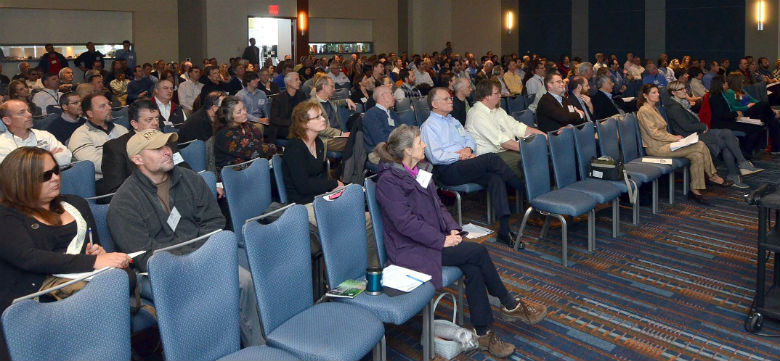 The Low-Impact Development Summit in Raleigh drew an almost packed house. Photo: Tess Malijenovsky
"The science and the history of watching our attacks on stormwater problems have led us to the conclusion that we truly want to mimic and design with nature," said Charles "Pete" Peterson, a distinguished professor at the University of North Carolina's Institute of Marine Sciences in Morehead City and a speaker at the summit.
Untouched coastal landscapes produce very little runoff because they have a natural ability to handle stormwater: the sandy soil filters it; plants absorb it; and heat evaporates it. A development project, then, is considered to meet the principles of LID when the volume of runoff leaving the site before and after development are equal, as defined the N.C. Department of Environment and Natural Resources.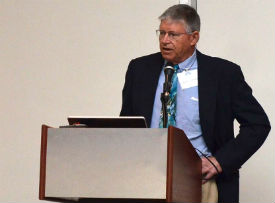 Pete Peterson, a UNC researcher and professor, said past failures to control stormwater have made LID a realistic alternative. Photo: Tess Malijenovsky
LID employs a suite of simple techniques, such as rain gardens, using permeable pavement and rerouting downspouts to lawns, that slow the flow of runoff and allow it to soak into the ground. Developers can eliminate ponds, maximize the amount of land to develop and save some money while improving water quality.
"The new tools and permit applications being unveiled today are a big step forward in helping to make LID projects not only the preferred environmental alternative, but also the best economic alternative for land- development projects," said Catlin.
New chapters on LID in the state manual for approved stormwater designs were among the tools revealed for the first time at the meeting and were the fruits of a yearlong collaboration between the state, the federation, N.C. State University, development professionals, local governments and private engineering firms.
Storm-EZ, an interactive spreadsheet that can be used for both LID and conventional projects, was also discussed at the meeting. It helps the developers who choose LID to demonstrate compliance with state rules and regulations, making the permitting process much easier.
Promoters of LID say the collaborative effort to develop these tools shows how LID is appealing to business, regulatory and environmental groups. "This ability to work together to find solutions to problems is rare these days, and should be applauded," said Catlin.
As an example of this new-found cooperation, Lauren Kolodij, deputy director of the federation, stood at the podium on stage beside, panelist Scott Stewart, a landscape architect, developer and general contractor who gave a presentation of his LID residential project in Wilmington. He and the federation, he said, used to be like "oil and water."
"Now we're chocolate milk," Stewart said.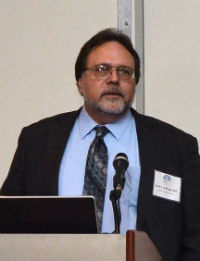 Only our imagination is limiting our application of LID, said Larry Coffman. Photo: Tess Malijenovsky
A hurdle to some will be an opportunity to others. And what was a mandate to improve water quality is now driving economic development, said Larry Coffman, who is known as the pioneer of LID.
Coffman is currently working for the Maryland Department of Environmental Resources in Prince George's County, Md., to meet water quality goals for Chesapeake Bay. He spoke of the untapped potential for public-private relationships, which would drive millions of dollars into the local economy, and a whole new world of technology.
"Urban retrofits are really going to be a driver for future generations of LID technologies," Coffman said.
Meeting participants seemed excited about the prospects that LID offers to protect the environment and to meet a rapidly growing population.
"Not using the land is not a feasible approach," said panelist Chris Widmayer, the vice president of investments for Regency Centers.
He worked in partnership on building a Whole Foods Market in Raleigh, which produced less runoff after development than pre-development. "The results were staggering and opened my eyes to what we have accomplished," said Widmayer.
"I'm here to save the world," said Stuart. "Every little bit helps."
New possibilities and ideas were shared over the two days, like the mushroom mycelia filter strips used at a public project in Mars Hill. "The only thing limiting us is our imagination and creativity," Coffman said.