This is part a monthly series about the food of the N.C. coast. Our Coast's Food is about the culinary traditions and history of N.C. coast. The series covers the history of the region's food, profiles the people who grow it and cook it, offers cooking tips — how hot should the oil be to fry fish? — and passes along some of our favorite recipes. Send along any ideas for stories you would like us to do or regional recipes you'd like to share. If there's a story behind the recipe, we'd love to hear it.
WILMINGTON — Warm weather marks the end of oyster season on the North Carolina coast, which might cause ice cream-maker Karel Blaas to scratch his head and wonder why.
Blaas' from-scratch ice cream, made with local ingredients, is known far beyond his downtown Wilmington-based Velvet Freeze shop. He's played with lots of interesting flavors: herb concoctions made with leaves grown at Leland's Shelton Herb Farm, bourbon bacon chocolate pecan and olive oil with toasted pine nuts.
Sometimes, restaurant owners ask for custom flavors, like the beer chocolate toffee ice cream Blaas recently churned for a commercial brewery.
One of the oddest ideas Blaas encountered was oyster ice cream.
The oyster ice cream flavor stemmed from a conversation between Blaas and Chef Mark Scharaga. Scharaga was planning a multi-course wine dinner at the Asian restaurant Tamashii, which Scharaga once operated in Wilmington.
Scharaga used local seafood at the restaurant, where Blaas had been supplying Asian-inspired ice cream flavors such as ginger apple and sesame honey banana. The two men were joking about off-beat flavors they could serve for the dinner's dessert when oyster ice cream came up, Scharaga said.
"As crazy as I thought it was, it wasn't really so far-fetched," Scharaga said.
Oyster ice cream is popular in Japan, but when Blaas researched the idea, he was surprised by the American food history connection.
"People actually ate this," Blaas said. "It was once a big deal in America."
Ice cream, which probably originated in China, started appearing in American colonies in the first half of the 1700s, according to the Colonial Williamsburg Journal. The treat took off after Thomas Jefferson in the late 1700s sampled ice cream in Paris. Jefferson brought a recipe home, built an ice house at Monticello and then one at the White House when he became president, the Journal reported. On Independence Day 1806, Jefferson tasked a servant with making ice cream, starting a summertime tradition that probably earned Jefferson credit for bringing ice cream to America.
Vanilla, strawberry, raspberry and apricot were popular flavors. Coffee, tea, pistachio, spicy chocolate and parmesan cheese were other flavors. "Perhaps the strangest flavor is found in Mary Randolph's cookbook—oyster ice cream," the Journal reported.
Mary Randolph wrote The Virginia Housewife in 1824, one of that century's most influential cookbooks and the first American cookbook with an ice cream section (by the way, Randolph's son married Jefferson's daughter). Her oyster ice cream recipe was really strained, frozen oyster chowder.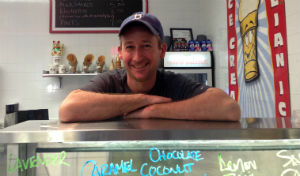 Karel Blaas churns up lots of unusual ice creams at his Velvet Freeze shop in Wilmington. Photo: Liz Biro
Historians claim First Lady Dolley Madison served oyster ice cream at the White House. Oyster ice cream is also mentioned in Mark Twain's The Adventures of Tom Sawyer.
One story historians agree is a myth claims that oyster ice cream was George Washington's favorite flavor.
Those early oyster ice creams were probably more savory than sweet, as Randolph's recipe suggests. Blaas made his version sweet. He poached oysters in cream, added sugar and a couple other ingredients before freezing the blend.
The resulting ice cream provided enough oyster flavor to let diners know this was not Blaas' usual rich, silky, oh-so-creamy vanilla. The ice cream, with a swirl of Texas Pete, was served with fennel panna cotta and chocolate ganache cake.
Blaas didn't get another request for oyster ice cream, and Scharaga didn't move much of it after the wine dinner. However, the men's collaboration continues. Blaas scoops flavors these days at a new Velvet Freeze location in a space Blaas shares with the sushi take-out shop, Mega Maki. Scharaga runs Mega Maki with business partner Josh Thaxton. The shops are at 10B N. Front St. in Wilmington.
Make It at Home
Attempting oyster ice cream at home is not difficult. Simply do as Blaas did by poaching fresh shucked oysters in a vanilla ice cream base. The amount of oysters will dictate the intensity of oyster flavor. A chef at 54twenty Guestaurant in Hollywood, Calif., demonstrates a slow cooking process called "sous-vide" in an online video
Mary Randolph's efforts were simpler, as evidence by these recipes, shown as written, from The Virginia Housewife.
OYSTER CREAM
Make a rich soup, (see directions for oyster soup,) strain it from the oysters, and freeze it.
OYSTER SOUP
Wash and drain two quarts of oysters, put them on with three quarts of water, three onions chopped up, two or three slices of lean ham, pepper and salt; boil it till reduced one-half, strain it through a sieve, return the liquid into the pot, put in one quart of fresh oysters, boil it till they are sufficiently done, and thicken the soup with four spoonsful of flour, two gills of rich cream, and the yelks of six new laid eggs beaten well; boil it a few minutes after the thickening is put in. Take care that it does not curdle, and that the flour is not in lumps; serve it up with the last oysters that were put in. If the flavour of thyme be agreeable, you may put in a little, but take care that it does not boil in it long enough to discolour the soup.